On Monday, an Edgartown dock worker, a shellfish constable, a naturalist and a Tesla owner helped to save the life of a cold-stunned, 64-pound loggerhead sea turtle that surfaced in Edgartown harbor. Yes, even the Tesla owner.
"It's all part of the story," naturalist Gus Ben David 2nd said. "You won't believe it." That story started on a brisk November morning when Steve Scannell, an employee of Aquamarine Dockbuilders, noticed something in the water near his boat. "I was in Edgartown harbor on my way back to the dock," Mr. Scannell said, "and I saw the thing bobbing up and down. I thought it was a seal sleeping, but when I saw it was a turtle I called the guys.
The "guys" Mr. Scannell is referring to are his coworker Josh Kresel and deputy shellfish constable Rob Morrison. With their help, Mr. Scannell hauled the turtle into his skiff, phoned the sea turtle hotline, and Mr. Ben David, who just so happens to be a family relation of Mr. Scannell's who has extensive experience with turtles of all varieties.
"I've lived with turtles since I was six," Mr. Ben David said. "I've bred turtles in captivity. I've got 80-pound snapping turtles at my place. So yeah, I know a lot about turtles."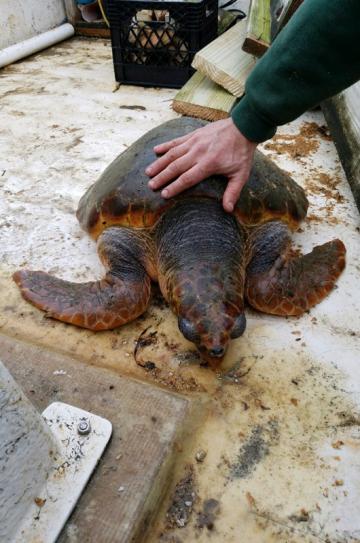 Mr. Scannell needed Mr. Ben David's advice to help with cold-stunned sea turtle protocol.
"This poor guy was moving real slow," Mr. Scannell said. "He was cold. He was really cold. Gus said just get it in the boat and don't do anything else to it."
Mr. Scannell ushered the loggerhead to shore, where Mr. Ben David arrived and brought it to his home. Last year, Mr. Ben David housed a cold-stunned Kemp's Ridley turtle, but loggerheads are over three times as big. But size didn't deter the retired director of Felix Neck Wildlife Sanctuary.
"I went into Western Auto to get a box big enough for this thing," Mr. Ben David said. "And it's a big thing. The guy unpacked a lawnmower, maybe three-by-five feet. A big box."
Mr. Ben David brought the box home, rigged makeshift handles onto its sides with rope, laid down towels, placed the turtle inside, and called the Steamship Authority.
"I told them it had to get on the 8:15 boat," Mr. Ben David said. "They were very helpful. Thank God they let us use the luggage rack."
By this point, Mr. Ben David had contacted Karen Dourdeville, a sea turtle expert at the Wellfleet Bay Wildlife Sanctuary. Ms. Dourdeville helped coordinate a volunteer from the organization to pick up the turtle once it arrived in Woods Hole and drive it to a facility in Quincy, where the turtle could recover under the watchful eyes of scientists from the New England Aquarium.
"One really interesting thing was that this was our first cold-stunned loggerhead of the season," Ms. Dourdeville said. "It was a very lucky turtle to end up in Gus Ben David's reptile room for a night."
Sea turtles cold-stun when they stay in waters that dip below 50 degrees Fahrenheit. The Cape can be particularly troublesome for the threatened migratory animals, who have to make it down to the Eastern coast of Florida to nest in the winter. Of the three species of sea turtle that cold-stun — Green's, Kemp's Ridley and loggerheads — loggerheads are the biggest. By far.
"They've got that name because they've got a real big, strong head," Ms. Dourdeville said. "They weigh a lot. They just get cold and can't get out of Cape Cod Bay. We expect the next few days to be really busy with the wind and cold."
Before coming to feed on whelk, snails, crabs, and other marine invertebrates, the turtles circumnavigate the North Atlantic, and occasionally, the globe, going from the West Coast of Africa north to Europe, the Mediterranean, and riding the Gulf Stream to Cape Cod. The number of turtles that get trapped near the Cape varies each year, but generally, 30-40 of the hundreds of cold-stuns are loggerheads.
Every once in a while, a lucky one is found out on the water before it washes ashore. That was the case with this loggerhead, whose luck continued long after it made it to Woods Hole at 9 a.m. on Tuesday.
Not many turtles get to spend the night with Gus Ben David. Even fewer get to ride in a $130,000 car.
"Karen told me this turtle was going to have a fancy ride up," Mr. Ben David said. "And I thought someone's going to pick it up in a Mercedes or limousine or something . . . and I get off the boat and see this distinguished looking guy standing there, and you know what he's driving? A Tesla."
Teslas, with their 100-kilowatt battery packs and butterfly doors, have limited trunk space; a problem when you have cold-stunned loggerhead that needs transport. After trying unsuccessfully to cut the top off the turtle's box, Mr. Ben David opted for laying out the cardboard on the bed of the trunk.
"The turtle is fairly active at this point, and I asked the guy if he was okay with it," Mr. Ben David said. "And he says, Gus, I'm not worried about the damn car. I just want to make sure the turtle's all right."
The volunteer then drove off with the loggerhead, tucked into the trunk of his Tesla.
Although that's where the Island's contribution to the turtle-saving effort ends, the loggerhead itself still has an over 1,000-mile journey to make it back to Florida's eastern shore. When the turtle passes all of its diagnostic tests, volunteers will drive it down the coast so it can be released into warmer Atlantic waters. According to Ms. Dourdeville, the loggerhead was in great shape when it arrived at the facility in Quincy.
"It got back in time, was moving, and had a really good internal temperature, 55, which is exactly what we wanted," Ms. Dourdeville said. "So everyone did everything perfectly."
Tony LaCasse, a spokesman for the New England Aquarium, confirmed that the turtle was in good shape. The specialists weighed it in at 64 pounds, gave it antibiotics, which is fairly routine for a cold-stunned turtle, and kept it in a swimming tank overnight.
"It's promising for him," Mr. LaCasse said.
Mr. Ben David was happy for the turtle, and a little excited too that he had such a good yarn to spin on Thanksgiving. "It's sort of a neat story, especially the scene in Woods Hole," he said. "It was amazing. A real fun experience and everything worked out well."