It's been a productive year for Martha's Vineyard farmers and they're sharing the harvest. The abundant growing season has meant plenty of surplus vegetables for Island Grown Gleaning volunteers to gather from the fields.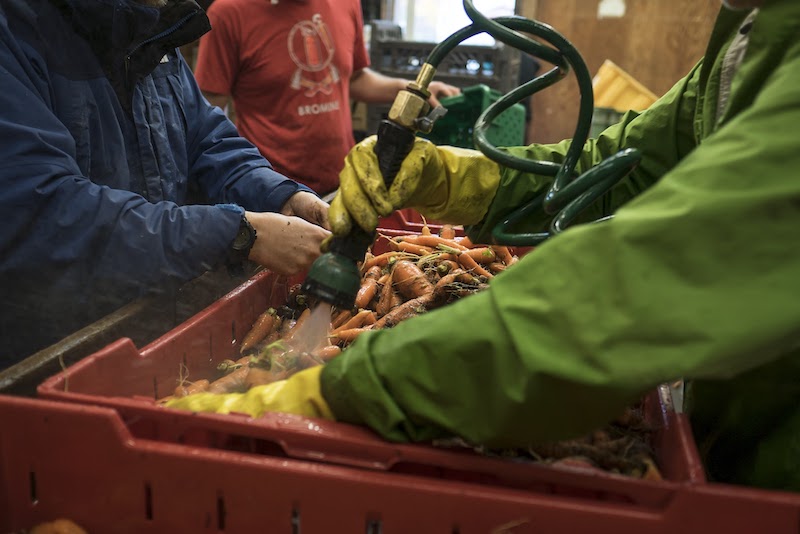 "Some weeks we had five, six or seven harvests," said Jamie O'Gorman, who heads the gleaning program for Island Grown. "We just passed 28,000 pounds for the season."
That record-setting total is more than 1,000 pounds ahead of 2017, which saw the largest amount gleaned since the program began in 2009. If the gleaners can collect another ton of vegetables before the end of the year, Ms. O'Gorman said, the grand total over the past decade will be about 200,000 pounds of surplus produce gathered and donated to the Island community.
Now serving two dozen Vineyard nonprofits, including public schools and senior centers, Island Grown Gleaning was originally established to provide fresh, local food to local school meal programs, Ms. O'Gorman said.
At the same time local food was making its way into school cafeterias, Island Grown Schools— another program the Island Grown nonprofit launched in 2009 — began teaching students to grow, harvest and use their own vegetables and fruits. Today, there are food gardens on every public school campus on the Vineyard, adding to the bounty available at harvest time.
"Five hundred pounds of tomatoes is our average crop out of the school garden every year," said Melinda Rabbitt DeFeo, who works as the farm and garden program coordinator at the Edgartown School.
At a plot in Katama, Ms. DeFeo said, the school's fourth-grade class planted 50 pounds of potatoes last spring and harvested 500 pounds when they returned as fifth-graders in the fall. The school also grows produce at Thimble Farm.
Some of the Edgartown kids' produce goes into hands-on lessons with Ms. DeFeo, such as her popular salsa-making workshops using tomatoes, scallions, herbs and jalapeños from the school garden.
School chef Gina deBettencourt is in charge of turning the rest of the harvest — along with produce from the gleaners — into meals for the kids. The fifth-graders' freshly dug potatoes went straight into a soup with chicken and school-grown scallions, she said. Other vegetables are washed and frozen with a minimum of processing.
Because so much fresh produce comes ripe while school is out, Ms. DeBettencourt and her kitchen colleague Robin Forte find themselves volunteering 10 to 20 hours a week over summer vacation to put up food from the gleaners.
"In the summertime, as you know, we get a lot of zucchini and the tomatoes come in," Ms. DeBettencourt said. "We take the tomatoes and zucchini and we freeze some in chunks, so we have that for soups or just for vegetables."
Sometimes aided by other volunteers, Ms. DeBettencourt and Ms. Forte transformed donated green beans into 75 quarts of pickled "dilly beans" for the children's salad bar, put up an estimated 70 gallons of spaghetti sauce and stripped the kernels off of hundreds of ears of sweet corn this summer.
"Corn, we're blessed," Ms. DeBettencourt said. Kale is another Island crop that "comes in fast and furious all summer," she added. Frozen, it goes into any number of cafeteria dishes, from breakfast eggs to soups for lunch.
"It's a good veggie and it does not lose any nutrients when you freeze it — that's the reason we always push kale every direction we can," Ms. DeBettencourt said.
Leah Miranda, head cook at the Oak Bluffs School, is another fan of kale.
"We just simply strip it off the stems and rip it up and put it in baggies and freeze it and it's beautiful, you don't have to do anything," she said. Ms. Miranda doesn't even scrape the kernels off the fresh ears of sweet corn she receives from the gleaners.
"We shuck them, crack them in half and freeze them in baggies," then steam the corn for school lunches that bring back the taste of summer, she said.
Now and then, a bumper crop calls for a larger effort. Ms. Miranda recalls one season a few years ago when her school got together with the other down-Island schools for a "mass tomato cook-down — we just cooked them down and we all froze them. We used them all."
Ms. Miranda said she's seen a change in kids' tastes over the years since the Island Grown programs began in 2009. In a student survey a couple of years ago, she said, Oak Bluffs youngsters asked for — and received — a bigger salad bar with more options, including roasted vegetables and potatoes.
"It's just really great to not have to rely on the frozen and canned vegetables that come from the commodities," she said.
Along with the benefits to students — developing healthier eating habits and learning where their food comes from — there's another advantage to growing, gleaning and preserving local produce, Ms. Miranda said.
"It makes a big difference financially," she said. "Once you wrap your mind around using a lot more fresh produce — it's a huge savings."
Taking a cue from the school cooks, Island Grown Gleaning is now working with Island chef Ismail Samad at Kitchen Porch Catering to process some of the gleaned vegetables into soups for distribution.
It's a pilot project, Ms. O'Gorman said, designed to make the fresh food "more accessible for elderly people and people who might not be cooking for other reasons, such as illness."
Over the past couple of weeks, she said, volunteers from the gleaners have joined Mr. Samad at the Kitchen Porch in producing more than 200 quarts of soup from local vegetables. Another pair of kitchen sessions is scheduled for Nov. 27 and Nov. 28, to open and prepare oysters donated by Sweet Neck Farm.
For more information and to sign up, visit Island Grown Gleaning at igimv.org/programs/food-equity-and-recovery/gleaning.