A decided chill, no doubt blowing down from the North Pole, caused a festive crowd of revelers gathered at Memorial Wharf Friday evening to bundle up tight for the annual lighting of the Edgartown Lighthouse.
The brisk weather was not the only visitor from up north. A certain jolly denizen from the top of the world made an appearance to take pictures with children. He brought an elf with him to keep good order.
There were lots of funny hats, a few Rudolph noses, and plenty of good cheer.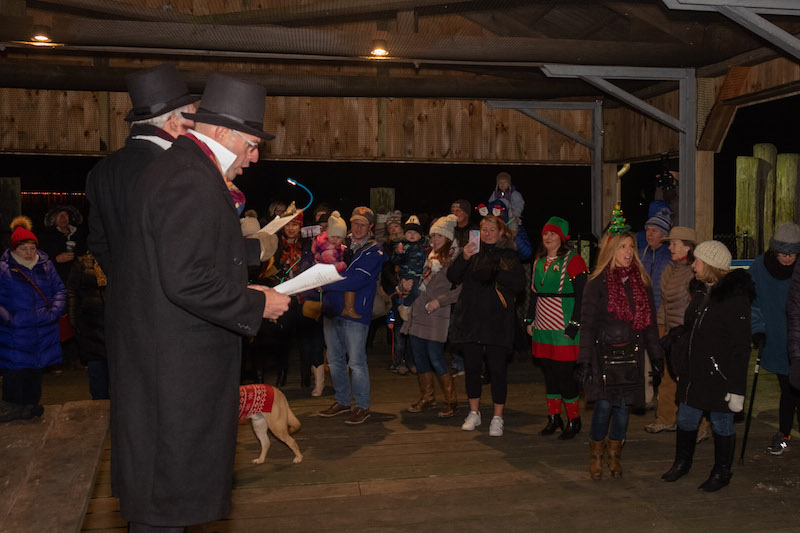 The Girl Scouts did a booming business selling hot drinks and cookies, though most people passed by the face painting table in near-freezing temperatures.
A Vineyard Vines whale and a rather thin snowman cavorted in front of an enormous Christmas tree made of shellfish traps. Even the Chappaquiddick ferry was decorated with a festive string of signal flags.
A dog with an ugly sweater, antlers, and a glow-stick necklace wandered through the chaos, a little confused about all the holiday happenings, it seemed.
Visitors from near and far came to see the lighthouse set aglow.
"We're from Minnesota," said Kim Goodwin, who lives in St. Anthony Village, outside of Minneapolis. "It's our second trip. This is great fun for us, we love it here. It's real different than it is in Minnesota, we have eight inches of snow there."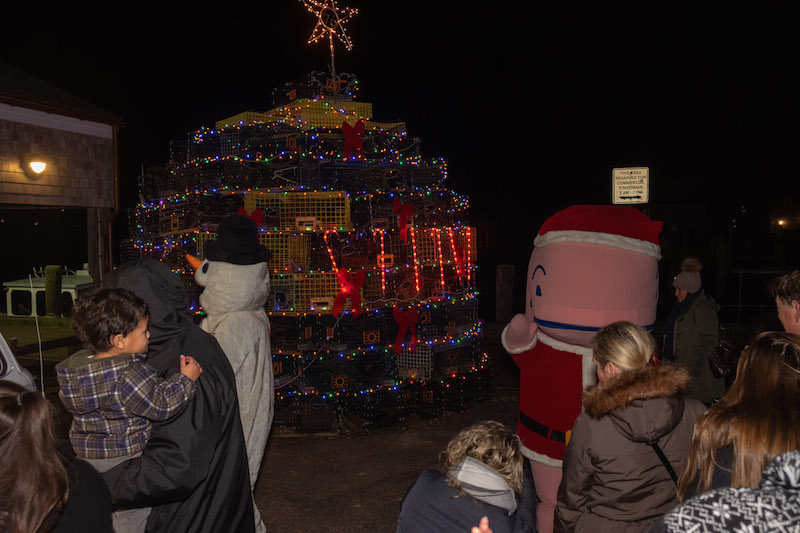 Many people climbed the stairs to the top of Memorial Wharf to get a good vantage point.
With a boisterous countdown, the familiar lights and wreath lit up the lighthouse across the harbor, right on countdown cue. Soon after, three men in Victorian top hats and garb led a large group in holiday carols that echoed across the water.
The festivities were moved to Memorial Wharf this year, instead of the usual location at the Harbor View Hotel, because the hotel is closed for renovation this winter. The Christmas in Edgartown festivities continue throughout the weekend, with the parade down Main street beginning at 11 a.m. on Saturday.