Chris Porterfield is a busy guy, handling his job as director of food and nutrition at Martha's Vineyard Hospital. He volunteers at annual events like the Sullivan Run/Walk, the Suicide Prevention Walk, and the Vineyard Cancer Support Group Tennis Tournament.
But many of his after work hours are filled with his passion for coaching youth sports. If the field lines need painting, he's the guy out there at 6 a.m. to do the job. If the Island's flag football program needs some love, he steps up with organization and equipment. If the infield of the Little League facility needs raking, he's the first one to pick up a rake.
So when he was chosen to receive the Spirit of the Vineyard award, given annually to an Island resident who exemplifies the spirit of volunteering and the qualities of selflessness to help the community, the way he fit the award reception into his busy schedule seemed quite appropriate — right before a youth basketball practice he coaches.
On Thursday evening, his many friends and family gathered at the Oak Bluffs gymnasium to honor him in a touching ceremony. One by one, they stood up on the hardwood floor in front of the bleachers, a few feet from the backboard, to thank him for his volunteer service to Martha's Vineyard.
Martha's Vineyard public schools assistant superintendent Richie Smith was the first to speak.
"The teachers I love the most are the ones that really just exude caring," Mr. Smith said. "I know Chris doesn't teach for us, but he is by far one of our best teachers on this Island."
Oak Bluffs police sergeant Mike Marchand, who has helped coach numerous youth sports, said he held a unique distinction among all the people gathered for the ceremony.
"I'm probably the only person here Chris has ever said no to," Sergeant Marchand said. He recounted his recent diagnosis with a serious disease, and how he called Mr. Porterfield and asked him to take over his head coaching duties.
"Right away, he said no," Mr. Marchand said. Mr. Porterfield offered any help he could offer at any time he needed it, but he refused to take over the young team.
"He knows how attached I was to these kids," Mr. Marchand said. "He said 'when you're there, you're the head coach.' For me that was special."
John Custer, principal of the Tisbury School spoke of the countless hours Mr. Porterfield spends with youth sports teams.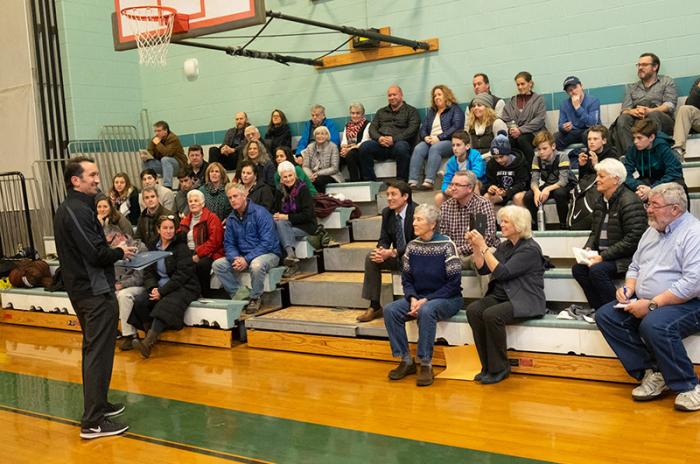 "Chris has volunteered and given so much to this Island." Mr. Custer said. "Chris is positive, he's considerate, he is selfless, he is sincere. Those qualities help define a person's character. How lucky this Island is to have him so involved in many aspects of our community."
Tisbury selectman Melinda Loberg read proclamations from the Massachusetts House of Representatives and the Massachusetts State Senate.
"This really means a lot to me," Mr. Porterfield said, as his youth basketball team watched from the bleachers.
When he first heard about receiving the award, Mr. Porterfield told the sponsors they didn't need to give him an award, to save the awards and accolades for the kids. But he acknowledged that his volunteer work is one of the best parts of his life.
"When you work all day, always the highlight of the day is going out on the field with the kids at the end of the day," Mr. Porterfield said. "Hopefully it helps them, but it does help me a lot, too. It's a privilege to get this. It's special."
His remarks were brief, but emotional. After all, he had a basketball practice to run.
The Spirit of the Vineyard award is sponsored by Vineyard Village at Home, a volunteer driven organization that provides services to help older Vineyarders remain in their own homes later in life.