Martha's Vineyard Airport director Ann Richart announced this week that she will resign in May after nearly three years on the job. Ms. Richart took the top job at the Island's only commercial airport in 2016. Her contract was up for renewal on May 5.
"I'm just getting to the end of my contract and I wanted to give the airport commission enough time to go through a robust recruitment process for my successor," she told the Gazette by phone on Wednesday.
Ms. Richart's surprise announcement came first at a staff meeting she called Tuesday afternoon that was attended by members of the airport commission. Later a press release went out.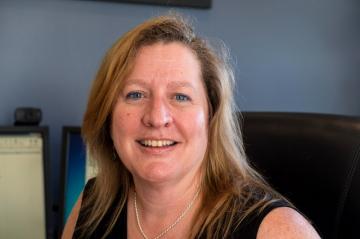 "Ann was effective from the day she arrived in bringing a professional and positive attitude," airport commission chairman Robert Rosenbaum said in the statement.
The director's resignation comes at a time of rapidly unfolding events at the airport. Last week a consultant's report was released detailing deficiencies in the airport's financial management. Next week an environmental hearing is scheduled on a series of proposed projects to repave runways and double the size of the terminal building.
Airport leaders are also dealing with the aftermath of the discovery that 13 private wells south of the West Tisbury Road have been contaminated with chemicals used in firefighting foam. And the airport remains enmeshed in a lawsuit with the owners of the former Airport Mobil whose lease at the business park was not renewed. The airport director oversees both the airport and the business park.
Previously the director of aviation for the Elmira Corning Regional Airport in New York state, Ms. Richart was hired as manager of the county-owned airport on April 2016 to replace former longtime manager Sean Flynn, who had resigned under pressure four months earlier. She earlier held aviation jobs in Oregon, Kansas and Alaska.
At the time of her hiring airport operations were in turmoil and an expensive intramural lawsuit between the county commission and the airport commission over control and authority was pending, among other things. She expressed confidence in her ability to set a steady course. "I like a challenge," she said in an interview after her first week on the job. "I like to have something to fix."
During her three-year tenure, Ms. Richart presided over several large projects, including construction of the $11 million airport rescue and firefighting building and the ongoing rehabilitation of the main runway. She also helped secure more than $30 million in state and federal grants, and helped bring the airport into compliance with the FAA after years of sanctions on airport projects.
In August, Ms. Richart told airport commissioners she had applied for $6 million in FAA funding to cover phase one design and permitting costs for a major airport expansion project. If the design grant was approved, she said, the airport would apply for a $33.7 million construction grant.
In September she was given the title of director and a five per cent pay raise, bringing her annual salary to $166,900.
She said she plans to move to the West Coast to be near her elderly mother and family there.
Speaking to the Gazette by phone Wednesday, Mr. Rosenbaum praised Ms. Richart for her leadership and effectiveness in securing funding for airport projects, particularly a $10 million federal grant for repaving the main runway, a project now under way. He also said Ms. Richart was key in overhauling airport management after a long period of high staff turnover, internal turmoil and problems with federal regulators.
"When she came on three years ago, the airport was in a flat-spin situation," Mr. Rosenbaum said. "She came in at a very difficult period of time. We were facing sanctions from FAA and things were difficult with infrastructure. She came in and very quickly helped to straighten things out."
He said he hoped to move quickly on hiring a new director and outlined plans to have someone in place by April, to allow for some overlap and training. He said commissioners will discuss details of the recruitment process at their next regularly scheduled meeting on Feb. 14.
Ms. Richart told the Gazette she believes because of her management the airport is in much better shape than when she started.
"When I got here the airport had no leadership," she told the Gazette this week. "We were in compliance issues with the FAA. We had a lot of infrastructure improvements that had to be done. My goal was to put it on the path of professional management."
She credited her employees for what had been accomplished.
"There's still a lot more to be done. but I think everyone realized that we had to dig in and we had a lot of work to do. We did that as a team," she said.
Mr. Rosenbaum said a new director will need to lead the airport through an array of challenges, starting with hiring a comptroller to get the financials in shape. But he said thanks to Ms. Richart, the airport is heading in the right direction.
"She did a lot of good stuff for the airport," he said. "We have challenges ahead of us, but the big thing is that the plane is now flying and everything is in a safe situation."
He said the leadership transition will not affect ongoing projects. A public hearing with the Massachusetts Environmental Policy Act (MEPA) on early-stage plans to expand the airport is still set for next Thursday at 5:30 p.m. in the main airport terminal.
Another public hearing to provide updates on the ongoing investigation into PFAS contamination of private wells will be held on Wednesday at 5:30 p.m., also in the main terminal.