The regional high school district committee voted 5-4 at an overflow meeting Monday to press ahead with a plan to rebuild the school athletic fields, using artificial turf for the main field and natural grass for five other fields.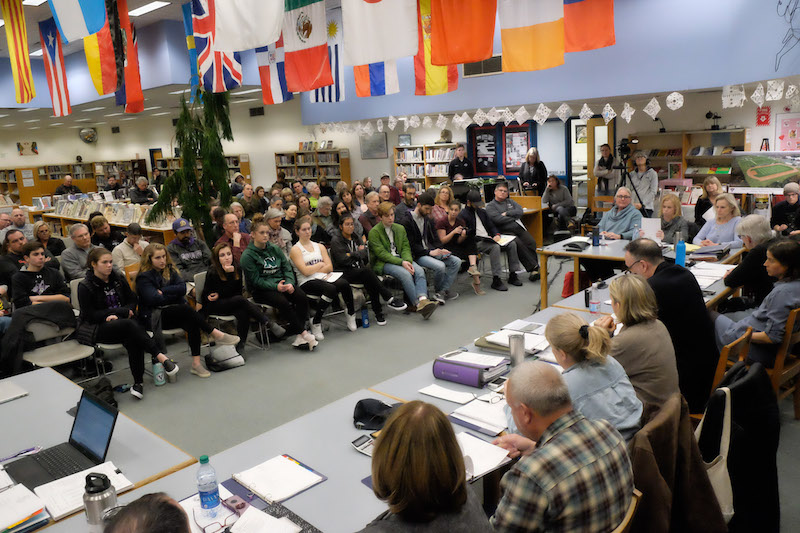 The vote caps more than three years of debate and study about how to best overhaul the ailing athletic fields, including the controversial question of whether to use artificial turf. The issue has stirred strong opinions in the school community and beyond, with passionate advocates on both sides.
And while the vote sets a course by adopting the recommendations of an independent consultant and field designer, there is no clearly defined plan for how school administrators plan to pay for the project. Current cost estimates are around $11 million, with more than $4 million needed for the first phase. Annual maintenance costs on the fields are expected to add another $20,000 to the taxpayer-funded high school budget.
Vineyard schools superintendent Matthew D'Andrea has said he plans to fund raise and seek the balance of funding from voters in Island towns — likely not until next year.
"It's a good question, where is that money going to come from," the superintendent said in response to a question Monday. "That's the only way I can see making this happen."
Some 150 people packed the high school library for the meeting, including many advocates for either grass or artificial turf.
Although committee members had already voted to adopt a report and schematics by consultants at Huntress Associates, they had left open the question of whether to use some artificial turf or all grass. In its report, Huntress acknowledged the long-running debate.
"Given the history of discussion related to installing synthetic turf on Martha's Vineyard we have researched all the most current and most sustainable trends in the synthetic turf industry," the report said in part.
At the outset Mr. D'Andrea said administrators are backing the Huntress plan.
"We are confident that synthetic fields are safe and we are confident that this decision is in the best interest of our students," he said.
Among other things the plan calls for building a new track around a new main artificial turf athletic field, which would be realigned parallel to the Edgartown Vineyard Haven Road. Existing grass fields would be renovated and reoriented.
School leaders expect to do the overhaul in phases, beginning with the new track (the old track behind the school is failed and cannot be used for meets). All the grass fields are in poor condition due to years of deferred maintenance.
The Huntress report is based on an analysis of current and potential future field uses, taking into account the possibility of increased use by both youth and adult soccer leagues.
Preliminary cost estimates developed by Huntress put the total price tag for the project at $11.3 million. Mr. D'Andrea said the cost for the first phase of the project, including the new track, turf field and one grass field rehabilitation, is estimated at $4.3 million. (An earlier estimate of $6.7 million for phase one included a stadium field house and other improvements that the superintendent said this week could wait.)
The school committee has already earmarked $64,000 to pay Huntress and owner's project manager Daedelus Projects, along with $350,000 from excess revenues to pay for further construction designs.
The project also is expected to see possible review by the Martha's Vineyard Commission.
Before the vote Monday, school committee members were divided. Janet Packer said the committee had done its due diligence and listened to all sides.
"We I believe have made conscious choices to move forward, to move this process along," she said. "This is year four . . . I have listened. I have read emails. I have come to the conclusion that a turf infield, one infield, is not harmful to five."
Jeffrey (Skipper) Manter 3rd questioned the timing of the athletic fields overhaul, considering that a major high school facility renovation is on the horizon and expected to cost more than $100 million. He suggested investing in maintenance of existing fields while a campus master plan is formulated.
"The really white elephant in the room is the building we're sitting in," Mr. Manter said. "We're missing a piece that I think is important here, and that is a master plan for the entire campus, including the building."
Public comment went on for some two hours and saw opinions on both sides.
Rebekah Thomson, a founder of the Field Fund Inc., an advocacy group devoted to building and maintaining grass fields at Island schools that tried without success to partner with the high school, highlighted the work her group has done.
"For the last year and a half, the Field Fund has been working with every other [public school] principal to improve playing conditions on their fields," Ms. Thomson said. "We are developing a cutting-edge approach that is cost-effective and nontoxic. And we've embraced a regenerative approach, understanding that the future of your students — our children — depends on communities banding together to make large-scale changes."
There were concerns about environmental impacts from turf.
"We live on an Island. Islands have limits. My message is this: don't give up on natural grass surfaces," said Brendan O'Neill, executive director of the Vineyard Conservation Society.
VCS and the Island chapter of Mass Audubon are among the groups that have taken a stance against artificial turf fields on the Vineyard.
Moira Silva read a letter signed by 65 parents of youth soccer players that criticized MV United league leaders for taking a position in support of turf.
"We do not support our children playing on artificial turf. It was unfair of MV United to assume our agreement . . . without consulting us first," the letter said in part.
Proponents of turf also had their turn.
Three-sport athlete Mackenzie Condon described losing critical games during her freshman and senior years on a turf field off-Island.
"It seemed like no matter how hard we had worked that season, the same field was waiting for us: a field we were not trained to play on," she said. "I felt helpless."
High school athletic director Mark McCarthy said a turf field would promote an inclusive athletic campus because it would be able to hold up under more frequent use.
"We cannot close our campus. We should be doing just the opposite," Mr. McCarthy said. "Having a field that can take the extra use will only help the rest of the fields across the Island."
Some called the Huntress plan a compromise.
"It's five to one. That's a good compromise. Everyone's taking hard-line sides, and it's a compromise. It's to help the grass grow," said lacrosse coach Jared Meader, noting that a turf field would reduce demand on the natural grass fields.
Ryan Ruley, also an athletic coach, urged advocates on both sides to pool resources to help pay for the project.
"I just want to propose that we join together, vote this through tonight, and we fund-raise together for grass and turf," he said.
In the end the vote was as follows: Kathryn Shertzer, Janet Packer, Megan Anderson, Kim Kirk and Kim O'Brien voted to adopt the Huntress plan, while Robert Lionette, Amy Houghton, Skipper Manter and Roxane Ackerman voted against it.