As the regular seasons wrap up, nearly all of the Martha's Vineyard Regional High School winter sports teams have their sights set on regional tournaments and statewide competitions. The results of the remaining games wil be the difference in a top playoff seed and coveted home field/court/ice advantage.
The boys basketball team clinched a playoff spot with a hard-fought 62-54 victory over rival Nantucket (13-3) on Sunday to put their record at 10-6, a vast improvement over last year's two-win season. Coach Mike Joyce, who surpassed 200 wins this season in his 16th year leading the team, pointed to experienced leadership from seniors Sam Wallace and Dylan Dyke.
"Final games bring out more energy from the seniors," Coach Joyce said. "It was one of the best crowds of the year."
The team's five seniors will be honored before a game against Sandwich at home on Wednesday starting at 4:15 p.m.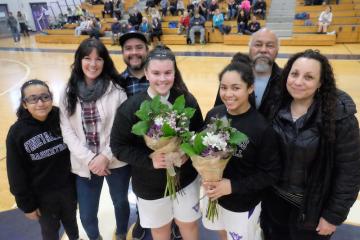 Last year, the girls basketball team narrowly missed the playoffs by falling just short of 10 wins at 9-11. This year's team is currently at nine wins going into the last two games of the season. Just one more win is needed to secure a playoff spot.
The team had a chance at their senior day game against Falmouth Academy on Tuesday, but lost a halftime lead due to host of second half turnovers that resulted in a 37-27 defeat. Coach Sterling Bishop said it was tough to come so close to clinching a postseason berth, but was proud of the performances of his two seniors Summer Cardoza and Mataya Trusty. Both were honored at halftime with flowers alongside their families.
The final two games are on the road against Sandwich and Cardinal Spellman, who handily defeated the Vineyarders in their first match-ups. Mr. Bishop said the team will be much more prepared this time with the postseason on the line.
"We're a different team now and have some experience," he said. "At this point I'm looking to see who's willing and ready and able to step up and give 100 per cent to the team."
For the first time in three years, the boys hockey team will play in the MIAA state tournament after recently defeating Brookline 3-1 to put their record at 9-4-2. Cam Geary, Colby Zarba and Peter Gillis scored a goal each and freshman goalie Graham Stearns stopped any chance of a comeback. Coach Matt Mincone called it one of the best games the Vineyarders have played all year.
"All these years we've worked hard, but now they're getting rewarded," he said.
Mr. Mincone said the true test is coming up when the team runs a gauntlet of five games, including the 21st annual Fairleigh Dickinson tournament on Saturday, Feb. 19. The team's last regular season game, which also honors the seniors, is set for next Friday, Feb. 22 against Nauset starting at 5 p.m.
Despite a disappointing record, coach John Fiorito said the girls hockey team is keeping each game close and he's proud of the consistent effort put out by his young team, even when facing tournament-level teams.
"We're hanging in," he said. "We've been playing the best hockey of the season."
Mr. Fiorito praised the defensive efforts of Lauren Boyd, Ruby Reimann, Alex Rego, Megan Zeilinger and goalie Amelia Simmons for putting the Vineyarders within striking distance of victory in several recent match-ups. He said it will be tough to lose senior offensive forces Hailey Meador and Megan Sonia after the season, but returning players and a strong upcoming class make him hopeful the team can turn it around next season.
Five girls on the swim team will compete in the state meet in Boston this weekend after setting qualifying times — and personal records — at the south sectional championships last Saturday. Both the boys and girls teams finished the season with 6-4 records, the first time either team has finished over .500 in the five-year history of the program.
Gabby Carr was the team's sole individual event qualifier, securing a spot at the state meet with school record times in both the 200-yard freestyle (2:00.96) and 100-yard butterfly (1:03.11). Her ninth place finish in the 200-yard freestyle was also the highest finish ever for a Vineyard swimmer at the sectional meet.
The girls also qualified in two relay events, the 200-yard freestyle (1:49.13) and 400-yard freestyle (3:59.39), both school records. The freestyle finish was the highest ever for a Vineyard relay team at the sectional or state meet. The teams included Yayla DeChiara, Eleanor Hyland, eighth-grader Annabelle Brothers and senior Jasselle Wildanger.
"It's exciting that they got this far," said coach Jonathan Chatinover. "It's hard to keep coming back each week with better times."
Though no boys qualified for the sectional meet, Mr. Chatinover said freshmen Oliver Door and Ruairi Mullin came close and the young team shows a lot of promise for next year.
School records are also being shattered by the boys and girls indoor track teams, who will be sending a combined 14 athletes to the Division 5 state meet on Wednesday. Coach Joe Schroeder said he's seen nearly everyone lower their times and surpass personal records as the season progressed.
"It's going to be a fun meet for us," he said. "We're spread across almost all of the events. It's exciting."
Qualifying track athletes include (SR denotes school record):
55-meter Hurdles Mackenzie Condon (8.74); Dash Christy (8.16, SR); Joseph Bonneau (8.20); JP Alves (8.79). Mile Peter Burke (4:37, SR); Amber Cuthburt (5:34); Catherine Cherry (5:43). 300-Meter Dash Anabelle Biggs (44.21, SR). Boys 4x800-Meter Relay Peter Burke, Isaac Richards, Jonathan Norton, Owen Atkins (8:42.77, SR). Long Jump Mackenzie Condon (17 feet, 1.5 inches); Dash Christy (19 feet, 7 inches, SR). High Jump Mackenzie Condon (4 feet, 11.75 inches). Shotput Nathaniel Packer (47 feet, 2 inches, SR); Paige Pogue (30 feet, 7 inches, SR); Charlotte Packer (29 feet, 9 inches)