Public comment on the proposed expansion at the Martha's Vineyard Airport is running strongly against the plan, airport commissioners learned at their meeting Thursday.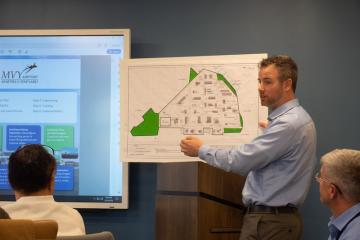 In a presentation, consultants with McFarland Johnson said the state Massachusetts Environmental Policy Act (MEPA) had received 43 comments on the plan, following a public hearing held early this month.
"Most people commented that they thought it was either unneeded or unwanted. That's what you're facing in terms of public opinion," McFarland consultant Jed Merrow told the commission.
Still in the early planning stage, the $39.7 million expansion would double the size of the terminal, vastly expand parking and add new hangars for private aircraft among other things.
Mr. Merrow also said in particular there were pointed questions about the plan to double the size of the terminal and add 550 parking spaces to the existing 369 existing spaces.
During the hearing, outgoing airport director Ann Richart had said that the need for more parking had been documented in the 2016 airport master plan.
On Thursday after close questioning by commissioners, she corrected the record.
"If parking wasn't in the master plan, then where did it come from?" asked commission chairman Robert Rosenbaum.
"What was the rationale for needing 549 additional parking spots?" added commissioner Kristin Zern.
Ms. Richart said the proposal had misstated the parking projections. The proposal for 550 spaces would in fact include existing parking spaces, she said.
"I think that was an error," Ms. Richart said. "We obviously don't need to more than double our parking."
Matthew O'Brien of McFarland Johnson said all comments will be taken into consideration as plans progress.
"We want to be incorporating the community's comments and finding a solution that is right for everyone," he said.
In other business, financial pressures continue to mount, partly due to the ongoing cleanup of private well contamination from firefighting foam. Commissioners voted to approved a new $130,000 contract with Tetra Tech which is leading the investigation and cleanup effort at private homes south of the airport. To date 112 wells have been tested with contamination found in 14 of them. In an update, Tetra Tech consultant Ron Myrick said 50 more wells will be tested over the nest few months.
Ms. Richart told commissioners money for the contract will come from the operating budget, but more will be needed.
"This proposal will get us through the end of April. You will have to approve something more coming up," she said.
Commissioners have already approached the Dukes County Commission for a temporary loan until an anticipated $1.3 million loan from the FAA comes through.
In a finance subcommittee report, Mr. Rosenbaum said the airport expects to ask the county for up to $350,000 to cover cash flow needs through the beginning of June projected. But he bluntly acknowledged that there are many unknowns.
"What we've currently spent could only be the tip of the iceberg," the chairman said. "This is a serious problem both from a health standpoint and a money standpoint."
The county commission is expected to vote on the request in two weeks.
Commissioners also learned that the airport will have to pay $80,000 for altering rare species habitat in the airport business park years ago without a permit. Mr. Merrow told commissioners that two lots in the business park, one currently occupied by Big Sky, are situated on land designated as priority habitat by MassWildlife for rare flora and fauna. He said both were developed in the past decade without following state regulations.
"It should have had a permit," the consultant said. "Some of the species are state listed as threatened or endangered."
Based on a recommendation from the finance subcommittee, commissioners also voted to begin advertising for a full-time comptroller-level accountant, a new airport position recommended by a financial consultant. A report published last month by the consultant found deficiencies in the airport's financial accounting procedures, including the absence of staff with financial management experience.
Commissioners also voted to appoint commissioner Don Ogilvie and Norm Werthwein, a finance subcommittee member, to evaluate candidates. Mr. Werthwein has volunteered to manage airport financial affairs in the interim.
"This is an important job," said commissioner Richard Knabel.
"I would hope we can find someone locally. I think getting the comptroller on board is rather urgent," added Mr. Rosenbaum.
Commissioners also discussed the search for a new airport director.
Ms. Richart announced last month that she would not renew her contract in May.
Mr. Rosenbaum said the airport has received proposals from two aviation staffing consultants offering to assist in the search:. ADR Consulting and ACS Firm. ADR said it would charge just under $20,000 to assist with a search or $37,000 for a full search. ACS Firm, would charge $40,000 for a full search.
Commissioners called a special meeting for next Thursday to resume discussion on the matter.
"Time is not on our side here. We need to move forward with the process as soon as possible," said commissioner Peter Wharton.
"There is an urgency to get this process moving," Mr. Rosenbaum agreed.