A new Menemsha traffic plan is set to be implemented this summer after approval by Chilmark selectmen Tuesday night.
The plan, originally drawn up by Chilmark resident Barbara Armstrong, is the result of months of debate over the best solution to improve public safety and mitigate summer congestion in Menemsha. A plan to build a bus turnaround north of the comfort station was shelved by selectmen in January after a vocal group rallied against the project, calling it an unnecessary eyesore. As a compromise, selectmen agreed to accept alternative proposals, adopt one for the upcoming season, and review data in the fall to see if it was successful.
Under the plan created by Ms. Armstrong, parking spaces along Basin Road would be repositioned for better traffic flow and eight to 10 spaces would be removed completely.
"The traffic pattern won't change. There will just be a little bit more room for everybody," said selectmen Warren Doty.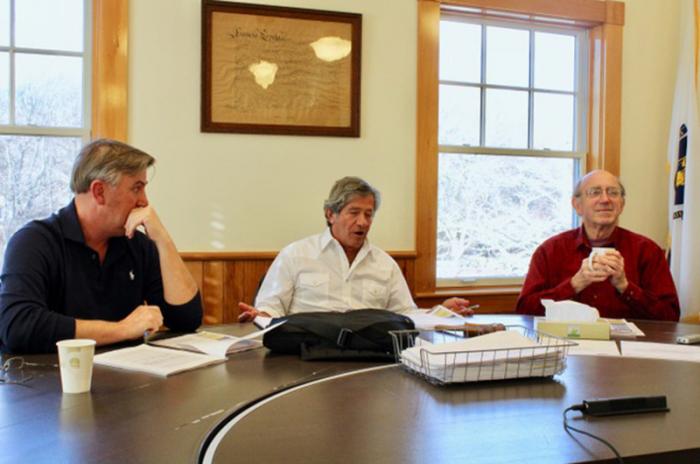 "This is an attempt to deal with pedestrian safety and traffic congestion down there in the summer," added chairman of the selectmen James Malkin.
Selectmen agreed to send the plans to the Menemsha subcommittee for final review.
"I'd like them to give us their feedback and then I'd like to move forward on it," said Mr. Malkin.
New stop signs and a crosswalk are also set to be installed at the intersection of North and Basin Roads as an added safety measure. Town administrator Timothy Carroll said there will also be temporary flashing lights to alert drivers to the new signs.
"You have 80 years of people driving down that hill and now there will be a stop sign on a blind corner...it will get their attention," he said.
In other business, selectmen approved a salary of $40.94/hour and a start date of April 1 for new harbor master Ryan Rossi, who will succeed harbor master Dennis Jason Jr. at the end of June. Selectman Bill Rossi, who is Ryan's uncle, did not participate in the vote.
Mr. Malkin explained that normal procedure would start a new town employee at a lower salary, but he felt higher compensation was deserved due to the pressures of the job.
"In my opinion, the harbormaster is the most controversial public position in the town...we're talking about a public safety position...it's a very public, very important position in the town," he said.
Selectmen also discussed land use violations by several homeowners along Middle Line Road who are storing business equipment on their property outside the terms of their lease. Mr. Doty felt that the violations were minor and did not require a penalty.
"It's a local person who's working hard and running a business...and they don't have another place to keep their equipment," he said.
"People working hard is great, but if it's affecting people quietly enjoying their property...the terms of the land lease should mean something," responded Mr. Rossi, who is a member of the town housing committee.
Selectmen agreed to send a letter to the homeowners if the equipment is not moved before town inspections over the next month.
The meeting opened with a moment of silence for longtime Chilmark residents Seth and Joanne Wakeman, who were killed when they were hit by a motorist Saturday night in Connecticut.