With two days remaining, the Martha's Vineyard Film Festival has already taken audiences from New Orleans to Cuba, into a New York city courtroom, around the state of Texas with a barnstorming political campaign and across the continent of India on a children's march.
In the Chilmark Community Center, seated on couches and folding chairs, festival goers also have watched a farm grow from parched dirt to fertile acres (The Biggest Little Farm), and witnessed Aretha Franklin in concert at the peak of her greatness (Amazing Grace, repeating Sunday at 7:45 p.m.).
Telling true stories in film has always been this festival's mission. Out of 30 titles screening this weekend, more than two-thirds are documentaries. And even the features hew closely to the real world. A Private War, screening Saturday night, is based on a true story and The Insult, which played Friday at Pathways, takes place in present-day Beirut.
In its 19th year, the festival is drawing more than Islanders to Chilmark. Bob and Marianne Gould of Falmouth made a weekend of it, arriving Friday afternoon. Their first stop was the warm and tented Hay Café outside the Community Center.
"We've been coming for three or four years," Ms. Gould said, reviewing the list of films as festival founder and executive director Thomas Bena stopped by to greet the couple.
"We're very excited about Running with Beto," Mr. Bena said. The documentary, by seasonal Islander David Modigliani, follows Beto O'Rourke on the campaign trail in Texas last year.
Running with Beto was originally slated to play twice, but a third screening was added to accomodate the demand for tickets. It screens for a final time today at 12:15 p.m. today at the Chilmark School, followed by a discussion with Mr. Modigliani.
The director spoke following screenings Friday, answering audience questions about what it was like to travel with Mr. O'Rourke as he sought to unseat incumbent Ted Cruz in a close but ultimately unsuccessful bid. Now running for the Democratic presidential nomination, Mr. O'Rourke is working with the same young campaign manager and communications director seen in the documentary, Mr. Modigliani told the Chilmark audience.
"They're building the plane while they're flying it, which is not unlike making a documentary," Mr. Modigliani said of the O'Rourke presidential campaign.
The documentary Blowin' Up, which showed Friday afternoon, also has a Vineyard connection in Eliza Hook, a dedicated social worker with an agency that seeks to divert girls and women from the sex trade. Ms. Hook traveled from her current home in Austin, Tex. to speak after the film, which traces the ebb and flow of prostitution cases before a compassionate judge in Queens, N.Y.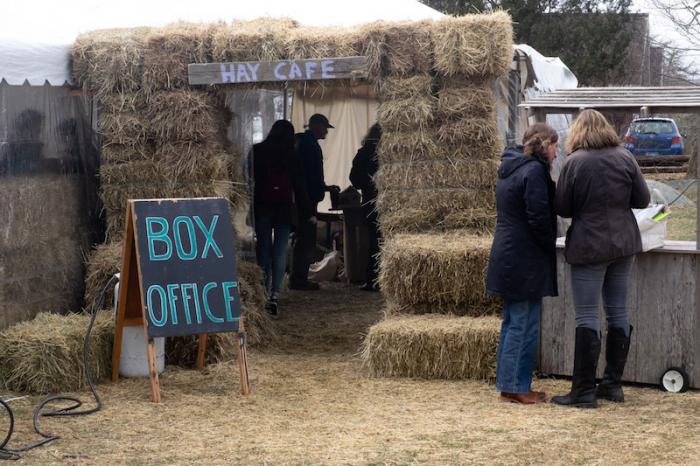 "Because of our puritanical laws in place, girls and young women and trans women ages 16 and 17 years old can still be arrested and prosecuted for prostitution in the state of New York, even though technically they're being prosecuted for their own statutory rape," she said.
The normal career lifespan for a such an emotionally difficult job like hers is two or three years, Ms. Hook told the Gazette after the screening. She lasted close to a decade before moving to Martha's Vineyard for a couple of years.
"This is where I came to seek refuge and respite and to get some healing," she told the film festival audience.
"I was a concrete form slinger. I put in foundations on this Island," she went on. "I had to be in my body all day, every day... It was the best therapy I ever had, slinging forms on this Island."
Friday's screening day began with A Tuba to Cuba, which travels with the Preservation Hall Jazz Band to Havana and Santiago de Cuba on a tour that re-establishes the common bonds between the musical traditions of New Orleans and Cuba.
Narrated by bandleader Ben Jaffe, the joyous documentary is also a posthumous tribute to his father Allen Jaffe, who founded Preservation Hall in 1961 and died in 1987, when Ben was a teenager and Cuba was still behind the Iron Curtain.
A Tuba to Cuba screens again today at 3:30 p.m. at the Chilmark School. For the most current film times today and tomorrow, consult the website tmvff.org; the printed schedule does not include several added screenings.