Next week marks the beginning of April, and that is the month when the northward migration of birds really accelerates. This week is still rather slow, although the first individuals of three species arrived.
Jeff Bernier was the first to find a piping plover, the small and cryptically colored denizen of our sandy beaches. He found one at Little Beach on March 19. There was also an American oystercatcher. Neither species was there on March 17, when I went there hoping to find them. In a few weeks the breeding populations of both species will be back and their courtship, nest scraping and egg-laying will start in earnest.
The next two species are both insectivorous, and so far only one individual of either species has been reported. An eastern phoebe was spotted by Michael Whittemore at the Hoft Farm on March 19. They are usually first detected by hearing their raspy fee-be song. And Gus Ben David reports the first tree swallow of the season, which was in his yard on March 24. Swarms of these birds will soon be swooping around our ponds and fields in search of flying insects. Just think how many insects these birds eat!
Bird Sightings
American oystercatchers continue their return, and numerous observers have reported the arrival of the two pairs that make their home along the shores of the west arm of the Lagoon. Rick Dwyer spotted his first oystercatcher on Norton Point Beach on March 24, while Lanny McDowell and David Stanwood found one at West Chop on March 21.
More osprey continue to show up across the Island. David Stanwood observed one near Chilmark Pond on
March 21, and Martha Moore observed her first as it perched on the nesting pole at Long Point that same day. And Prudy Burt reports hearing and seeing one flying over High Mark Road in Chilmark on March 25.
A group of people including Lanny McDowell and David Stanwood visited the beach under the West Chop Lighthouse on March 21 to observe the sunset and moonrise on the Spring Equinox. At dusk they were treated to a sighting of a great horned owl as it landed and remained perched on the peak of a house near them. It stayed there long enough for many to get to see it through binoculars. It was a nice way to celebrate the return of spring!
Another common breeding species on the Island is the Carolina wren. Also on the Equinox, Warren Gossen reports one of these loud and feisty birds was building a nest in a birdhouse in his yard. Sue Shea is already putting out oranges to attract birds to her yard. On March 22, she was rewarded by finding a catbird visiting her oranges. This is likely an overwintering bird that only recently discovered the food she puts out, as their migration really does not start for another month. Oranges nailed to a perch are a great way to attract a variety of rather colorful birds. Jo-Ann Taylor saw her first fish crow near the youth hostel on March 21. Penny Uhlendorf has been enjoying the flock of 15 or so fish crows that have been frequenting downtown Vineyard Haven for most of the winter. David Stanwood reports that the commuter crows — an estimated 300 fish crows and 300 American crows — are still making their daily commute from the Cape to their night-time roost near the Lambert's Cove Inn. The fish crows are one of our over-wintering species that will soon be departing for their breeding grounds. We have yet to find them nesting on the Island.
Matt Pelikan found a flock of 350 scaup on Edgartown Great Pond on March 19 — another winter resident species that is about to depart the Island. Some were too distant to identify to species, but the ones that were flying close enough to identify were all greater scaup, the more common of the two scaup species. He also spotted a killdeer at Norton Fields that same day.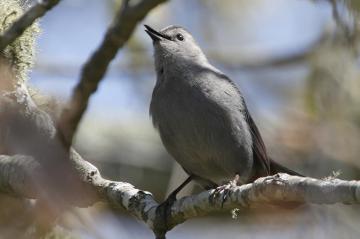 The third annual Junior Bird Count, sponsored by BiodiversityWorks and The Trustees of Reservations, will be held at Long Point Wildlife Refuge on Saturday, March 30 from 9 a.m. to noon. This is a great opportunity for kids to learn how to identify birds. There will be activities for younger children too so feel free to bring your entire brood. Please preregister by calling 508-693-7662 or email shurley@thetrustees.org.
Spring is here and the northward migration has only just begun! Please report your sightings to birds@mvgazette.com.
Robert Culbert schedules private guided birding tours, and is an ecological consultant with Nature Watch LLC living in Vineyard Haven.