Nancy Luce, known as the "chicken lady of Martha's Vineyard," made a living in the 19th century by celebrating her beloved bantam hens with poetry and selling chicken-related souvenirs to tourists.
Her gentle eccentricity has inspired generations of animal lovers and Island individualists over the years. One is artist Daniel Waters of West Tisbury, Ms. Luce's lifelong hometown, who created three block prints of the chicken lady and her hens.
"I identify with her as an artist and an outsider," Mr. Waters said. "Martha's Vineyard attracts the injured birds of the world, and they come here and are accepted and function in a way the outside world doesn't usually allow."
How one of his prints made its way to Philadelphia and into the imagination of a 21st-century choral composer is an unexpected tale that is still unfolding, as the Island Community Chorus premieres the cantata In Heaven, Hereafter, inspired by the life of Nancy Luce. The performances are Saturday night and Sunday afternoon at the Whaling Church in Edgartown.
Composer Thomas LaVoy, born 100 years after Ms. Luce's death in 1890, had never been to Martha's Vineyard or heard of its chicken lady when he spotted one of Mr. Waters's prints on the wall of a relative's home.
"It was the weirdest thing," said Mr. LaVoy of the chance encounter in 2017, while he was pet-sitting in Philadelphia soon after receiving his PhD in composition from the University of Aberdeen in Scotland.
Purchased for 25 cents at a Pennsylvania thrift shop, the print depicts Ms. Luce and her hens ascending to heaven, watched from below by an Island farmer and a wide-eyed whale. Mr. Waters included some lines of poetry: "Nancy Luce, the night she died/Called her chickens to her side/Neighbors ran to see them ride/Through the Island sky so wide."
Hanging near the piano where Mr. LaVoy worked daily to launch his career, the print captured his imagination so completely that he had to find out more. He looked up Ms. Luce's life and poetry online, and took the image out of the frame for more clues.
"We took it out of the frame and found Dan's name," he told the Gazette this week while on the Island preparing for the concert.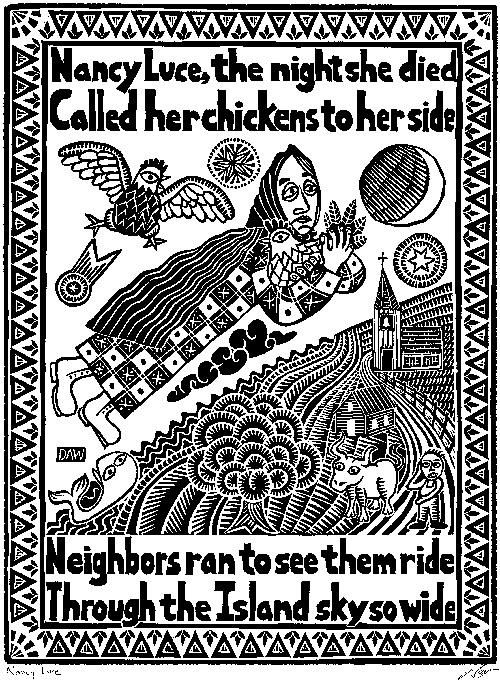 Contacted by email, Mr. Waters was glad to show him around the Island when he arrived early last year.
"Dan was amazing," Mr. LaVoy said. "He took me to Nancy's cabin and to her gravesite," where the composer spent some time alone among the chicken figurines that fans still leave by her headstone.
"It was very clear that he felt a strong connection," Mr. Waters said.
Mr. Waters also introduced him to Bow Van Riper, research librarian at the Martha's Vineyard Museum, who showed Mr. LaVoy more of Ms. Luce's writings.
"There was stuff in there I hadn't seen before—different versions that are not in the [online] collected works," said Mr. LaVoy.
Mr. LaVoy crafted the cantata's libretto completely from Ms. Luce's words, with what chorus director Peter Boak called "an extreme gift for being able to wed the mood of the words with the music that he creates to go with them."
To fund the cantata, Mr. LaVoy created a commission consortium in which several choirs, including the Island Community Chorus, chipped in. "Passion projects are great, but it's very difficult to get them done because you have to focus on work that pays," he said. Soprano Molly Conole sings the part of Nancy Luce in the new work, which Mr. Boak called "totally accessible and very emotional."
In Ms. Conole's first rehearsal with the chorus at the Whaling Church, "we all got so wrapped up in the emotion of the music that we missed our entrance," Mr. Boak said. "We were swept away."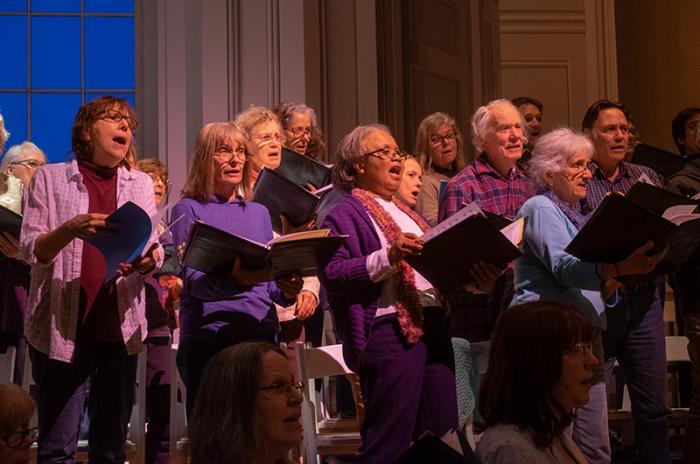 For her part, Ms. Conole said: "It's so amazing to channel this woman's persona that had this obvious, deep, intuitive connection to her beloved chickens—and they to her. To really delve into her intense feelings about them, and her noticing of their intense feelings for her—it's so tender, it really is."
This weekend's concerts come at a poignant moment in the aftermath of the barn fire that killed more than 100 animals at Flat Point Farm last month. While Saturday's 7 p.m. concert may lose some attendance to the farm benefit at the Ag Hall that night, Sunday's 3 p.m. performance will give more Islanders a chance to hear the new work. The program also includes Fauré's Cantique de Jean Racine, a Puccini work with guest violinist Rebecca Laird and Mr. LaVoy's setting of the 121st Psalm, Neither the Moon by Night.
Longtime chorus pianist Garrett Brown will accompany the singers and Ms. Laird. A reception will follow each performance.