Painter Donna Straw has a new muse. The metallic colors and sharp lines of structures in her past work are out, replaced with muted grays and the organic movement of nature.
She calls it the latest step in her evolution as an artist and a rebuttal to stereotypes of her distinct style.
"The linearity is gone," she said in an interview at her Vineyard Haven home. "I like not being pigeonholed. I find this to be liberating. It's challenging and it's fresh."
That evolution is apparent in Ms. Straw's latest painting, Winter's Calm, part of the new Botanicals series. A rocky stairway flanked by leafless trees leads to a small, faded structure in the distance. No figures break the solitude. The steps are unevenly layered with wavy streaks of hushed colors. Inspired by a hike Ms. Straw took several years ago at Fort de Buoux in southern France, the scene is at once foreign and familiar. Ms. Straw said that's because some aspects of it were influenced by her own backyard.
"It started in France, but ended up on the Vineyard," she said. "I combined it with aspects of the trees from Cedar Tree Neck Sanctuary, and the color inspiration came from right outside my house. I grayed out my paint because there's something that I like on this Island about the subtlety. You can be extensive in grays. There are like a million shades of gray. I think it's sophisticated."
Winter's Calm is one of 15 of Ms. Straw's paintings on display at the West Tisbury Library in a show that starts Saturday and runs through the month. An artist reception will be held from 3:30 to 5 p.m. Saturday.
The show will feature new work alongside some previously shown paintings from her Dreamscapes and Reflections series.
"It's my first solo show. I haven't had that extensive of a show before, ever," she said.
Though her style has become more muted, Ms. Straw is anything but. During a tour of her home collection, she eagerly recounts stories behind every one of her paintings hanging on the wall, spanning back to when she was a student. The earliest ones from her master's thesis are architectural paintings, later evolving into a series of decorative birdhouses, Oak Bluffs Camp Ground cottages and more abstract land and seascapes.
"I think the exciting part of all of these pieces is that they take you on a journey," she said. "I'm taking you along with me. I'm pulling you into my space. People are really enjoying my journey with me."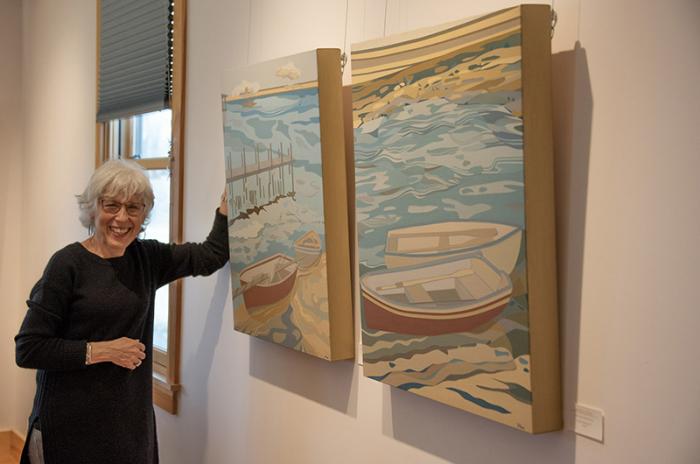 Ms. Straw said the journey began in New Jersey at age six when she looked at a bunch of letters on a classroom blackboard and saw them coalesce into the shape of a house.
"That's how my brain worked. I saw the configuration of a geometric shape on a blackboard that wasn't there," she said. "I just really enjoy playing with abstraction and shapes."
At age 12, she began painting after school. In college, she discovered her color palette through collage, mixing colors like "spaghetti and sauce." After obtaining her master's degree in fine art from Montclair State College and teaching art for 35 years, Ms. Straw moved to the Vineyard in 2008. She's made the rounds of Island galleries since, using her eye for spatial depth and structure to cast Vineyard scenes in a fresh perspective.
"It's really something about the way that I process information and the way that I see things visually . . . the way I love to play with colors and design and distill imagery . . . I feel it distinguishes my style from others on the Vineyard," she said.
Ms. Straw finds her inspiration through her mantra, "explore to create." When a scene catches her eye, she snaps a photo with her phone and posts it on Instagram. She then heads home to paint. A canvas placed on a large easel in her kitchen doubles as her home studio. Her tools sit on the dining table: acrylic paint, tape and a blow dryer. Another one of her paintings of Cedar Tree Neck hangs nearby. She said the process of completing it took two months of 16-hour days.
"First I have to find images that I love, and then draw them down in pencil," she explained. "Then I define the space with the tape, fill it in with color, blow dry it in with two coats and I pull it off. That's what makes it so labor intensive . . . to get that crisp, clean edge. It's very satisfying to get the final result of the work when it all comes together."
When painter's block hits, she said, she gets out of the house to explore more of the Island. She said the solitude and peace of the Vineyard continues to influence her work — only one of her paintings contains a figure.
She also praised the Island's artistic community for its positive energy and support.
"I've had this quality of time here that I would never have anywhere else. If I lived in different parts of the country, this may not have happened," she said.
As for what to paint next, Ms. Straw said she doesn't worry about it. She said the inspiration will come ,as it always has, and she restlessly looks forward to where her style evolution takes her next.
"Every time I do a piece it challenges me," she said. "I am not complacent. I create these puzzles and I have to solve them. I wouldn't be satisfied if I wasn't doing that for myself."