Rusted boats rock in the tide. Customers shuffle in and out of Larsen's and Menemsha fish markets, surrounded by conch and lobster pots stacked high. The only sound from the Island's century-old fishing village is the clanking of rigging, the proverbial fishermen's windchimes.
Then other sounds can be heard over the water. Heads turn, doors open, and all eyes are on sea scalloper Sam Hopkins's 49-foot vessel Endurance in the distance, blocking the Lobsterville sun. Endurance steams her way into the harbor and curious onlookers gather on the Dutcher Dock as Mr. Hopkins unloads 600 pounds of fresh sea scallops, ready for market.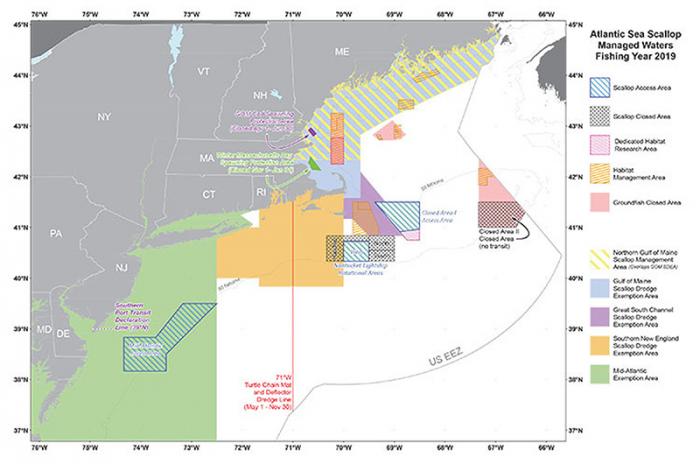 The authentic scene was made possible by the Martha's Vineyard Fishermen's Preservation Trust. The trust works as a permit bank, buying pricey fishing licenses, lobster tags, and other permits so they can lease them to independent fishermen on the Island at less than market price.
The trust purchased a million dollars in sea scalloping quota that it now leases to Mr. Hopkins.
In a wide-ranging interview with the Gazette this week, trust president John Keene and executive director Dr. Shelley Edmundson discussed the work of the organization and its efforts to maintain an economically viable, independent fishing community on the Island. They believe the presence of more fishermen like Mr. Hopkins can help Menemsha return to its earlier heyday of commercial fishing.
"We saw Menemsha and a lot of the other harbors fading away," Mr. Keene said. "A lot of the reason was because permits were becoming so expensive and becoming so consolidated that fishermen on the Island were getting left out of the opportunity to obtain them."
In the 1970s and 1980s, the Island saw a massive fishing boom. Fishermen who worked hard and made a good living during that period were often able to coast into retirement and sell off their permits at a premium. But when the fishing industry around the Island crashed in the 1990s, it left a younger generation of fishermen stranded without a legacy livelihood. Many were forced to go into landscaping, contracting or another trade, because the cost of fishing permits had become out of reach.
"It created this vacuum, this big generational gap of knowledge and experience and capital," Mr. Keene said. "If you were 20 years old and it's 2005, and you wanted to go out and buy a million-dollar scallop license, and the bank said, well what experience do you have, and you say, well my father and grandfather fished in the seventies, you're shut out.
That gap is what we are trying to get back into, and encourage young people to be excited about fishing."
Ms. Edmundson, who has a doctoral degree in marine biology and has extensively studied the conch industry, added that fishing is part of the Vineyard's heritage. But that heritage has slowly been lost.
"It's right here in our backyard," she said. "So even though our fishermen have been sea scalloping or fluking for generations, if we don't have the ability to get those permits now, then they get absorbed by the big corporations and then basically they're the ones controlling what's being landed, how it's being landed, and who's landing it. And so small communities like ours, who care about how we fish, what we fish, and where we fish, are becoming cut out from that ability to actually harvest from the waters that are around us."
Enter the fishermen's preservation trust, which has an 11-member board that includes fishermen, wholesalers, contractors like Mr. Keene and scientists like Ms. Edmundson. Along with procuring $1 million in sea scallop quota, they have obtained hundreds of state and federal lobster tags that they hope to lease out to the nearly 20 lobstermen based in Menemsha, Tashmoo, Vineyard Haven and Edgartown. Although regulations and trap reduction rules have made obtaining lobster tags, where one tag equals one pot, more difficult and expensive, Ms. Edmundson suggested that the Island had certain advantages for lobstermen.
"What's happening with the lobster fishery is the lobster stocks are moving farther offshore," she said. "But we're an Island — so we're offshore already. Our fishermen have an edge . . . . We're going to buy these tags and give them to a local guy."
Mr. Keene was quick to point out that just because the trust sold the tags at 50 per cent market rate, it didn't mean that they were giving them away. They still treat fishing as a business, and fishermen need a viable business model to receive support from the trust.
"If 400 tags are for sale, some guy in Menemsha can't afford that. So we buy 400 and sell them at a fair cost, in small packages," Mr. Keene said. "We're not a handout group, we're a help-out. And that's huge because no one wants to succeed artificially."
When trust board member and longtime Island fisherman Luke Gurney died in an accident at sea two years ago, the trust took steps to obtain his conch permit. Even though conch permits can only go to owner-operators — making the trust technically ineligible — Ms. Edmundson and Mr. Keene worked tirelessly with the state to create a pilot program where they could obtain the permit and lease it to a fisherman on the Island. They held meetings in Woods Hole with a wide range of stakeholders to press their case. Eventually the state was convinced.
"The conch industry started around here. We want to keep it on this Island," Ms. Edmundson said. "We ended up being able to get this permit, and now an Island fisherman is buying it from us."
That fisherman is John Osmers from West Tisbury. Along with conch, Mr. Keene and Ms. Edmundson said the Island's waters have an abundance of other sustainable fisheries. Two boats in Menemsha, the Miss Jenna and Genesis, are fishing for Jonah crab. The sea scallop fishery is 100 per cent sustainable, according to Mr. Keene. Fluke, flounder, sea bass and mackerel are other healthy stock that abound in Vineyard waters.
The trust hopes to establish a micro-loan fund, to help prospective fishermen buy gear and safety equipment.
It also recently began a high school mentorship program, focusing on getting Island youth on the harbor and involved with fishing.
All this work takes money, and the trust, which is a tax-deductible 501c3 organization, is also constantly looking for new sources of funding and ways to raise its visibility.
The popular annual Meet the Fleet event in Menemsha has already been set for August 1.
Mr. Keene, who worked at Poole's fish market from the late 1970s to the early 1980s, remembers the glory days of Menemsha.
"It was great," he said. "The Mayhews were coming in. The swordfish boats. Sea scalloping in the winter. It was a bonanza then. Menemsha was alive. There were people of all different ages, learning all this stuff, just sitting there, shucking next to Eric Cottle. As a kid, it wasn't just the fishing. It was the community. That's what we're trying to preserve."
Donations to the Martha's Vineyard Fisherman's Preservation Trust can be sent to P.O. Box 96, Menemsha, MA 02552.