On a windy day in Aquinnah, contractor Paolo Muniz and his son rushed to complete work on a small commercial building overlooking the Gay Head Cliffs. Memorial Day weekend loomed a few days away and shops around the lighthouse and cultural center were in the final stages of touch-ups, preparing for visitors.
Mr. Muniz moved to the Island in 2002 from Brazil and raised his two children here. He said he has grown used to the seasonal rhythms, and this is definitely crunch time for contractors.
"In construction, spring is super busy," he said. "After Memorial Day, that all stops. People don't want to hear or see us around their house in the summer!"
Busy is the common theme as the Vineyard gets ready another summer season with Memorial Day weekend serving as an opening day at the races as the energy begins to build.
"This is a busy weekend, but we aren't at peak yet," said Sean Driscoll, communications director for the Steamship Authority. Mr. Driscoll said there are 103,316 advanced ferry reservations for vehicles in June and July, and that the Steamship Authority, just like every other business, is adding workers to meet the seasonal demand. He said they employ about 750 people, many of whom are summer hires.
Just in time for the holiday, the Martha's Vineyard Airport reopened its main runway on May 14, clearing the way for increased air traffic. JetBlue and Cape Air are the commercial carriers currently serving the Island as Delta and American Airlines have not yet begun seasonal service.
Assistant manager Geoffrey Freeman also expects an increase in private jet traffic this weekend.
"There will be a jump in private jets, as we've received some calls inquiring about the reopening of the runway," he said. "Private jets don't make reservations, so there is no way to know for certain."
"We've hired our seasonal summer staff, and with them on board it looks to be the start of a great summer," he added.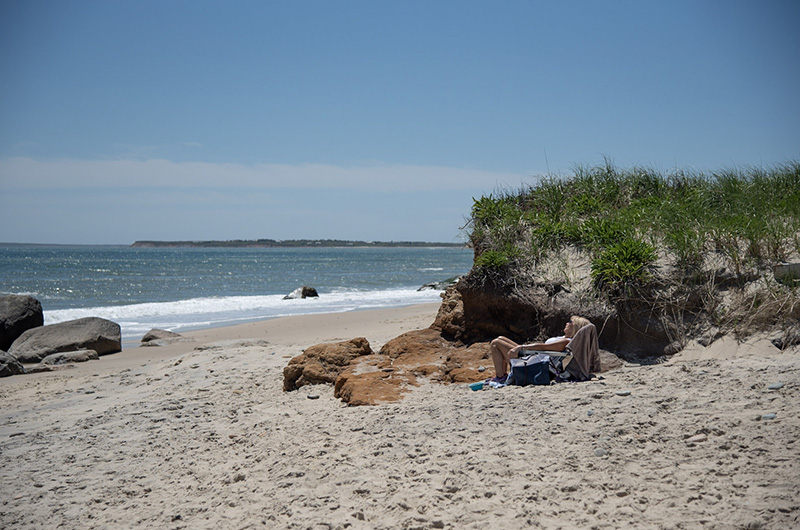 Summer hires are essential to the overall workforce of the Island and many are just now returning to jobs they have held for years. On Tuesday, Jack Sayre, of Vineyard Cleaners, roamed the empty aisles of the Capawock Theatre, vacuum in hand as he did his part to get the theatre ready to open on Friday for the season.
"It's just me, my mom and one other worker here for now because it's our slow time," he said. "Things will speed up later in the summer."
On Main street in Edgartown the pace was fast at the Black Dog General Store. The back door to the shop repeatedly swung open to reveal stacks of boxes and piles of packaging. Manager Christine Cardoza and her staff were loading and unloading as quickly as possible. Ms. Cardoza's arms were filled with apparel as she spoke.
"We call it organized chaos," she said. "We're figuring out what stock is new and what stock we're getting rid of."
Ms. Cardoza has worked for the Black Dog for 13 years. "This weekend in particular is crazy because our J-1 students are just arriving, so we're training and preparing all at once," she said.
Down the street on the harbor, Bonnie-Jo Welch Hakala, owner of the Ice Cream and Candy Bazaar, was looking forward to the arrival of summer sweet tooths.
"The real season gets going once the little darlings are out of school, about the second week June," she said. "That's when the fun starts."
Back up-Island in Menemsha, Larsen's Fish Market will celebrate its 50th anniversary this summer. "It's a busy weekend, but it isn't peak season" said Kristine Larsen, echoing other sentiments around the Island.
Her cousin Scott Larsen agreed. "It takes awhile for the Island to wake up. Even for me, my muscles remember, but my brain has to catch up."
Until mid June, when things become more reliable, the fish business is a tricky one, they said. "This time of year with the weather, you have to be careful," Scott said. "We want to keep things fresh, and there's only so much chowder we want to make."
While the weather and size of the crowds are still unpredictable for the moment, one thing is certain: the Larsen's are grateful for the beauty that surrounds them.
"I think about people working in kitchens everywhere else, and I look out and see that," Kristine said, gesturing to the ocean.
"Wow, here's my office window, just above that cutting board," Scott agreed. "Would you look at that view."