A week ago, Storm Swain became a U.S. citizen.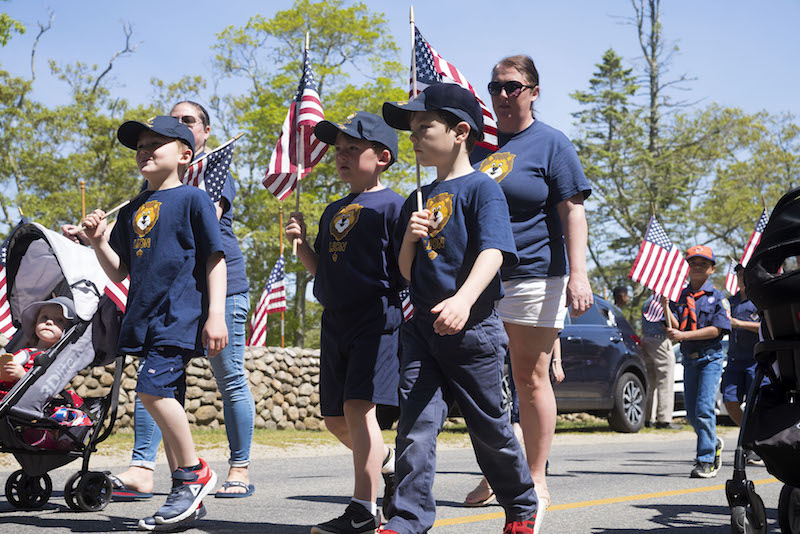 On Monday, she joined the Pledge of Allegiance at the Memorial Day parade held annually on the Vineyard.
"To say it for the first time here, it was really moving. It's a global community today, honoring all those lost," said Ms. Swain, an Episcopal priest and native of New Zealand.
The day began just after 7 a.m. when dedicated members of the American Legion Post 257 gathered at the Oak Grove Cemetery in Vineyard Haven to put up hundreds of flags. The annual avenue of the flags ceremony was led by county veterans agent Jo Ann Murphy.
A few hours later, veterans, wives of those lost in battle, cub scouts and girl scouts, marched down William and Spring streets to the avenue of American flags. Onlookers applauded, many of wearing cloth red poppy pins to honor lost loved ones.
The weather was picture perfect, with blue skies, sunshine and cool breezes.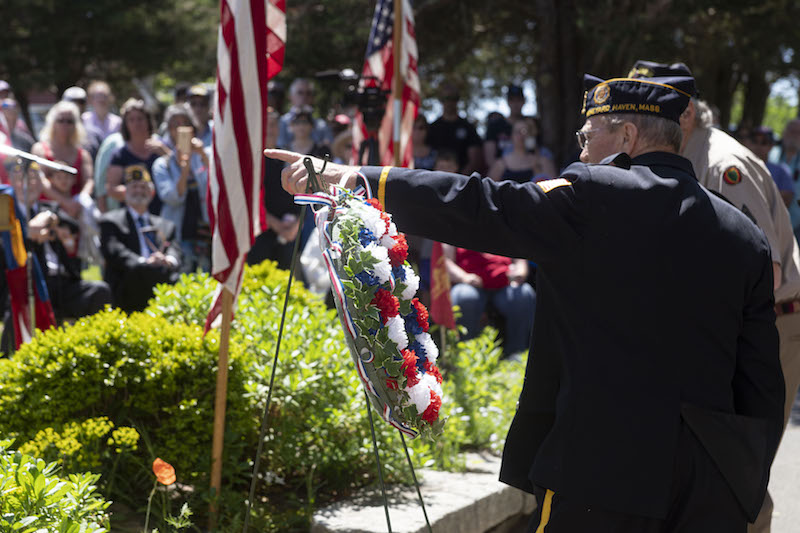 It was the first Memorial Day on Martha's Vineyard for the Albiston family, who relocated from Oregon in November. Garret Albiston, an apprentice electrician and former park ranger, marched in the procession as a scout leader, along with his son Elwood, a cub scout, and daughter Lily, a girl scout. "It's a great way for us to honor veterans. Today really is about teaching my kids something about character," he said.
The parade culminated in prayers, the Pledge of Allegiance and laying of wreaths.
There were remembrances for Island veterans. Vito Priore, a teacher and coach who never served in the armed forces, remembered another man, who was both community hero and army veteran. "Today I honor a hero, former schools superintendent and army veteran Sancy Pachico," he said.
Helen Anderson, a retired operating room nurse and longtime Vineyard Haven resident, watched the parade go by. "I remember my father, and my brother. My brother died in service," she said.
Edgartown police chief Bruce McNamee played bagpipes in the procession, which included veterans of the Coast Guard, Marine Corps, Army and Navy veterans. A convertible carrying veterans of Korea and World War II followed.
Ms. Anderson's husband drove the vehicle carrying Herb Foster, who served with the 24th infantry division fighting World War II in Japan. The older veterans smiled and waved. Mr. Foster enjoyed the support from the crowd, and his fellow veterans.
"To have veterans from all the wars, young and old coming together like this, to have all this history here. I can feel it," he said. "Today I remember my father who fought in World War I," he said.
Jeffrey Spear, a Vietnam veteran who was awarded a Purple Heart for heroic service in the battle of Khe Sanh, gave the keynote address.
He urged everyone to remember who the holiday was really for.
"Memorial Day isn't for you and me, it's for those who served and are not here to celebrate," he said.
He spoke about a friend whom he fought alongside and lost in the battle of Khe Sanh. "Today, I remember my Charlie. And I don't just remember Charlie, but I think about the children, the grandchildren that he surely would have brought in to this world."
Mr. Spear reminded the crowd that memory is not confined to a single holiday. "Grief never leaves us" he said.