Hippies, relatives, journalists, rock and roll legends — and most of all friends — packed the Chilmark Community Center on Monday to pay (and perform) their respects for Vineyard photographer and counterculture icon Peter Simon.
There was only one person missing from the Memorial Day memorial service — the person who would have enjoyed it the most.
"This is what Peter would have loved," his wife Ronni said. "I would like to tell him about this."
Mr. Simon died last November. On Monday, everyone from his college roommate to folk legend Tom Rush had their chance to say goodbye to the man who in his life wore many hats — most of them woolen, some Rastafarian, a few with a Mets logo — and in his death had a roomful of people who called him their best friend.
"People could meet Peter for the first time and think they were really good friends," Ronni added. "We had a wonderful life together."
A seemingly endless line of lifelong friends told lifelong stories about Peter Simon at the beach, Peter Simon on the golf course, Peter Simon on the softball field, Peter Simon behind the lens, Peter Simon hugging Jackie Kennedy, and Peter Simon in the bathtub. All had something in common. A lack of clothes? Sometimes. A kindness, honesty and decency that transcended his career as a photojournalist? Always.
"The first thing that struck me was the cadence," friend David Silver said. "No one spoke like Peter Simon . . . He grew as a writer, a photographer, DJ, friend. But he never changed."
Friends likened his home to Grand Central Station, a meeting-ground for anyone and everyone in Mr. Simon's always growing circle of acquaintances. And those friends came from anywhere and everywhere, a menagerie of artists, writers, businessmen, travelers, and wayward souls who somehow always found their way back to Mr. Simon.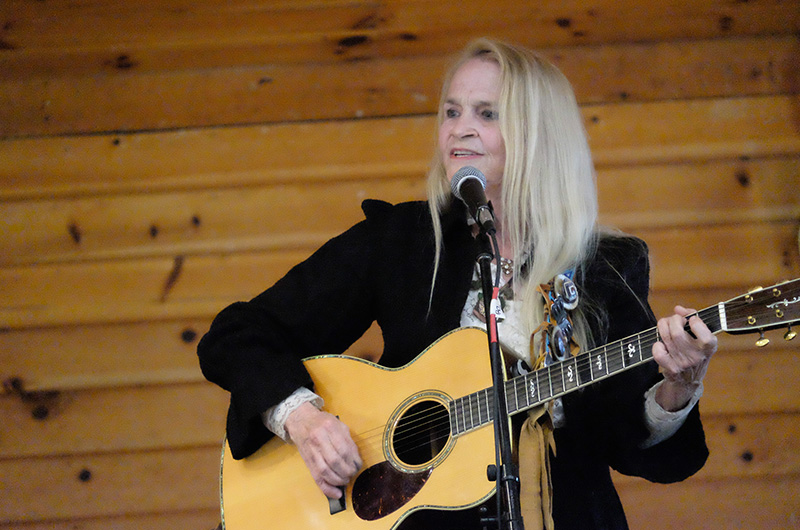 They talked about how he was a card-carrying nudist who had an Aquarian love for people and a desire to be loved by them. They talked about how he documented the Civil Rights movement and rock and roll and, most of all, the Vineyard, in a way that no one else could. They talked about his friendships with Joan Baez and Paul Simon, along with his lifelong obsession with the weather, including his admiration for TV weatherman Harvey Leonard.
They talked about his photos.
"He was a DJ, a friend, a meteorologist . . . But first and foremost, he was a photographer," Perry Garfinkle said. "For him, the image was God."
They also talked about friendship. Charley Furlong remembered how Mr. Simon would always end phone calls with the words, "I love you." Mr. Furlong now ends many of his own calls that way. Alex MacDonald talked about how Mr. Simon introduced himself while eating lunch at a down-Island restaurant and immediately convinced him to rent a house in Chilmark by saying they could then watch their young children grow up to be friends. And they did.
"It's really weird coming to the Vineyard without you to greet us, Peter," artist Rameshwar Das said. "I don't have too many more 45-year friendships left."
Others read letters from Peter's sisters, Lucy and Joanna, and lyrics from a song sister Carly wrote a few days after his death. Singer-songwriter Kate Taylor played a moving rendition of her song Beautiful Road, and folk musician Tom Rush followed with his song, The Dreamer.
"To have so many best friends is truly remarkable," Mr. Rush said to unanimous agreement.