Though his trucks rarely last more than three years, Andy Rice has held on to his specialized WOOL license plate for over 40 years.
On Thursday morning, the WOOL truck sat in front of the Allen Farm barn in Chilmark, where 76 heavy-fleeced Corriedales awaited their annual shearing. Mr. Rice has sheared the sheep of Allen Farm, in addition to almost every other Island flock, for 30 years. This year the tradition has been passed on to Aaron Loux.
"I'm 73," Mr. Rice said. "It's time to let some of the larger jobs go to some of the younger workers."
Aaron Loux, a 34-year-old native of Cummington, is that younger worker. During his day and a half on the Island this week, Mr. Loux sheared 129 sheep at the Allen Farm, Morning Glory Farm and Mermaid Farm. Next year he expects to take on even more.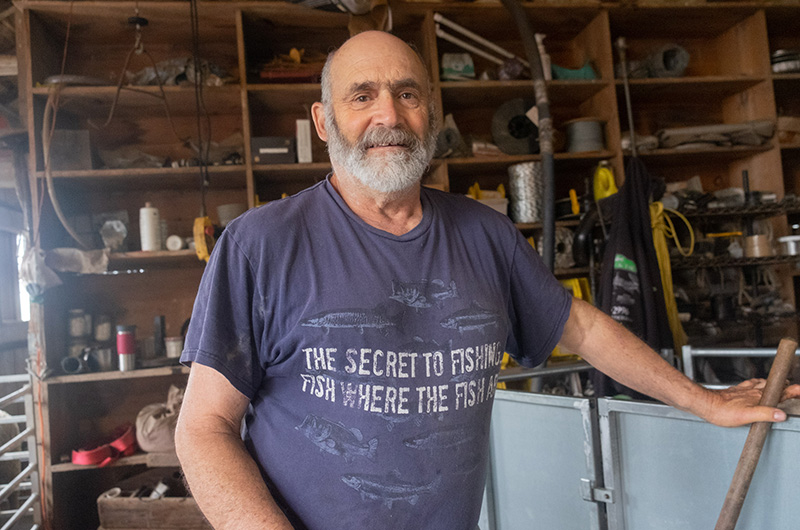 It takes a long time to become an expert shearer.
"Either 10 years or 10,000 sheep," Mr. Rice said.
By both those measurements Mr. Loux has long since earned his stripes in the trade. He has sheared professionally for 17 years, and by his estimation has sheared almost 120,000 sheep.
Mr. Loux sheared his first sheep at the age of 10, studied the trade at Cornell University and in New Zealand, and has gone on to shear in Australia, Wales, and all over the northeastern United States. His clients are concentrated mostly in western Massachusetts and upstate New York. He said he is both exited and honored to expand his clientele on the Vineyard.
When Mr. Rice was asked what set Mr. Loux off from the rest of the young workers looking to take over, his response was vague.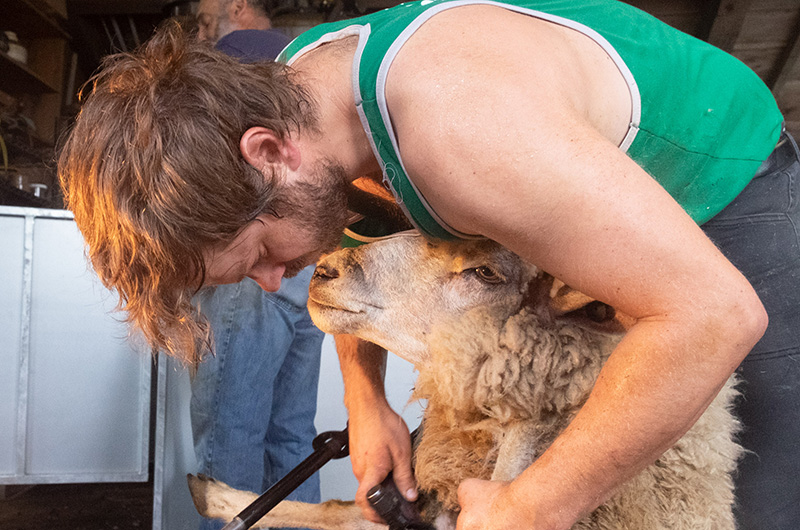 "No one starts out wanting to be a professional shearer," he said. "What it comes down to, is can you do it?"
Mr. Loux can do it, Mr. Rice said.
But he still has large boots (in this case shearing moccasins) to fill.
Over the decades Mr. Rice has gained an international and local reputation for his work with sheep. On the Island, many farmers have annointed him the "sheep whisperer" due to his uncanny ability to handle their often unwieldy flocks. He has become a staple of the Island's agricultural community through his involvement with the farms, education sessions and his annual booth at the agricultural fair.
From the coasts of New Zealand to the farms of Chilmark, Mr. Rice estimates that he has shorn over 250,000 sheep, more than there are people in New Zealand's capital city of Wellington. With the average fleece weighing between six and eight pounds, he has handled nearly two million pounds of wool during his career.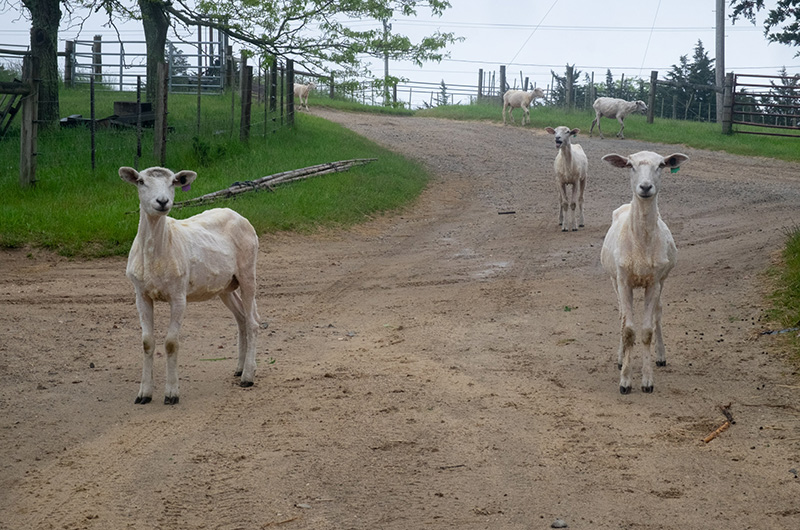 The trade has taken a physical toll. He held out his hands to show how the years of pushing shears and handling sheep have left his fingers crooked at the tips.
"I've had surgery on both wrists, two shoulders, one elbow and one knee . . . I'm having a second knee surgery soon," he said. "It gets to the point at my age when it's time to slow down."
On Thursday, after six hours of labor, the Island's largest flock was successfully shorn. The sheep bleated happily while the Allen Farm crew, who had been responsible for the equally exhaustive tasks of hoof trimming, deworming and sorting the wool, sprawled out over the eight-foot tall bags packed tightly with nearly 600 pounds of raw wool.
But Mr. Rice and Mr. Loux were not yet ready to call it a day. After packing up the WOOL truck the men drove to Mermaid Farm, where 31 more sheep awaited.
"Just another day at the office," said Mr. Loux, changing out of his sweat-drenched shirt into a fresh one.