GOSNOLD --- On Cuttyhunk on Monday a bullfrog bellowed from a pond, red-winged blackbirds hopped from reed to reed, waves crashed on the beaches and a small parade of microphone wielding reporters and photographers wound its way down a hill toward one salt-washed home.
The occasion for the descent of the media on the final punctuation of the Elizabeth islands was the Cuttyhunk Elementary School eighth grade graduation. The class size: one. The name of the affable single graduate: Gwen Lynch.
Gwen was the final student to pass through the one-room school, which has operated almost constantly since 1873. With her departure to a boarding high school next year, no more students will live year-round on the island. To mark this bittersweet milestone, the keynote commencement speaker — and the press draw — was celebrity comedian Jenny Slate.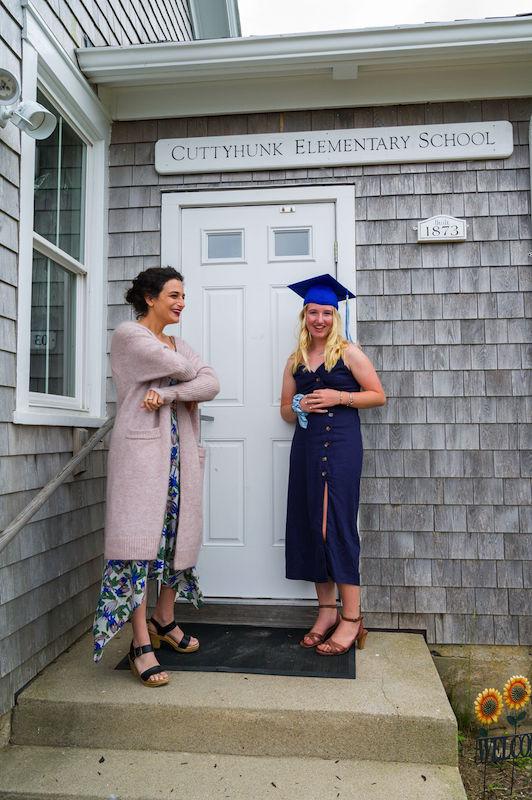 On an island with less than 20 year-round residents where almost everyone travels by golf cart, Cuttyhunkers had mixed feelings about the attention.
"I'm staying low. I'm not going anywhere near any of that stuff," said Cheryl Goslin, whose three jobs include housekeeping at the nearby Cuttyhunk Fishing Club.
"There are more of you guys here than there are residents," said school committee member Renata Davidson after glimpsing a reporter's notebook and leaving the town hall in a hurry.
"What it needs to do is support people who make a living on the island," said historical society board member Allie Thurston, referring to the media attention. "It's how do you strike that balance of they come on the boat, and then they go away."
Gwen, for her part, took the day in stride. The 13 year old was the only student at the school for the better part of her eighth grade year. She is no stranger to isolation, having spent her whole life on the island. Her father Duane Lynch also graduated from the school. Her older brother, Carter, graduated last spring.
Gwen is a skilled sailor with an independent streak. She wants to one day become a mechanical engineer. Every year, she and her summer friends host a gymnastics show in her front yard to raise money for the annual August fireworks display. She loves white nail polish and the movie Spiderman: Homecoming. She can tell you anything about the telegenic lead actor in that movie, Tom Holland, including his dog's name.
Sitting in her kitchen Monday with three reporters while her hair was being curled, she said she was excited for the celebration. She admitted that being the only student in the school wasn't always easy.
"It's really quiet. It's a little awkward sometimes," she said. Later she added: "It really is lonely."
Nevertheless, she went to school every day, learning with her teacher Michelle Carvalho, writing poetry, growing plants, putting together a shadow puppet show. She met friends who live off the island through summer visits and interscholastic programs, and she kept in touch with them through FaceTime. Her school days were ordered: she would arrive at 9 o'clock and take English, math and Spanish in the morning. Then she would go home for lunch, and return for social studies, science and technology in the afternoon.
The school will be converted into a STEAM academy next year, welcoming student groups from other schools to learn about Cuttyhunk during educational trips. Ms. Carvalho will spearhead the program.
Ms. Slate, who is originally from Milton, was invited through a friend of a friend to speak at the ceremony. She and Gwen had spent some time together to prepare for the big day.
"She's honestly, like, awesome," Gwen said of the comedian.
On the morning of her graduation, Gwen graciously managed the spotlight. She walked up a scenic hill toward a CBS camera, and then when the producer requested it, walked up again. (CBS beat out HBO and NESN for the exclusive, according to Gwen's mother Lexi). She gamely responded to questions from reporters, allowing an honest glimpse into life as a girl on Cuttyhunk and the quiet courage that requires.
The Cuttyhunk Church was full for the ceremony. The school superintendent, chairman of the board of selectmen, and Ms. Carvalho all spoke. Alumni of the school were asked to stand and were honored.
Ms. Slate devoted her speech entirely to a girl she said was "truly in a class by herself."
"Your self-possession and confidence is admirable and delightful," she said. "I started to realize that you who go to school by yourself on an island that is basically empty for half the year are still way cooler and more popular than I was as a teenager."
Gwen gave a speech too, reflecting on her 13 years on the island and her time at the Cuttyhunk school. She looked out at the community that had surrounded her that whole time.
"Thank you for raising me. Thank you for teaching me. Thank you for giving me the best beginning a child could ask for," she said.
Home page picture by Albert O. Fischer 3rd.