On June 16 2019, also known as Bloomsday, the Katharine Cornell Theatre was alive with James Joyce, Molly Bloom and the spirit of Vineyard Haven's artist community.
June 16, 1904, is the day Joyce's masterwork Ulysses takes place.
The Island has hosted a Bloomsday celebration since 1979, thanks to organizer John Crelan and the Arts & Society group.
"We had original music then, things no one had ever heard before. Just like tonight!" said Mr. Crelan.
Composer Philip Dietterich opened the event with original music based on Joyce's Chamber Music Poems, including a world premiere of a piece titled: At That Hour When All Things Have Repose.
Vocalist Molly Conole accompanied Mr. Dietterich's composition, singing Joyce's poetry. Ms. Conole has performed for many years at the Vineyard Bloomsday celebration, usually singing four songs. This year, due to a last minute illness, she sang only two songs, then passed the torch to Becky Williams.
Ms. Williams is new to the Bloomsday stage. Her rousing rendition of Kelly from the Isle of Man had the audience humming as they left the theatre.
"I just learned these songs yesterday!" she said after the performance.
The night was filled with verse and song, as well as wordless art. A Bloomsday newcomer, dancer Alise Eve Haigazian, invigorated the show with a short movement piece. Sounds of crashing ocean waves set the tempo for Ms. Haigazian's flowing movement.
"I taught her how to body roll like that!" said her fiancé T.C Cofield after the show. "I'm just kidding, this was all her."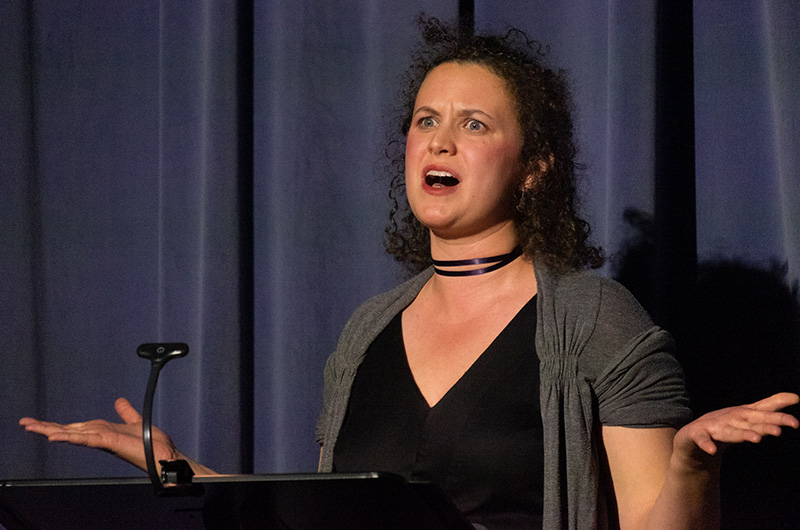 Ms. Haigazian is the founder of Island Hip Hop, and teaches kids of all ages.
Dr. Gerry Yukovich has been memorizing stories from Joyce's Dubliners for as long as he can remember.
"I have about five or six completely memorized," he said.
As per tradition, he performed The Boarding House from memory.
"What I love about Dubliners is its accessibility," he said. "It isn't Finnegan's Wake. It's stories in plain beautiful language."
Bloomsday is important to Dr. Yukovich. Many years ago, after performing Bloomsday in Boston with Mr. Crelan, Dr. Yukovich visited the Island.
"We came up here, and I looked out at this little house and thought, if we can afford this thing we'll take it."
Dr. Yukevich has been holding post-Bloomsday performance cast parties in that very house every year since.
Actress Pam Schnatterly ended the evening, performing selections from the last chapter of Ulysses, Molly Bloom's Soliloquy. Ms. Schnatterly paced around the stage convincingly playing a woman unable to sleep, being driven mad by her own thoughts.
Mr. Crelan reminded his audience that being driven crazy by Joyce is, in fact, common.
"I want to caution you," he said. "Those who study Joyce go slowly mad, so once you think you understand him, well, at that point you'll be mad. But your friends will be so old and senile no one will notice that you're mad. Anyway, I hope you enjoyed the show."