Remember the red-footed falcon that made its unexpected appearance here 15 years ago, in August 2004? Something similar happened recently.
On May 13, Matthew Bell was on a ship about 100 miles south of the Vineyard when a Eurasian hobby landed on the ship and stayed there long enough to be carefully observed and photographed. What was this falcon doing out there when it should have been migrating from southern Africa to either Europe or Asia? It was blown off course, just as the red-footed falcon — which has a similar range — was 15 years ago. This is not the first record for this species; another Eurasian hobby showed up near Plymouth on May 18, 2011.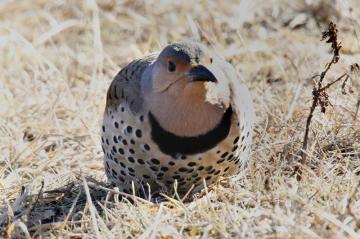 We need to look at our falcons more carefully. The Eurasian hobby is approximately the size of a merlin, is gray-backed and heavily streaked on its chest and belly and with the distinctive mustache marking of the peregrine. It also has a rusty patch on its underside between its legs and tail. Did it make it to land? Where has it been for the past month? Bird Sightings A little closer to home, on June 12 Kevin Regan was offshore about 40 miles south of Noman's when he spotted the following seabirds: pomarine jeagers, Wilson's storm-petrels, northern fulmars and Cory's, greater and sooty shearwaters. They are found in the north Atlantic at this time of the year, although they seldom come close to our shores.
On the Island, breeding season is in full swing. Whippoorwills have been around for a month or more, but their close cousin the chuck-will's-widow was finally heard by Ron Domurat along Dike Road on June 11. They were most likely there well before this.
On June 16 Charles Bangs spotted a flock of 125 mute swans on Chilmark Pond. That is a lot of big white birds. He also spotted chimney swifts, eastern kingbirds, common yellowthroats and yellow warblers. Other warblers seen this week include Matt and Brenda Watson's Chappaquiddick sightings of prairie and pine warblers on June 15, and my American redstarts and ovenbirds near Cedar Tree Neck that same day.
Margarita Kelly spotted a northern flicker on the ground at the Y on June 15. This medium-sized woodpecker is unusual in that it is an ant specialist that spends more time on the ground than other woodpeckers.
Sharon Simonin spotted a snowy egret at brush pond on June 16. They used to be common before the late 1980s when they became quite scarce. Both last year and this year they have been seen more frequently but they still are an unusual sighting. Also on the wading bird front, Debra Luce spotted a black-crowned night-heron at the head of the Lagoon on June 14, and a green heron was spotted by Lanny McDowell and Pete Gilmore at a freshwater pond in Chilmark on June 14.
Jeff Bernier reports that double-crested cormorant and great black-backed gull chicks are prevalent on Sarson's island, part of Felix Neck. They can be easily observed with a pair of binoculars from the big bridge. Also on the baby bird front, Andrue Carr reports that a young starling was being fed suet from his feeder on June 16.
Matt and Brenda Watson did a lot of birding on June 15. In addition to the warblers mentioned above, they also spotted a roseate tern off Ocean Park, and on Chappaquiddick they spotted American oystercatchers, willets, great egrets, eastern kingbirds, horned larks, chimney swifts and turkey vultures. At Felix Neck they spotted great egrets, red-tailed hawks, great crested flycatchers, and eastern bluebirds.
Bill Post reports seeing a scarlet tanager at Kitts Field on June 17. I am keeping track of this species this year as I believe they are much less common than they were five years ago; please let me know when and where you see them.
Finally, Jessica Burnham spotted a heath hen at the Martha's Vineyard Museum on June 11. But do not get your hopes up, it was a stuffed specimen on display. This species was a close cousin of the greater prairie chicken, and was declared extinct in 1932, a year after the last surviving male, named Booming Ben, was seen. There is a much larger than life-sized statue commemorating the heath hen along the bike path in the western part of the state forest.
Nesting season is in full swing. Please report your sightings to birds@mvgazette.com.
Robert Culbert is an ecological consultant with Nature Watch LLC living in Vineyard Haven.