Following a concentrated blast of movies, music and conversation over a single weekend in March, the Martha's Vineyard Film Festival is stretching out this summer with three to four events a week through late August.
Living up to its More than Movies slogan, the festival is offering weekly live music, chef-made dinners and a new discussion series along with contemporary feature and documentary films, outdoor screenings and the free Cinema Circus program.
This season's special guests range in age from teenaged survivors of the Parkland, Fla. school shooting and a 20-year-old chef known as "the Justin Bieber of food" to 91-year-old Holocaust survivor and advice columnist Dr. Ruth Westheimer.
The subject of a new documentary titled Ask Dr. Ruth, Ms. Westheimer will speak following a screening of the film on August 31 at the Martha's Vineyard Performing Arts Center.
Other festival speakers include former Massachusetts congressman Barney Frank and seasonal Vineyarder Henry Louis Gates Jr., who on July 15 is the guest of honor at a Beach Plum Inn dinner and outdoor screening of clips from his public television series Reconstruction: America After the Civil War.
The festival got off to a lively start June 26 at the Chilmark Community Center with dinner and live music on the lawn. As children played on swings and tossed balls at the nearby Chilmark School, Island musicians including singer-guitarist Sean McMahon — whose John Lennon voice is uncanny — performed Beatles songs, and caterer Jan Buhrman dished out a Persian-inspired dinner for a long line of filmgoers under the early-evening sun.
A sold-out screening of the new film Yesterday followed dinner. Directed by Danny Boyle from a script by Richard Curtis, the Beatles-themed tale is part musical saga, part romantic comedy and all good fun from start to finish. It's now in wide release.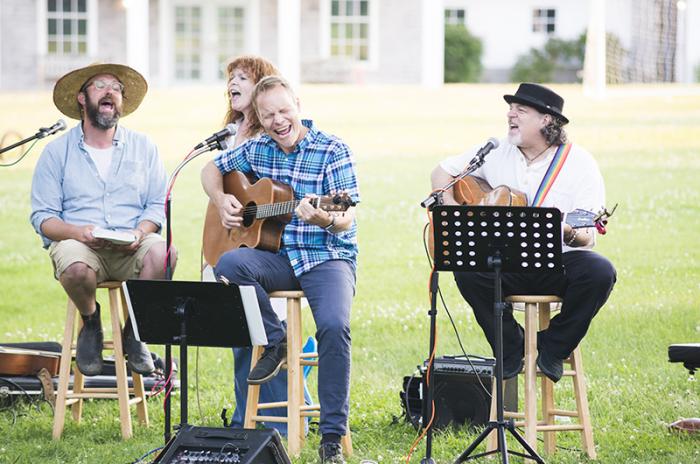 Ms. Buhrman's meals and live local music will precede a movie every Wednesday night through August 28, with the exception of August 7—which may well be added to the schedule, as the festival continues to book screenings throughout the summer. The most up-to-date list is at tmvff.org.
The first of two free outdoor documentaries will be shown in Vineyard Haven's Owen Park July 5 at 8 p.m. This Mountain Life follows the back-country ski trek of a mother and daughter through the Coast Mountains of British Columbia, and the people they meet along the way.
The second free film, Eating Up Easter, screens August 8 at the Aquinnah Circle. In a documentary that may resonate with Martha's Vineyarders, Easter Island native Sergio Mata'u Rapu explores the dilemma his people face as tourism spurs the economy while their traditional culture and natural environment suffer.
Along with Wednesday night dinners at the Chilmark Community Center, the festival has a Monday night dinner series at the Beach Plum Inn in Chilmark.
July 8, the guest chef is Chris Kronner, formerly of Kronnerburger in Oakland, Calif. and now of Henry's in San Francisco. He'll serve burgers and veggie burgers while Island musicians pay tribute to Leonard Cohen, before the documentary Marianne & Leonard: Words of Love screens on the lawn at 8 p.m.
July 22, Beach Plum dinner guests include Brooke Harrison and David Hogg, student survivors of the 2018 massacre at Marjory Stoneman Douglas High School in Parkland, Fla., and the directors of the new documentary After Parkland, which screens after dinner.
There's also a special dinner and screening at the Grey Barn and Farm August 19, with 11-year-old prodigy Flynn McGarry providing a five-course, Vineyard-inspired meal before the film, Chef Flynn. The documentary follows the wunderkind chef as he enlists his classmates to help turn his living room into a fine-dining restaurant, then takes on the larger culinary world.
Union Chapel in Oak Bluffs is the location for a July 13 screening of The Apollo, directed by Oscar-winning filmmaker Roger Ross Williams. His documentary combines archival footage with present-day video of performances at the famed Apollo Theater in Harlem, including its staging of Ta-Nehisi Coates's Between the World and Me. A musical tribute will precede the show and a discussion with Mr. Williams will follow.
Post-film talks have always been an important part of the film festival's programming, and this year a new discussion series places conversation first. Called Inwards, the series is limited to 40 participants per session, taking place Thursdays from 10 a.m. to noon in the hayloft at the Beach Plum Inn.
Different guests, from the Vineyard and beyond, each week will join discussions on Dying (July 11), Joy (July 18), Power (July 25), Civility (August 1), Marriage (August 8), Sanity (August 15) and Extinction (August 22).
Moderating the talks will be Diana Barrett, founder of the Fledgling Fund for documentary film and visual storytelling, and Buddhist philosopher Jake Davis.
Barney Frank, the former congressman, will be on the panel for the Power discussion, the morning after he takes part in a post-film conversation about the documentary American Factory with its producer, Jeff Reichert, at the Chilmark Community Center.
Islanders joining Inwards panels include chef and food equity activist Ismail Samad and Wampanoag tribal member and biologist Carole Vandal, and attorney Alan Dershowitz.
The festival's free Wednesday Cinema Circus programming for children and families starts July 10 at 5 p.m. with face painting, costumes, circus fun and filmmaking, followed by kids' films from around the world.
The opening of this summer's season marks a shift among the festival's top management, with longtime managing director Hilary Dreyer moving up to become executive director.
Founder and creative director Thomas Bena will concentrate on completing the agreed-upon purchase from the Martha's Vineyard Agriculture Society of land in West Tisbury, and then building the festival's first permanent home there. Brian Ditchfield continues as programming director.
For ticket and dinner purchases and updated event information, visit tmvff.org.