Jonathan Richman influenced both punk rock and new wave music with his groundbreaking 1976 album The Modern Lovers, nine original tracks filled with chugging beats, seething guitar sounds and lyrics that mingled teenage angst and alienation with wide-eyed marvel, a tender sense of nostalgia and the sheer delight of being young and free.
"Gonna drive past the Stop & Shop with the radio on … I'm in love with Massachusetts," he sang in his foggy Natick accent on the LP's lead track Roadrunner, which in 2004 was named one of Rolling Stone magazine's 500 Greatest Songs of All Time and more recently has been advanced—if slowly—in legislation to make it the official state song.
But by the time The Modern Lovers (recorded in 1971 and 1972) reached the public's turntables that bicentennial year, Mr. Richman had already shifted his musical interests from amplified, beat-heavy rock songs, like those of his early idols the Velvet Underground, to a more acoustic, lyrical presentation with influences from world music and literature.
Across more than two dozen albums and several record labels following his early debut, the singer-songwriter has continued to both explore new sounds and refine his own. Mr. Richman also appeared as a singing narrator in the 1998 film There's Something About Mary, and has a second career as a stonemason creating garden walls, patios and bread ovens.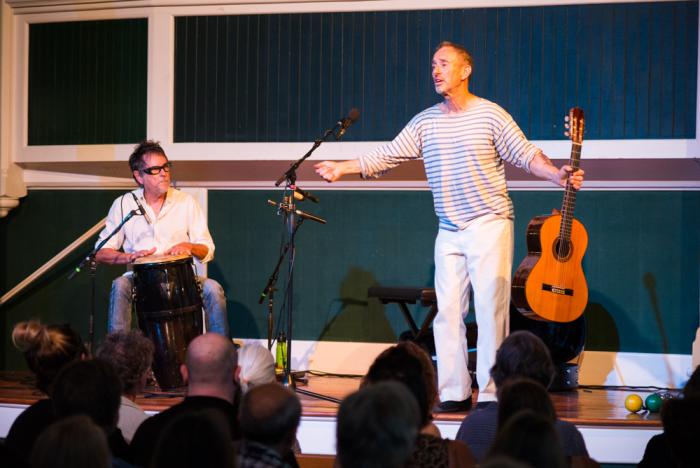 "Sometimes I wish there were more than 24 hours in a day. I get interested in so many things," Mr. Richman told an eager audience at Union Chapel in Oak Bluffs on July 2, during an intimate concert with his longtime musical partner, percussionist Tommy Larkins.
Now 68, Mr. Richman is tanned and wiry with graying, close-kept hair and beard. His show with Mr. Larkins was an engaging mix of original songs, settings of poetry in several languages and one surprisingly familiar cover tune.
"Hello, everybody," Mr. Richman called as he took the stage in the historic wooden octagon. The audience applauded joyfully and he spread his arms in a welcoming gesture, his nylon-stringed classical guitar in one hand.
Mr. Larkins seated himself at a single conga drum and Mr. Richman began to speak and sing That Summer Feeling, a song about hot-weather heartbreak, "melancholy teenage darkness" and the wisdom of trees on Memorial Drive in Cambridge.
"I needed the counsel of the trees, and they could tell," he told the audience. "They said 'Jonathan, you're going to make it, young man. We are trees, we have seen many sorrows …'
"They said—" and he dropped to one knee, delicately picking his guitar strings in a fleeting solo as Mr. Larkins struck the drumhead gently with his fingers.
The world of Mr. Richman's songs has many voices in addition to his own. Sad Trumpets of Afternoon imagines a trumpet section outside his window, singing "Another afternoon is gone, another day is gone."
The narrator of Yes, Take Me Home is a dog hoping to be adopted, singing "I'm the one, don't walk past … I'm one of the good ones, take me home."
Wearing black shoes, white trousers and a boat-neck striped sailor shirt from Saint James, Mr. Richman was as attentive to his audience as his captivated listeners were to him.
"The light just got turned off, could I get it a little on so I can see the folks in the back?" he asked, early in the concert. After a baby in the balcony let out a cry during one of his songs, Mr. Richman paused to respond.
"Everyone is welcome here," he said, looking up. "No one need feel self-conscious if one of the younger generation makes a noise. It's okay." After a burst of applause, he resumed the song.
Along with his own lyrics, Mr. Richman has written music for poems by Persian mystic Rumi, Muslim-born Hindu Kabir, Spanish Nobel laureate Juan Ramón Jiménez and others.
"Well, I burned in the heat of the summers of heartbreak … now I follow the heart and have no other religion and do no other thing," he sang in And Do No Other Thing, based on words by 16th-century Hindu poet-saint Mirabai.
Mr. Richman also sang in Spanish, French, Ojibwe, Italian, Neapolitan and Sicilian—all with the tinge of Bay State accent that has never left him. From time to time, he danced, sometimes putting down his guitar to use both arms.
Often beginning a song with an incantatory string of spoken words, Mr. Richman took his audience by surprise near the end of the show's first set.
"Everybody here is full of light," he told the crowd. "Everybody here has a sense of wrong and right. Everybody here can conquer fight or flight. Everybody here is a sheer delight."
And suddenly, Mr. Richman was singing the light-footed chorus of King Harvest's 1973 hit Dancing in the Moonlight, setting down his guitar and grabbing a pair of maracas to dance as the audience clapped and sang along.
Mr. Richman and Mr. Larkins appeared at Union Chapel as part of the Martha's Vineyard Concert Series, which next presents Steve Earle & the Dukes July 9 at the Old Whaling Church in Edgartown. For ticket information, visit mvconcertseries.com.