Abby Bender does not think of herself as a religious person, but every year for exactly half her life, the dancer and artist has convened an audience of hundreds at Union Chapel in Oak Bluffs for what might be described as a transcendent experience.
Built on Stilts, the eclectic dance and performance festival now in its 23rd year, will again fill the historic chapel with music and movement for seven nights this month. The festival will open on August 8 and runs several nights through August 18. As always, each evening will begin with an improvised drum circle, but with more than 60 acts and almost no rules, what happens next is anyone's guess.
"We've got the usual blend of everything," Ms. Bender said, sitting on the steps of the chapel Monday afternoon during tech rehearsals. Inside, D'Angelo's song Sugah Daddy played as a group of Island women who call themselves Dames on Steel rehearsed a tap dance.
The show has always been free, and many of the audience members are people who happened to be wandering by, drawn in by the sound of drums or laughter. People are free to come and go as they please.
There are no auditions, and barring R-rated material, everyone is welcome to perform in the festival. This year, action theatre teacher Cassie Tunick and acrobatic contemporary dancer Jeff Shortt will visit from New York to perform, joining the more than 1,100 performers and choreographers who have participated over the last 22 years.
Island kids have also choreographed their own dances. Bellydancers, men's and women's improv dance groups, hip-hoppers and musicians will all grace the circular stage.
"Ever since I was a kid I've wanted to tap dance, you know? Thumbtacks in the sneakers on the sidewalk," said Dame on Steel Janette Woodcock.
"It's all those old Judy Garland movies," said fellow Dame Carol Collins. The two along with several other women began learning tap together a few years ago, eventually linking up with choreographer Sophie Hiller. The group of year-rounders performed at Built on Stilts last year, but Ms. Woodcock said she feels more confident now.
"We've worked hard on this dance," she said.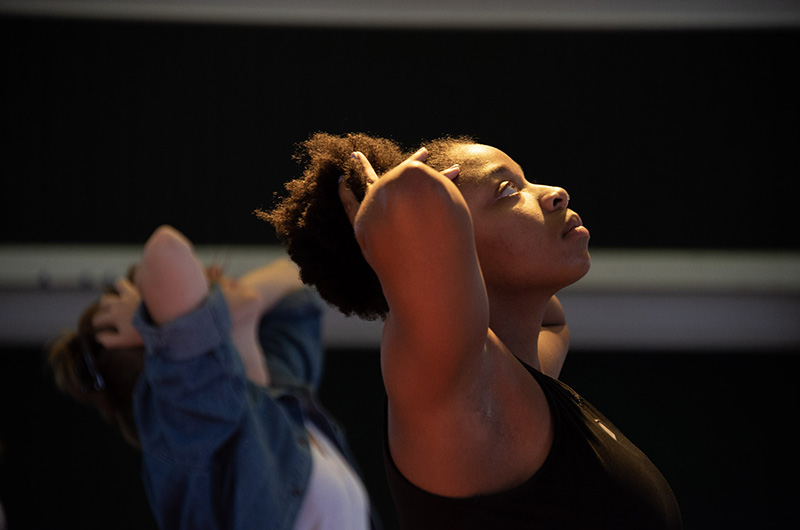 After the Dames changed their shoes and cleared their tap mats from the chapel floor Monday, choreographer Laura Sargent Hall corralled five dancers each wearing a six-foot-tall, gray tower structure around their bodies. Just the dancers' bare feet were visible as they shuffled their tower costumes across the floor. Another eight acts were scheduled to rehearse before 10 p.m.
Most of the dancers wearing the towers and many in the show have danced in the festival since they were children, starting out in Ms. Bender's children's dance program Stiltshop.
"I remember we had the best snacks and we would swing and play on the playground," said dancer Erin Brown, who started in Stiltshop and has been dancing in the festival for most of her life.
Ms. Bender said Built on Stilts was conceived on a front porch across the street from the octagonal chapel. It was 1997. Ms. Bender and Anna Luckey, who had founded a Brooklyn-based dance company together, wanted to dance on the Vineyard.
"We were talking about venues and there was nothing. There was really nothing," Ms. Bender said. "I said, well, what about that place?"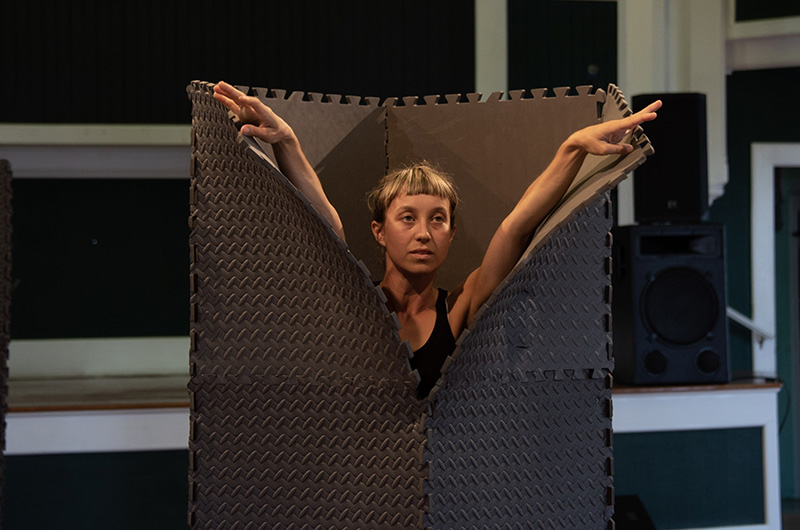 The octagonal chapel was finished in 1870 according to its Martha's Vineyard Trust building profile. Its designer, Samuel Freeman Pratt, had no prior architectural experience before he designed it, fitting for a festival that delights in experimentation, in risks and in beginnings.
Ms. Bender and Ms. Luckey looked up the sexton in the Island book. Rich Greene, it turned out, lived on the opposite side of the chapel.
"We went to his living room, signed a piece of paper and rented the space for one night the first year. There were only seven of us," Ms. Bender recalled. She said the festival, which was named for a precariously placed dormitory at her alma mater, Bard College, has since become completely inseparable from its unusual Island venue.
"There are almost no seats in the front at Built on Stilts," Ms. Bender said. "Most people are seeing it from the side or the top, but it has the same intimacy as a piece in my living room because you're so close to the people."
As the sun goes down during the run, the sound of drums will float out over the chapel lawn. Stilters will wobble across the grass. Curious onlookers will gather at the wide open doors of the iconic church. Most importantly though, artists will gather in the center of the room and share what they've made.
"We don't need much, us dancers," Ms. Bender said. "We just need a floor."
Built on Stilts will take place in Union Chapel on August 8 through August 11 and August 15, 17 and 18. Doors open at 7:30 p.m. with performances beginning at 8 p.m. Admission is free.