On Thursday night at the Performing Arts Center all 791 seats were filled, with 200 people standing and sitting in the aisles. As the audience settled in, bodyguards with ear pieces looked on from every corner of the auditorium.
The occasion was a conversation between activist, lawyer and author Bryan Stevenson and Michael B. Jordan, the actor who plays him in the film adaptation of his book Just Mercy. The evening was part of the weeklong African American Film Festival.
Denise and Linelia Raposo said had never seen anything like it.
"We've come to the film fest every year, this is wild. It's the best turnout I've ever seen. Just, wow."
The Raposo sisters, originally from Puerto Rico, now call the Boston area home. This is their third vacation on the Vineyard.
"We time it up with the African American Film Festival every year. Wouldn't miss it." said Denise.
Moderator Michael Eric Dyson, professor of sociology and cultural critic, welcomed the audience and introduced the speakers, who included Niija Kuykendall, executive producer of Just Mercy.
Just Mercy is Mr. Stevenson's best-selling account of his life and crusade against mass incarceration, in particular his fight to get Walter McMillian, a wrongfully convicted man in Alabama, off death row. Mr. Stevenson is a law professor and the director of the Equal Justice Initiative.
The audience gave Mr. Stevenson a standing ovation as he took the stage to discuss the upcoming film, which will be released in December. Michael B. Jordan was also greeted with a sea of screams and cell phones documenting the moment.
Ms. Kuykendall told the audience she hoped the film could change hearts and minds. "A Warner Brothers worldwide theatrical release of a movie gives a platform that, if used correctly, shifts culture. Film and television comes in to your home, it changes the way you feel and think," she said.
For Mr. Stevenson, a shift in culture is urgent.
"We haven't really allowed the humanity of people who are arrested and convicted and condemned to be understood, and that is the reason why I wrote the book," he said. "I wanted people to understand, these are human beings who love their mothers and daughters and brothers and sisters. They are not just statistics."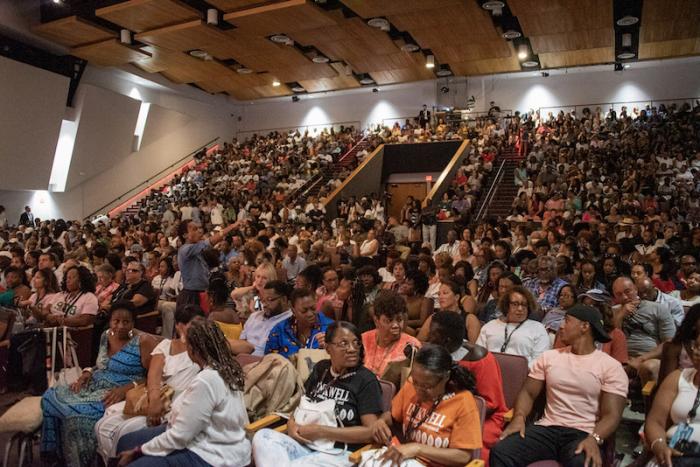 The statistics are damning, he said, in particular when translated into human stories.
"We now know that for every nine people we've executed, we've identified one innocent person on death row," Mr. Stevenson said. "Think about that rate of error . . . If someone said one out of every nine planes will crash, no one would ever fly."
He continued: "We tolerate this rate of error because we don't understand the humanity of the people involved."
In addition to the panel discussion, audience members saw clips from the upcoming film. One scene featured a meeting between the family of Walter McMillian and Mr. Stevenson. On screen, Michael B. Jordan sat at a kitchen table, a yellow legal pad in hand, hearing the McMillian family's story.
After the film clip, Mr. Stevenson reflected on the real moment which inspired it.
"When we condemn someone for something they didn't do we destroy hope in communities," he said. "When I went to the McMillian family, the hopelessness was tangible. And the idea that these people were being threatened, convicted and condemned was very real. You can't live in a space like that, and not many people understand what that legacy feels like."
The star of the film couldn't understand that legacy either, he said, until he read Just Mercy.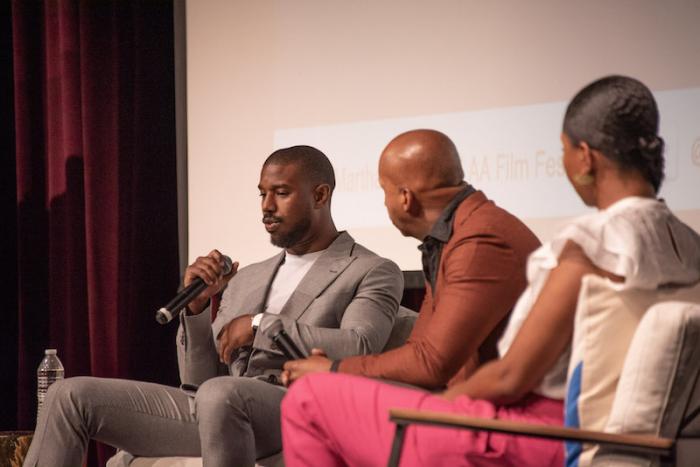 "For me, when I first heard about Bryan's story, I was embarrassed because I didn't know . . . After doing my due diligence, reading books and watching interviews, I felt like it was my responsibility to get this story out to the masses," Mr. Jordan said.
Mr. Stevenson hopes the film does just that, brings the message out to a greater number of people. In 2001, he said, the Bureau of Justice announced that one in three black male babies born would go to jail or prison at some point during their life.
"When that announcement was made," said Mr. Stevenson, "and no one really said or did anything, I began to worry that my time in the courts, that my time in these spaces, wasn't really having an impact."
The story is meant to provide much needed relief, he said.
"I wish to communicate to the world how unfair this burden is, how wrong this burden is," Mr. Stevenson said. "How when we sing about liberty and equality and how great things are, we have to bring to light the burden. And that's why these performances and stories are so valuable and so important. Getting it out there is going to be key to our capacity to create a different relationship to the complaints and protests we make. And that's part of why I think this narrative work is so urgent."
The African American Film Festival runs through August 10. The closing event at the Performing Arts Center is a discussion and screening with filmmaker and Oak Bluffs resident Spike Lee.