The last time Jeffrey Toobin gave a talk on Martha's Vineyard in 2012 an overflow line stretched down Centre Street in Vineyard Haven to get into the Hebrew Center. Organizers of the event called it a "perfect storm" of an extended holiday weekend, advance publicity and timing — as Mr. Toobin was speaking only one week after former President Barack Obama's health care act was upheld by the Supreme Court.
This year the organizers of the Summer Institute Forum moved Mr. Toobin's talk to the Performing Arts Center to accommodate his equally anticipated talk.
Mr. Toobin is chief analyst for CNN and a staff writer for the New Yorker, and widely recognized as one of the most accomplished legal journalists in the country. He has authored eight books, many of which have been best sellers, and is currently working on his ninth book, this one about Robert Mueller's investigation.
On Thursday evening, Mr. Toobin took the Vineyard audience through an insider's tour of the recent history of the Supreme Court, its status in the age of President Trump and what to possibly expect in the future.
Mr. Toobin's talk on the history of the Supreme Court touched on many of the justices, including Harry Blackmun, John Paul Stevens, Sandra Day O'Connor and Antonin Scalia, drawing a mixed response for particular justices ­— from appreciation to groans — from the audience.
The history also gravitated around one central theme to explain the current status of the Trump-era Supreme Court: the dividing line between old and new conservative justices. Mr. Toobin eloquently led the audience through the transition from the traditional, libertarian conservative justices such as David Souter and Sandra Day O'Connor to the religious based, modern conservatives such as Samuel Alito and Neil Gorsuch.
The effect, he said, has moved the Supreme Court from being a moderate "refuge from the world of partisanship" as it was in the 1960s and 1970s, to the polarized battle ground of partisan politics it is today.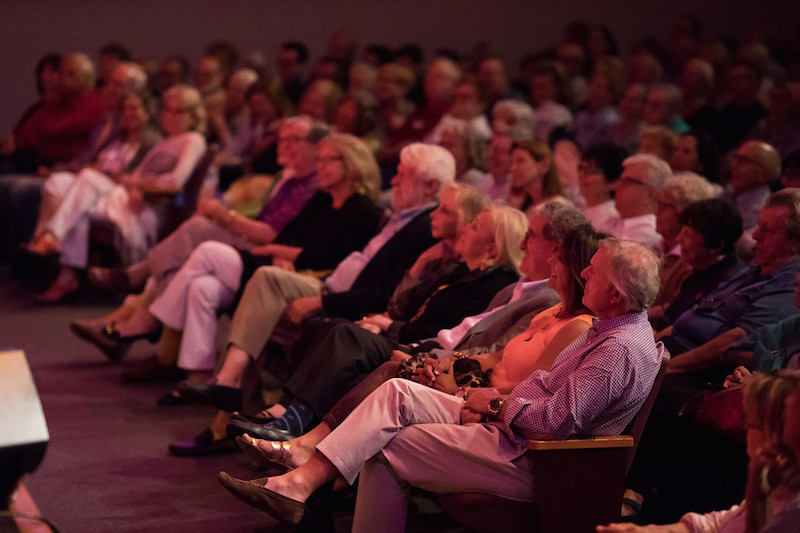 He quoted Justice Robert Jackson, who Mr. Toobin said saw this trend half a century earlier, fearing it would build into what has become accepted as the political landscape of today.
"As governmental pressure toward unity becomes greater, so strife becomes more bitter as to whose unity it shall be," Mr. Toobin quoted. "Compulsory unification of opinion achieves only the unanimity of the graveyard."
Following his talk, Mr. Toobin took questions from the audience. Many of the questions focused on the future of the Supreme Court and whether it could retain its ability to uphold democracy.
Mr. Toobin's response to one of the questions seemed to summarize his answer to them all.
"As the President likes to say," he said. "We'll see what happens."