On a foggy morning 12 years ago, Pulitzer Prize-winning author and journalist Tony Horwitz arrived at the pickup summer softball game on Peaked Hill in Chilmark carrying a bat over his shoulder.
"He walks up to the plate, throws down his glove and takes his first pitch," remembered writer Sig Van Raan of West Tisbury. "A mighty swing. . . A meek pop-up to the pitcher. He turns to the bench and with Talmudic supplication proclaims, 'Why did I swing at that pitch?'"
Mr. Horwitz would become a regular at those Sunday morning games, and it was a question he would ask again and again over the next 12 years.
Friends and family filled the Old Whaling Church Friday afternoon to share remembrances of Mr. Horwitz, who died in May at the age of 60. As they spoke, a picture emerged of a daring and gregarious traveler, a passionate writer, a gambler and an optimist — a person who lived his life swinging at every pitch.
He could find a story in any place. He had amazing legs, he loved Jimi Hendrix and playing Scrabble. He was always, always curious about people.
"I think of him as someone who moved through a heavily armed world disarming people," said writer Michael Lewis, who met Mr. Horwitz in the late 1980s when both were living in London.
Mr. Lewis recounted a story from Mr. Horwitz's first book, One for the Road. Having hitchhiked across the Australian outback, Mr. Horwitz found himself in the seaside town of Broome on Passover, and he set out to find a Jewish person to celebrate with, although there was no Jewish community in the small town. But Mr. Horwitz eventually found a doctor with a Jewish sounding name and showed up unannounced at his clinic. The young writer shared a seder with the doctor and his family later that night.
"To your father, there was nothing strange about that," Mr. Lewis said, addressing Mr. Horwitz's sons Nathaniel and Bizu. "He went through his life making bets on people, and insisting that other people make bets on him. Between the lines of virtually everything the man wrote is some bet a total stranger made on him and some bet that he made on that stranger."
Journalist Peter Bale remembered traveling to Kuwait with Mr. Horwitz to cover the first Gulf War in 1991, at one moment risking their lives to write and file stories about a major tank battle only to have the story get lost at the Wall Street Journal offices in New York. Mr. Bale remembered Mr. Horwitz's reporting from Yemen, Australia and New Zealand.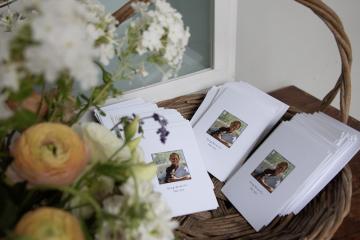 "I hope you get a sense of how. . . committed he was to telling the stories of real people," Mr. Bale said.
Mr. Lewis remembered when Mr. Horwitz was covering the Iraq-Iran war in the 1980s and intervened to save the dogtags of dead Iranian soldiers before Iraqi forces bulldozed their bodies into mass graves. Mr. Lewis said it wasn't a story Mr. Horwitz ever told himself; he only heard of the incident from Mr. Horowitz's wife, Geraldine Brooks, who watched it happen.
Fellow writers filled the pews, sharing the lasting impacts Mr. Horwitz's work had on them.
"In his writing he was always at his funniest, he was always at his smartest, his most thoughtful, his most courageous and adventurous," said Mr. Horwitz's oldest son, Nathaniel Brooks Horwitz. "Prose often so good it transcended the subject. Prose so funny that it could make you laugh until you cried."
In a written remembrance shared by Mr. Bale, former Wall Street Journal editor Ken Wells said editing Mr. Horwitz was like driving a luxury car.
"You don't have to do much except enjoy the ride," he wrote. He remembered once being required to cut from a story Mr. Horwitz had obsessed over for weeks in order to make it fit in the limited space allowed in the paper. The editor was facing a tight deadline, and Mr. Horwitz had filed remotely.
"I called Tony with some trepidation, and he basically laughed and said 'It's the Friday fish wrap. I know it'll be fine.'"
Remembering Mr. Horwitz's vivacity, journalist Martha Sherrill said she still couldn't believe he is gone. She remembered how he looked waiting for the ferry to arrive in Oak Bluffs, standing on the dock.
"The way he smiled, that mix of sadness and sunshine, the immediate communication of compassion and humor, those hooded blue eyes, the war-torn crow's feet," she said. "What I'm trying to get at today is Tony's profound glamor, his wattage, his energy, his way of lighting up a room."
Mr. Horwitz moved to the Island full-time in 2006. His longtime friend Rich Ivry remembered introducing him to Martha's Vineyard when they were studying together at Brown University.
"Of all the tributes I read, the letters in response to the obituaries in the Gazette and the Martha's Vineyard Times were really the most touching of all," Mr. Ivry said. "You felt him as a neighbor, a friend, a mentor and a character."
Mr. Horwitz's ashes were scattered at the softball field on Peaked Hill in Chilmark where his mitt was also buried.