The Trinity Methodist Church sits adjacent to the Tabernacle in Oak Bluffs. In the summer months tourists exploring the grounds often stop in at the church.
The Chilmark Community Church is nestled up-Island just around the bend from Beetlebung Corner.
Although the two churches reside at opposite ends of the Island, this summer they have something in common: both churches called new pastors to their pulpits. And the pastors are well known to each other.
"We served together on a committee last year," said Rev. Ernest Belisle, the new pastor in Chilmark. "When I found out we were both coming here I sent him a text, saying 'Hey Hyuk! Whats up!' I haven't seen him yet though, we've been so busy."
Rev. Hyuk Seonwoo began his leadership at Trinity Methodist Church earlier this summer. Prior to 18 years at Zion Korean United Methodist Church in Warwick, R.I., Reverend Seonwoo earned doctorates and masters degrees from Drew University, Harvard Divinity School and Boston University School of Theology. His journey began at Methodist Theological Seminary in Seoul, Korea, where he met his wife, Younglang Seonwoo.
While raising their children, Hyunki and Eunki, Mrs. Seonwoo became a Korean language teacher at the Rhode Island Korean School. For the Seonwoo family, language opens doors for connection.
"When I say intercultural it is not only about having an interracial congregation," Reverend Seonwoo said. "It is about inviting and welcoming all people, all races, cultures, sexes, sexual orientation. That should be the meaning for intercultural community and congregation. So when we worship in that way, we can continue that kind of worship in our daily life."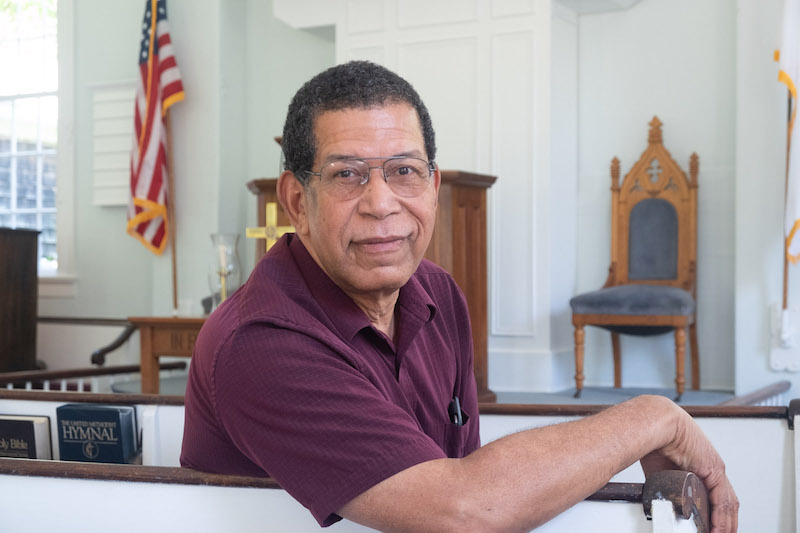 In the coming months, Reverend Seonwoo hopes to lead Tai Chi workshops in Ocean Park and the Camp Ground. Tai Chi and community wellness were bedrocks of his philosophy while serving the Zion Korean United Methodist Church in Warwick, R.I.
"I will do Tai Chi for pastor self care and I invite others to do the same," he said. "Tai Chi and self care are important."
Reverend Belisle comes to Chilmark Community Church by way of Belize, Jamaica, Panama and Guyana. And those are just the churches he has served outside of the U.S. Reverend Belisle first came to America for his three daughters. His oldest daughter, Mera Belisle, earned an athletic scholarship to run track at the University of Pittsburgh.
"My first wife passed away a few months after my child went to school," he said. "I made the decision to keep my three girls together. So we moved to the United States."
He continued: "Marcia was my first wife's name. The arrangement was that all the girls' names would begin with M, and all the boys names would begin with E, but I lost that deal. Well, until now."
Reverend Belisle has a seven-year-old son, Ezra, with his second wife, Michelle.
In the U.S., Reverend Belisle has served numerous Massachusetts congregations, including Oxford, Framingham and Yarmouth. He said his ability to shift between churches in South America, North America and the Caribbean is unremarkable.
"How do you walk into a funeral and preach to people you don't know about someone you've never met? Well, it's simple. You see, you need not know whether someone, let's call her Aunty Mary, was married 10 times, or had five children, or that her children are doctors or lawyers, to be able to relate to Aunty Mary. Aunty Mary loved as I love. Aunty Mary had passions and there are things she didn't like. I am the same way. One of the places to begin is emotions. All human beings have emotions. . . We all want to connect."
Reverend Belisle said he looks forward to connecting with people from all over the Island.
"The church building is located in Chilmark, but that does not mean people from other towns cannot come. It is not as if we have walls built up around Chilmark. Although it's a small, quiet beautiful community, it does not mean the church will confine itself to only Chilmarkians. Is that what we are called?" he said with a laugh.
Chilmark Community Church is located at 9 Menemsha Crossroad, Chilmark. Services are Sundays at 9 a.m.
Trinity Methodist Church is located 40 Trinity Park, Oak Bluffs. Services are Sundays at 11 a.m.