A four foot seven, 91-year-old sex therapist walks into the Martha's Vineyard Performing Arts Center. She has a thick German accent and asks strangers to shout things that make them blush.
No, this isn't the start of a joke. It's the final event of the summer series for the Martha's Vineyard Film Festival.
On Saturday night, Dr. Ruth Westheimer took the stage to answer questions after a screening of the documentary Ask Dr. Ruth. The film begins with Dr. Ruth's childhood as an orphan in Switzerland after her parents were killed in the Holocaust. She emigrated to British-controlled Palestine, served in the Israeli Army and then moved to Paris to study psychology at the Sorbonne. In 1956, she traveled to New York city by boat where she caught a glimpse of the Statue of Liberty and recited the famed Emma Lazarus poem.
She never left.
Shortly after arriving in America, Dr. Ruth moved to a small Washington Heights apartment, just big enough for her husband and their two children. Some of the most charming moments of the film are of Dr. Ruth moving around that apartment where she still lives, a flurry of energy, offering the film crew snacks.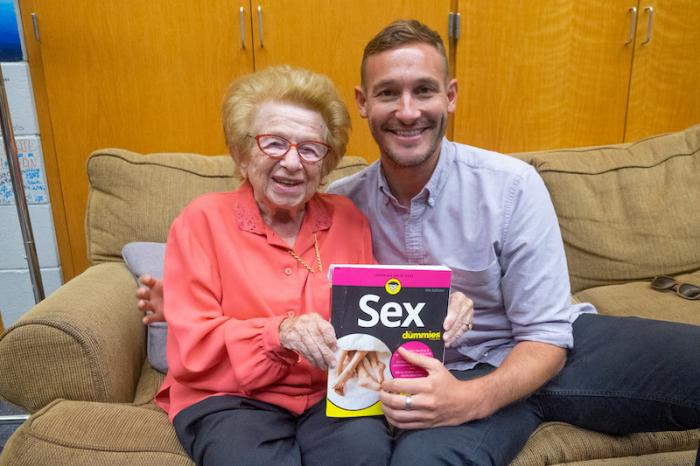 After the screening, Dr. Ruth took the stage to thunderous applause and a standing ovation. The film's director, Ryan White, joined her onstage for a conversation moderated by Patricia Wallace, a sex therapist.
Prior to the Q and A, Martha's Vineyard Film Festival founder Thomas Bena introduced a special guest.
"We don't do awards at the festival, but we are honored tonight to welcome Wampanoag elder Carole Vandal who wants to give Dr. Ruth a gift. Those of you who don't know Carole, she's a lifelong educator," said Mr. Bena.
Ms. Vandal presented Dr. Ruth with a necklace made of wampum and words of appreciation.
"As a biology teacher, you were the person who helped me say penis, penis, penis, vagina, vagina, vagina. My students and I became comfortable talking about what we needed to talk about. So I'd like to present you with this gift" said Ms.Vandal.
To this, Dr. Ruth replied: "I love freebies."
Mr. White said that Dr. Ruth's humor was ever present during filming as the group traveled to New York, Switzerland and Israel. The Israel leg of the adventure proved to be particularly important for Mr. White and Dr. Ruth's relationship.
"She's very amused that I was a non-Jew and I was the only non-Jew on my crew, so she wanted to see if I could walk on water in the Sea of Galilee like Jesus. So she made me strip down and deliver her back my wet underwear to prove I'd gone in the Sea of Galilee," said Mr. White.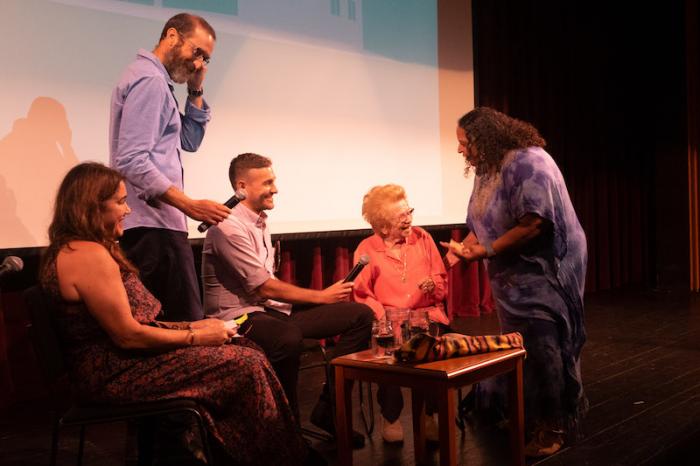 "I grew up with Dr. Ruth as ubiquitous," Mr. White added. "She was always the grandmother on TV who I wasn't supposed to be watching."
But in the mid-nineties, Dr. Ruth left television and it was her absence that served as the impetus for the documentary, Mr. White said.
"This is not in the film, but Dr. Ruth decided to leave television in the mid-nineties when talk shows became quite exploitative and sensational, and she didn't want to be a part of that when networks were pushing her in that direction."
For close to 40 minutes, Dr. Ruth then fielded questions from the audience written on notecards and collected by Ms. Wallace. Everything from sex and love to Dr. Ruth's personal life was touched upon. But some topics were off limits.
"Dr. Ruth, in the film you said you won't talk about money, politics or boyfriends. But you've changed your mind about one of these things," said Ms. Wallace.
Things have changed, said Dr. Ruth. "Lately, I have changed my mind because when I see parents being separated from their children at the border that is my story too, which Ryan portrayed in the film so beautifully. I am very upset."
After speaking her mind, Dr. Ruth asked for audience participation to end the evening. "One more thing. Can you all say loudly, orgasm, ejaculation."
And then Dr. Ruth had one more request.
"And now say loudly, love."
The crowd complied, shouting gleefully.