Dr. Shelley Einbinder, the new principal of the Edgartown School, is determined to know the name of every student and family at the school. She's studied old yearbooks, lists and school reports. Every morning she stands outside for half an hour to greet students as they arrive. In the afternoon, she waves goodbye as they are picked up from school and get on the bus.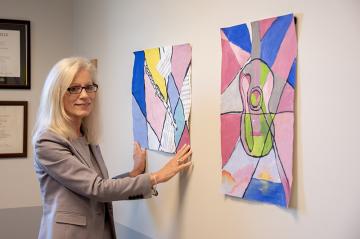 With assistant principal Anne Fligor, she decided on a simple message for the sign outside the school: It's going to be a great year.
"Thrilled to be here is an understatement," she said in an interview this week. "I'm just really amazed. This is such a special place."
Formerly a special education director for a cooperative of 18 school districts in northern Westchester County, N.Y., Ms. Einbinder oversaw six administrators responsible for the education of nearly 400 children with special needs. In 2018 she received her doctorate in educational leadership from Manhattanville College in Purchase, N.Y.
"It was wonderful and challenging and I loved it, but the reason that I'm here and that this appeals to me so much is it was an opportunity for me to really be more closely involved with the day to day operations of a school," she said. "And you miss that when you're sort of two levels above."
Long a summer visitor to the Island, Ms. Einbinder and her husband bought a second home in Vineyard Haven almost three years ago. They have now relocated to the Island full time with their 22-year-old son, but Ms. Einbinder said it wasn't her intention to work here.
"Never in my wildest dreams did I anticipate that there would be an opening or that I would really apply for it because I had a job that I loved," she said. "But when I saw it, it just was something that I felt like I had to throw my hat in the ring and see if it felt right."
She began work in July, and Edgartown students returned to school two weeks ago. This week, she was in the process of selecting student art to frame and hang on the walls of her office. A former music and special education teacher, she said it's refreshing to be in a school environment again and surrounded by students returning from vacation.
"It always kind of brings back this energy to the building that has been missing over the summer," she said.
She said she is taking seriously the priorities set out by school superintendent Matthew D'Andrea at a summer retreat for administrators: health and wellness, English learning students and writing proficiency.
One of her own priorities was to put a round table in the center of her office for meetings with staff. She pledges an open door policy and said she often only returns to her desk and her computer at the end of the day, after students have left and the building is quiet.
Ms. Einbinder succeeds John Stevens, who retired this summer after 12 years at the helm of the school. She praised her predecessor and other town leaders including police and fire chiefs, for their help during the transition.
"I'm amazed at how everybody works so closely with the school system," she said. "Everybody has been so welcoming and helpful."