The first fish to cross the scale was a 7.73-pound false albacore Sunday morning as the 74th Martha's Vineyard Striped Bass and Bluefish Derby got under way.
Max Davies won honors with the first fish, caught from the shore. Derby president John Custer rang the bell at headquarters at the foot of Main street Edgartown at 8 a.m.
"It's begun," shouted one fishermen to another, pulling up to the weigh station with a false albacore in the cooler of his jeep.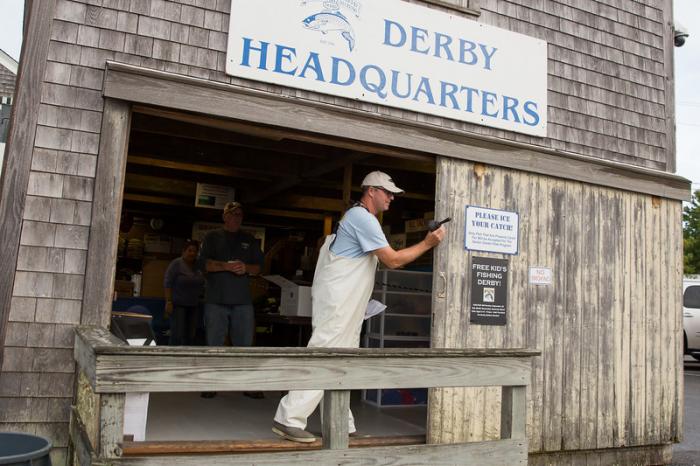 After a night of rain, skies began to clear in the morning and there were only a handful of fish weighed in.
Fishermen seemed to have the best luck with false albacore. In addition to Mr. Davies, Brian Gracie weighed in an 11.43-pounder caught from the shore.
The largest striped bass was a 17.55-pounder landed by Josh Kresel from shore. Mr. Kresel said he was thankful to catch a striper early on, as he goes for the Derby Grand Slam, won by catching the largest combined weight of each fish in all four categories. He said he had fished all morning and would be out all afternoon in pursuit of bonito and false albacore.
No bluefish or bonito were weighed in.
The derby, the Vineyard's saltwater fall fishing classic, runs through Oct. 19.
Derby headquarters will reopen for the second weigh in of the day at 8 p.m.
"We'll see you there," Mr. Custer said.