Squanto, famously remembered as a friendly Native American interpreter and guide to English settlers, was really named Tisquantum. He and 26 other Wampanoag men were kidnapped and taken to England in 1614 after being deceived by a European explorer.
"We thought it was important for people to understand that that's how he learned English," said Steven Peters, producer of an ongoing exhibit called "Our" Story: 400 Years of Wampanoag History currently on display in the Aquinnah Cultural Center.
Tisquantum was the only kidnapped man known to have returned home to Patuxet, or Plymouth, and he found that the village as he knew it was gone.
Next year will mark the 400th anniversary of the famous 1620 Mayflower voyage that brought about 130 colonizers from England to North America. For the native people who had lived and thrived in the region for thousands of years, the anniversary marks a radical change to their way of life, and the intervening years a feat of survival and resilience.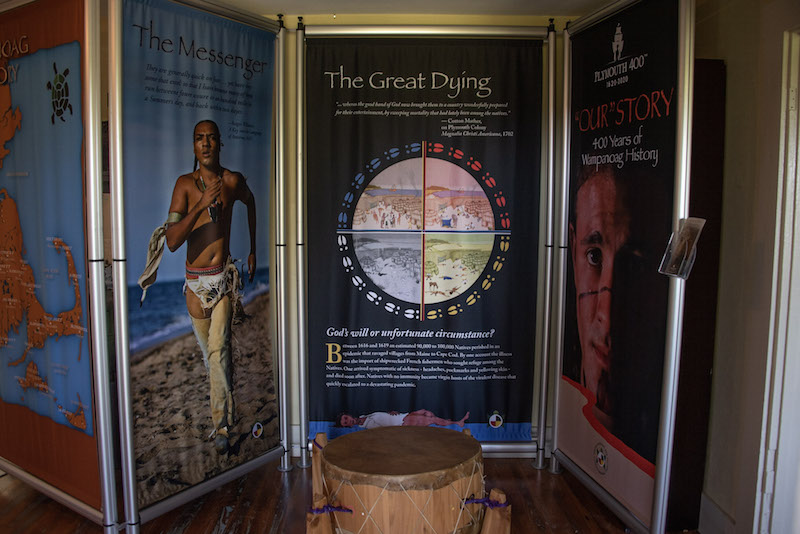 "After 400 years of infiltration, we all have different heritage," said Berta Welch, board member at the Aquinnah Cultural Center. "Culturally we identify with Wampanoag, and that it is a miracle that we are still here."
The exhibit uses panels and video recreations featuring Wampanoag actors to illustrate first encounters between the two cultures, including sickness, violence and Native American government structure as an inspiration for American democracy.
"It's an emotional exhibit," Ms. Welch said. "It plays a role in writing history properly, and the hope is that by learning the truths, we can hopefully learn to not repeat history."
Ms. Welch's son Giles acted in one of the short films, playing one of the men that was captured by explorer Thomas Hunt.
"He was deeply moved by the experience of portraying an individual that had been stolen, captured, put into slavery, taken away. That was definitely something that impacted him," Ms. Welch said.
Another film narrated by Mashpee Chief Vernon "Silent Drum" Lopez imagines what life was like before the arrival of Europeans, showing black and white recreated photographs of people fishing, cooking, gardening.
"Our people lived inland during the winter and in the spring, our new year, the earth woke up and when new life came to the plants and animals and birds in the trees, they moved to the coasts," he said.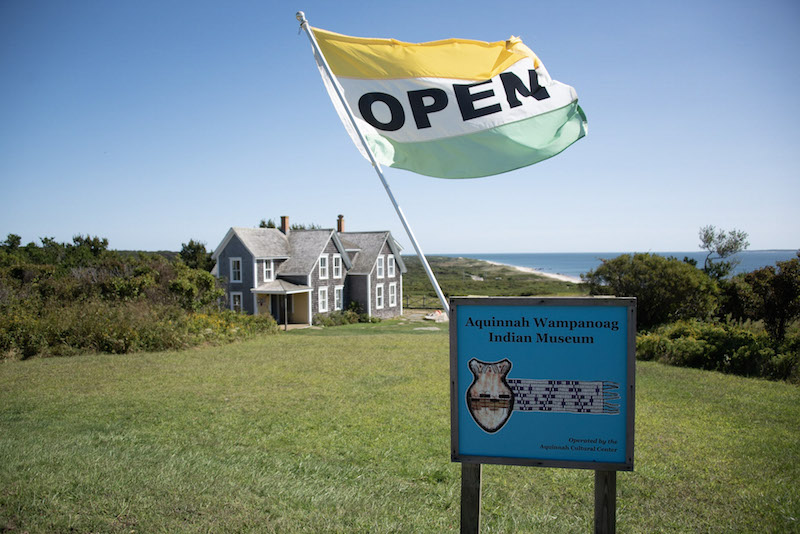 Every year, a new chapter has been added to "Our" Story. On display this year is a new panel about the matriarchal and democratic Wampanoag governance structure. The exhibit highlights Awashonks, a leader of Sakonnet in the mid 1600s.
"The women could rise all the way to the top, which would have been really odd for, you know, Bradford and Brewster and some of them to be sitting down on the other side of the table from a woman," said Mr. Peters, who produced the exhibit with his company SmokeSygnals Marketing and Communications.
In 2020, a new chapter of the exhibit will tell the story of the National Day of Mourning, an alternative to Thanksgiving that was conceived in 1970.
"The whole Thanksgiving theory is such a misconception," Ms. Welch said.
Another chapter not on display in the Aquinnah Cultural Center honors the contemporary powwow celebration. Mr. Stevens said the exhibit was entirely the work of Wampanoag people.
"We had to put in a contemporary piece to show that in fact we are still here, we have a vibrant culture and we have traditions and all of these amazing things that are going on," he said.
The exhibit will be on display until mid-October.