Sitting at her desk in the Dukes County administration building, Jo Ann Murphy is framed by a wall of plaques commemorating a lifetime worth of achievements. One honored her selection as the 2014 Veterans Service Officer of the Year. Another is a portrait of a blackhawk helicopter that an especially grateful veteran flew in her honor.
On her blazer she wears an American flag broach, which she made herself out of safety pins and beads. Just above it is a red and white button gifted to her by the Massachusetts Department of Veteran Services.
"I got it on my first day and haven't taken it off since," she said.
That first day was August 9, 2001 and in her 18 years of service, Ms. Murphy has proudly served the Island's community of over 300 veterans. But at the end of September, Ms. Murphy will be stepping down from her position as director of veterans services for the Island. On Sept. 26, a party will be held for her at the P.A. Club from 5 to 8 p.m.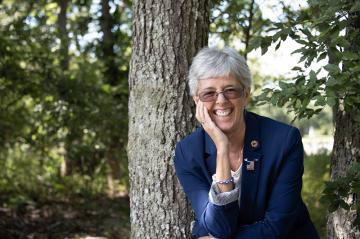 Bruce Montrose sits on the other side of desk. He has been shadowing Ms. Murphy to get a better understanding of how to navigate the complex and often bureaucratic waters of handling veteran affairs before he replaces her in October.
"Bruce likes to say I'm irreplaceable," Ms. Murphy says. "But I know he'll do a great job."
Ms. Murphy assures Mr. Montrose and her many veterans that she is not irreplaceable. But her career of extensive military involvement and dedication to supporting service members on the home front, coupled with her warm demeanor that welcomes all into her office, does leave large shoes to fill.
Ms. Murphy comes from a proud military background. Her grandfather was stationed out of Gay Head, serving as chief of the U.S. Life-Saving Service, an agency which later combined with the U.S. Revenue Cutter Service to become the Coast Guard in 1915. Her father was also a member of the local Coast Guard and her brothers all have diverse military organizations.
Ms. Murphy began her involvement in the military after graduating from the Martha's Vineyard Regional High School in 1972. She was a member of the Women's Army Corps during the Vietnam War, where she was trained as a morse code intercept officer based in Thailand. After returning home from the war, she joined the National Guard out of Buzzard's Bay, where her unit was activated for the race riots in Boston.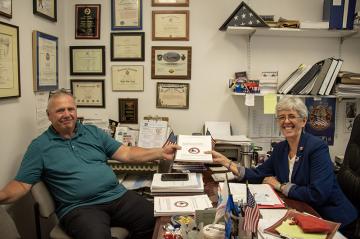 But of all her service, she said the most fulfilling has been her time as Director of Veterans Services on the Island.
Asked what her job entails, her answer is simple: "I help veterans with whatever they need," she says.
But the reality of her position is much more complicated.
Ms. Murphy truly does help veterans with whatever they need – whether it is informing them of their veteran benefits, guiding them through the GI bill application, helping them fight bureaucratic legal claims if they were injured in the line of duty or directing them towards the fleet of medical professionals who also dedicate their time to provide healthcare to veterans.
"The job here isn't like Boston or Worcester, where they have a whole team of veteran service officers and assistant veteran service officers," she says. "I am a one woman team. . . with a large support system."
Through her years of service, she has worked hard to build long term relationships with each of the Island's veterans so that they feel comfortable going to her for help. But the veterans have had her back too, she said, recalling a moment that they organized to "storm" the county administration building to demand that she receive higher pay — a mission that was successfully completed.
"Jo Ann has done more to help the veterans here than anyone," says Peter Herman, a Vietnam veteran who was involved in the protest. "There isn't a veteran on the Island who won't miss her."
But Ms. Murphy doesn't plan to completely remove herself from veteran affairs after her retirement.
"This isn't the kind of job you just step away from," she says.
She will continue as the Commander of the American Legion Post 257, Eucharistic minister in Vineyard Haven, director of military funerals, troop leader to the local boy scouts and girl scouts, and mother of three.
The Department of Veteran Services have also offered her a state contract, though she is not sure if she will take it.
"They don't even know the position yet, they just want to keep me around," she says. "But I have always been involved in the veterans community. And always will."