Less than four years after Opal Wortmann set her sights on becoming an artist, she's having her second show at the Vineyard Haven Public Library.
"I've always painted and art has always been sort of my favorite thing, but I didn't realize I was good at it or really wanted to pursue it until probably sophomore year of high school," said Ms. Wortmann, a West Tisbury resident who graduated from Martha's Vineyard Regional High School in 2018.
"I had imagined myself going to college for biology or something STEM-related. Both of my parents are into science."
But while studying with regional high school art teacher Tiffany Shoquist, Ms. Wortmann said, "there was one painting that I made that I loved the most, and that's what made me realize I can do this."
That painting, a nude in blue inspired by Picasso's Guitarist, was exhibited last year, both in Ms. Wortmann's first show at the Vineyard Haven library and at the Old Sculpin Gallery in Edgartown, which awarded her a college scholarship. She is now entering her second year at Parsons School of Art and Design in New York city.
"Location was really important to me," Ms. Wortmann said. "I applied to all the big New York schools and Parsons was just my favorite. It had the energy I wanted (and) the student base that I thought would be the best fit for me."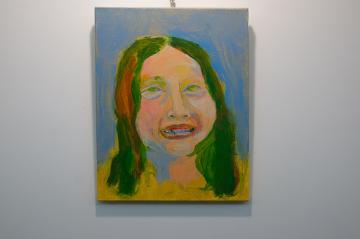 One thing the art and design school doesn't offer is studio space. Ms. Wortmann will have to wait until her senior year to have a shot at an on-campus place to make her art.
"That's just the reality," she said. "I paint in my bedroom."
But a six-hour life drawing class at Parsons gave Ms. Wortmann the opportunity to work on a larger canvas—about three by four feet—creating a nude study that now has pride of place near the staircase leading from the library's downstairs art space to the main floor.
"I wanted to challenge myself and so I brought in this massive canvas. At first I was having such a hard time figuring out how to fit (the model's) body in here proportionally, without having to cut any of it off."
As she drew and redrew the woman's silhouette, the previous outlines remained like ripples to show where the figure had been.
"The artist's hand is very important to me in my work and I tend to gravitate towards that in other people's work. You can see what I did and how I moved it around over and over again and it became this sort of projection. It looks like she's moving backward through time."
Further playing with the concepts of time and presence, Ms. Wortmann drew a closer study of the model's face above the silhouette lines.
Other works in the current show also take a detailed look at the models from her Parsons classes.
"I really wanted to focus on certain things," Ms. Wortmann said, indicating two paintings hanging together: a man's head in profile and a woman's hand.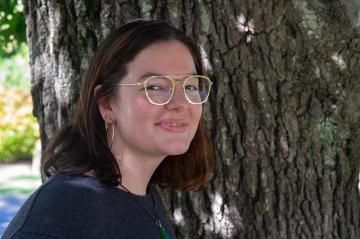 "I felt like I had a grasp of silhouettes and I wanted to be able to teach myself how to properly represent dimensionality on a smaller level. So this [painting] is just the guy's face and that one is just the woman's hand."
Along with nudes and details, Ms. Wortmann is showing the color studies for a pair of portraits commissioned by a seasonal Vineyard resident who purchased a painting at last year's library show. The bright hues in the portraits reveal Ms. Wortmann's debt to Alice Neel, "a portrait painter from the sixties who I just admire so much. She has this way of characterizing her subjects, incredibly. If you're familiar with her work you can kind of see it in mine. I use a similar color palette."
Ms. Wortmann also named painter Philip Guston as an influence on her work.
"He was a totally weird dude, but his work is very—I feel like raw is one of those words that's so overused when talking about art, but it's very imaginative. It's like I'm looking into his brain and the way he sees the world. I enjoy his works visually."
A set of two works mixing self-portraits with line drawings came out of an artistic challenge in Ms. Wortmann's freshman year.
"My professor last year, he's an abstract expressionist and I tried so hard to force myself to make meaningless shapes, and I couldn't. I absolutely could not. I just kept straying. I could not stop making representational shapes."
After earning her BFA from Parsons, Ms. Wortmann expects to seek a master's in fine art with the goal of working in the field, perhaps as a curator. But she also sees the possibility of returning to the Vineyard as an artist.
"Some of my other artist friends from here and I have talked about opening a gallery here or an artists collective here. We've loosely talked about it and I imagine it's a career path I could follow."
Opal Wortmann's art show is on display at the Vineyard Haven Public Library through the month of September as part of the library's Art in the Stacks program.