With a fishing rod in hand and his feet in the East Beach sand, Tommy Alford was a long way from Afghanistan. It has been 11 years since he was honorably discharged, 11 years since he was shot in the neck and head in the line of duty, and 11 years since he last saw the man standing next to him, Miles Foltz, who saved his life during combat.
On Wednesday the two veterans stood shoulder to shoulder, casting chunks of bait into the Chappaquiddick surf.
The men were brought together again by the American Heroes Saltwater Challenge, a homegrown effort launched by the Nixon family over a decade ago to provide wounded and recovering veterans a trip to the Vineyard to fish in the Striped Bass and Bluefish Derby. This year a group of 12 veterans and their families, from all over the United States, had the chance to participate in the derby. Local fishermen, many of whom are veterans themselves, dedicated their time and resources by boat and shore to give back to those who have given so much to the country — and to hook the veterans up with some good fishing.
But for Mr. Alford and Mr. Foltz the war remains as close as ever, even while fishing the waters of Martha's Vineyard, thousands of miles from where they last saw combat and each other.
"There's this thing called exposure therapy," Mr. Foltz said between casts at East Beach. "Basically, you retell your story over and over again to try to wear out all the high points so that it's less extreme . . . . Stuff like this rubs those things raw but rubs them down at the same time."
He continued: "Everyone wants to hear our story because it's a story to tell."
Mr. Alford was an Army specialist stationed at Base Naray in Afghanistan, positioned at a machine gun when he was hit with a Taliban bullet, piercing his neck and jaw.
Braving heavy fire, Mr. Foltz, also a specialist, pulled his friend to safety, stopped the bleeding and then fended off the ambush with Mr. Alford's weapon. Two soldiers died in the fighting that day but thanks to Mr. Foltz's bravery Mr. Alford survived, returning three months later to finish his tour.
"He saved my life. It's closer than family," Mr. Alford said. "Whenever you talk about it there's a lot of emotion that comes with it, but it's good to get it out."
The two heroes became the center of media attention and Mr. Foltz was presented with a bronze star. But the story told in the media often focuses on the visible wounds, like the scar that runs up Mr. Alford's jugular to the base of his chin. What's missing from that story are the wounds that aren't visible.
Mr. Foltz said that he still has nightmares and is often unable to sleep. Mr. Alford said that he can no longer handle stress, which has made him unable to hold down a job or return to school.
Their personal troubles, the men said, are what has kept them apart for the last 11 years.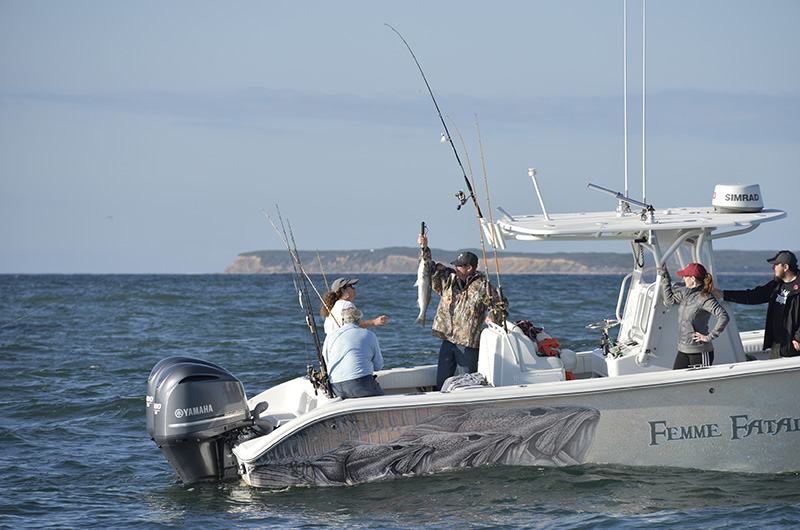 "Ever since I've gotten out life hasn't been easy for me," Mr. Alford said. "I didn't process everything and it has done a lot of long-term damage upstairs. . . there was a lot that happened that bled into my personal life. . . I just dropped off the map for a little while."
PTSD is just one piece of the equation, Mr. Alford added. Another struggle, he said, is his battle with Veteran Affairs to receive the benefits he, and many other veterans, should have been entitled to.
"When I signed up, my recruiter, and I'll never forget this," Mr. Alford said. "He said if anything ever happens to you, you'll be taken care of. And when that wasn't the case I kind of took it personally. . . It really messes with you."
Each of the 10 other veterans participating in the derby faced their own struggles after returning home from war, different manifestations of the same disorder that were even apparent while fishing this week. Former marine Mace Williams said that he hit the deck when the anchor line on Buddy Vanderhoop's boat snapped, a knee-jerk reaction to thinking that they were under fire.
Another veteran, who preferred to go unnamed, said that the feeling of being on open water provoked the memory of driving a Humvee through the Afghan desert.
But they all agreed that going out fishing, surrounded by other veterans who have been through similar experiences and witnessing the Island community coming together to honor them, has been a vital step in their long road to recovery.
"I've always felt in my element when I'm with other veterans, especially doing something physical," said Moises Cerezo. "We have such a different mind set, the things we've all been through."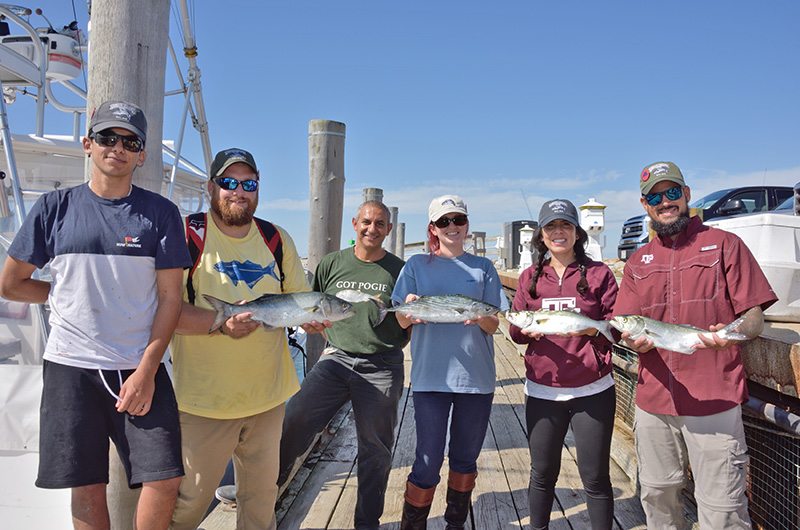 Mr. Cerezo, a former medic still called 'Doc' by his troop, recalled slipping into familiar patterns of rank when one of the veterans cut their hand while fishing on Tuesday. Mr. Cerezo immediately took action to stanch the bleeding and wrap the wound.
Mr. Cerezo was honored for saving many members of his unit during combat and discharged after being hit by a grenade during his second tour in Afghanistan. This winter Mr. Cerezo plans to fulfill his general education requirements on the GI bill before going on to medical school to become an emergency practitioner.
It is a perhaps a trite phrase that fishing isn't only about the fish that are caught. It is also about the camaraderie of adventure or the solitude of being alone in nature. This was true for Ross Williams, a former specialist of the 101st Airborne Division. But it didn't hurt that Mr. Williams landed a "20-something pound" striped bass that almost placed him on the derby leaderboards.
Mr. Williams still suffers from the effects of a traumatic brain injury, he said. After returning home from his tour, he launched a nonprofit organization called Operation Outdoors. Similar to the American Heroes Saltwater Challenge, his mission is to help veterans and other first responders through their healing process by being in nature, whether it is fishing, hunting or hiking.
"The outdoors saved my life when I came back home," he said. "It's my metronome."
Mr. Williams' journey to heal through nature has led him to fish for striped bass on the Pacific Coast, through the Sacramento River delta and into the Cumberland River in Tennessee in search of freshwater stripers. Now he can add the fabled Atlantic stripers to his list.
"They train you on how to go to war and fight, but they don't train you on how to come home," he said. "This is just one of the ways we have to do it."