As the sun rose over State Beach Saturday morning, it illuminated the faces of hundreds gathered to help break the stigma associated with mental health disorders, to spread awareness and to reflect on the lives lost to suicide.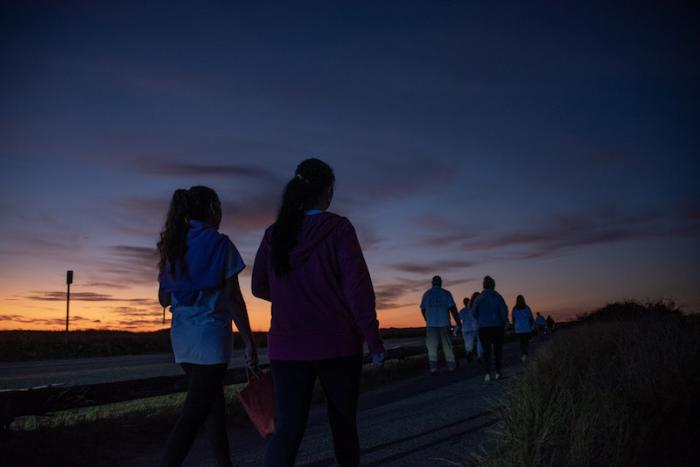 The second annual Darkness Into Vineyard Light Suicide Prevention and Awareness Walk began at Bend in the Road before first light. Carrying candles and hope, walkers marched toward the Big Bridge, accompanied by the sound of bagpipes.
"We start in the darkness and walk into the light," said Lisa Belcastro, regional coordinator for the National Alliance on Mental Illness. "People struggling with suicidal thoughts often feel like they are in the darkness. We want to help them find that light."
She continued: "It might feel hopeless, but there is light if you keep walking. Just take one more step."
Before the walk, Mike Blanchard introduced himself as a photographer and someone who had battled mental illness and suicidal thoughts. He said he was saved by the people in his life who loved and cared about him, and that all it takes to help someone is to ask how they are feeling and listen to what they have to say.
"I want you to understand the power that of you have, because that is why I am standing here today," he said. "Take a look at that sky again because it is worth waking up to."
Along the march, conversation swirled about how suicide had touched the lives of many who had gathered. Melissa Melvin lost both her sister and fiance to suicide more than 20 years ago. More recently, her husband also lost two of his brothers to suicide.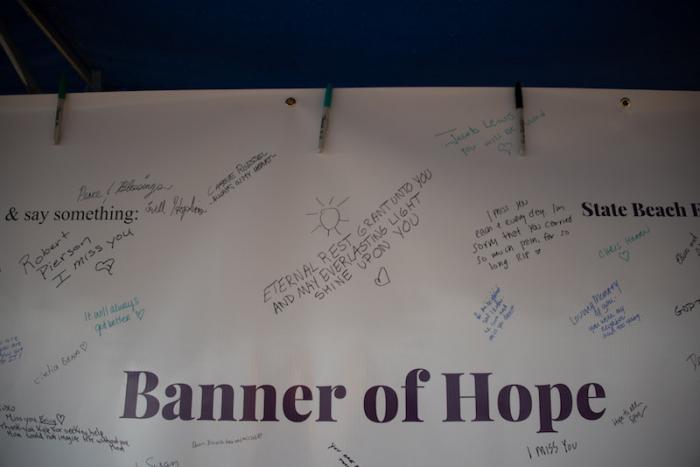 "Death either brings you together or tears you apart," she said. "And this morning is all about bringing people together.
Dukes County sheriff Bob Ogden was a participant in the walk. He said the event inspired his department to work with the hospital and the court system to help prevent suicide.
There was remembrance for Davin Tackabury, a senior at the regional high school and talented photographer who died over Labor Day weekend.
The regional high school Minnesingers closed out the ceremony with a song dedicated to the memory of Davin's life, called Esto Les Digo. Minnesingers Wyatt Belisle, Emily Mello and Caitlan McHugh said it was about the importance of coming together as a community.
As the Minnesingers sang out their final note, framed in the ripples of golden sunlight on the water, someone in the crowd said: "I wonder what Davin would have seen in this moment."
Anyone in crisis can contact the Island Intervention Center 24-7 emergency team at 508-693-0032. The national suicide prevention lifeline is 1-800-273-8255.