Vineyard bird watchers and authors of this column are scattered near and far this week. Presently in Milan, Italy, I am conducting what I call jet lag birding before the start of the International Wild Waterfowl Convention. Feeling the need to 1) stay awake so I can acclimate to the time change, and 2) get some exercise after sitting in airports and planes for 10 hours, I went for a walk around the hotel outside the Milan airport. The habitat was not particularly conducive to bird watching, but hey I gave it a shot. The plantings outside the front entrance had several house sparrows that didn't look exactly like the ones at my Chilmark feeder. Seems there is an Italian house sparrow or cisalpine sparrow that breeds with the house sparrows. The Italian house sparrow occurs in northern Italy, and I was watching the hybrid of this match.
Along the side of the road in an overgrown yard of deciduous trees and shrubs, I spotted what I thought to be a black-capped chickadee. On further observation, I concluded that what I was seeing was a great tit which is a widespread species found in most of Europe and closely resembles our chickadees.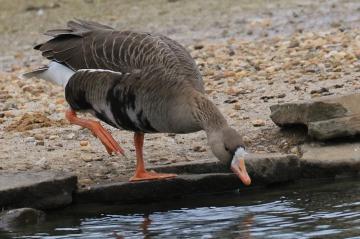 Crossing to the field across from the hotel, I found myself in a golf driving range. Overhead was a very long tailed black and white bird that was a floppy flyer. It settled on a fence line and I saw that its tail had a dark green hue. Consulting my Birds of Europe once again, I identified the bird as a magpie. Wandering beyond the old driving range into an overgrown field, I saw a hawk perched on the telephone lines. As I approached, the hawk flushed and flew off. I continued walking and the hawk returned, so I was able to determine that I was seeing a Eurasian kestrel. Larger than our kestrel, it has a longer tail. It hunts the same way by hovering over its prey and then dropping to capture its meal.
As I returned to the hotel, a flock of rock pigeons flew overhead and two Eurasian jackdaws were walking at the end of the golf driving range field. Related to crows and similar in appearance, the jackdaws have a gray nape turning into black back, wings and tail with a gray chest and belly. The last bird I spotted before heading to my room was a common chaffinch. The striking white wing bars and outer tail coverts and finch bill helped me to put it in the finch family. I saw a female which was primarily tones of buff and brown. Tomorrow I hope to find the male which boasts a pinkish breast and cheeks. Now for a meal and sleep.
Bird Sightings
The two marbled godwits that have been on Little Beach in Edgartown for a couple of weeks were still there as of Sept. 25 according to Greg Butcher. Greg joined Linda Fuller at Wasque and found a mourning warbler, a rare bird on the Vineyard. This report is from EBird, the Cornell reporting website and was confirmed by same, so I am reporting it.
Christy Edwards had a handsome male black-throated blue warbler hit her window on Sept. 25. Luckily this warbler survived. Windows are a frequent problem for birds (and homeowners); if you draw parallel white lines on your windows, birds will avoid them.
Warren Woessner found a whopping 1 Foster's terns at Norton Point on Sept. 25. He posted a superb photo of a comparison of non-breeding common and Foster's terns. Also at Norton Point, Warren spotted four dunlin.
Sept. 26 found Lanny McDowell and David Stanwood at Squibnocket where they spotted a male bobwhite. I agree with Debra A. Silva that the bobwhites that are being seen in various places up Island are probably those that have been raised privately and then released. Hopefully some of these birds will survive and reproduce. Unfortunately the odds are against this occurring with the number of predators lurking about. Cats, skunks, raccoons and hawks are the nemesis of bobwhites.
Also on Sept. 26 at Farm Neck in Oak Bluffs, Annie and Danny Whiting spotted a merlin.
Walt Looney spotted a late-staying piping plover on Little Beach Sept. 27.
Diane Lucey came across a red morph screech owl that had been stunned, probably by a car, and was along the side of the road in North Tisbury on Sept. 27.
Lanny McDowell and David Stanwood watched a phenomenon common in the skies over Aquinnah in the fall. On Sept. 28, Lanny photographed a huge flock of blue jays over the Gay Head Cliffs.
On the same day several people from various Island towns had ruby throated hummingbirds appear in their yards: Rick Karney, Mary Beth Baptiste, Nancy Rogers and Warren Morse.
Susan Straight spotted a belted kingfisher at Quitsa on Sept. 28.
On the same day Bob Shriber spotted a greater white fronted goose on Chilmark Pond — an unusual visitor.
Susan B. Whiting who is pinch hitting for Robert Culbert, is a past Gazette columnist and co-author of Vineyard Birds and Vineyard Birds 2.