Four weeks into the Martha's Vineyard Striped Bass and Bluefish Derby, the leaderboard remains static and the fish remain fickle, as Island anglers struggle with scarce catch and some scary weather.
"It's unusual. It's been slow," weighmaster Phil Horton said on Thursday morning. "But with inclement weather, that can keep people away. And it's good if people are being safe."
Although the weigh-station was packed with hardy, gaiter-clad fishermen seeking shelter from the whistling Northeastern storm raging outside, not one of them had anything to put on the scale. On Wednesday, there were five fish registered throughout the entire day. There wasn't one to measure Thursday morning.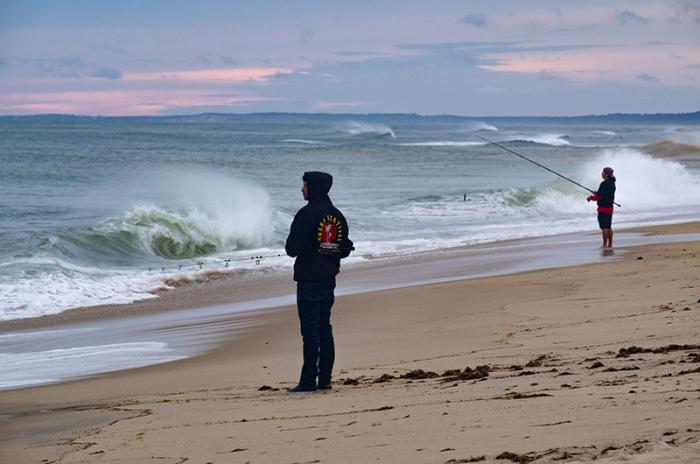 While Mr. Horton said the weather probably accounted for the momentary lack of fish, he noted that the derby in general has seen a decline in the number of fish weighed this year.
"The fish just aren't here," Mr. Horton said. "I've heard from friends that they're in other locations. But they're ignoring us here."
The derby changed its minimum size regulations for striped bass this year from 32 to 34 inches, which Mr. Horton and others felt was responsible for the decrease in stripers being weighed in. For instance, the derby weighed 361 striped bass last year. Right now, they are only at 129. But he said he was still surprised at the lack of movement on the grand leaderboard, which has looked nearly identical for two full weeks. At the top is Mason Warburton, a 12-year-old who caught a 37-pound boat striper during the derby's early days. Clinton A. Fisher remains the shore leader, with a 34-pound striped bass. And Westley Wylodyka, another pre-teen who caught his nearly 13-pound false albacore from a boat on the first day of the derby, still hasn't been unseated.
According to Mr. Horton, the only recent change to the leaderboard is the presence of Lewis Colby, whose six-pound shore bonito was caught in the past week.
Other fishermen at the weigh station Thursday morning said that it's been a tough year, especially for anything other than bonito. There were 445 bluefish landed in 2018 and 665 in 2017. This year, there have only been 344. The same goes for false albacore. In 2018 there were 341 landed and in 2017 there were 482. There have only been 173 weighed this year.
But bonito are on pace to match their 2017 and 2018 numbers. The 211 bonito caught and weighed this year represents is only about 50 short of numbers from the last two years.
"There are more bonito, less bluefish," said competitor Alex Bettencourt. "It's weird, there are ebbs and flows to it."
Although Mr. Bettencourt didn't have a fish to weigh in on Thursday morning, he came by the station to pick up a few prizes. He remains third on the leaderboard for shore striped bass, and is in first place for the shore grand slam, catching his first bonito earlier in the week. He said the northeastern storm, bringing gale force winds to the Island, wouldn't prevent him from getting out on the water.
"I'm not going to stop. I like the rough weather. It's good stuff," Mr. Bettencourt said. "The last week is a big push, and with the weather this is when it's going to happen."
Mr. Bettencourt wasn't the only fishermen unfazed by the stormy conditions. On Wednesday, a solitary Matthew Brown stood with his bright orange waders atop the Oak Bluffs sea wall for over three hours, casting straight into the wind and the foamy ocean in hopes of catching a striped bass. Although he said he caught nearly 20 fish that day, none were keepers.
"They like it foamy. They like it churny," Mr. Brown said. "I'm just trying to fill my refrigerator."
Mr. Bettencourt predicted that the leaderboard wouldn't remain static for long. There's a reason it's written in chalk.
"I think there's going to be some heartbreak," Mr. Bettencourt said.
The Martha's Vineyard Striped Bass and Bluefish Derby continues until Saturday, Oct. 19. The awards ceremony is Sunday, Oct. 20 at Farm Neck Golf Club.