Two weeks ago, a powerful northeast storm barreled through the Atlantic seaboard, battering the Vineyard with a three-day gale that felled trees, stripped power lines, blasted seawalls and stranded travelers both on and off the Island. Then, almost exactly one week later, another storm brought gale-force gusts to the Island, leaving 3,000 people without power and churning the normally placid Vineyard Sound into a foaming menace.
And while most everyone else complained or hid inside, Coast Guard Station Menemsha embraced it.
"We go out every time there's heavy weather," said senior chief Justin Longval. "We have to. And we like to."
The Menemsha coasties, a sea-weathered crew of 25 search-and-rescue experts, are the only heavy weather certified Coast Guard station between Montauk, L.I., and Nantucket, responsible for hundreds of square miles of water stretching over three states and three sounds. That means whenever winds reach 30 knots, or seas reach eight feet, the coasties are out on the water — or, depending on the waves, in the water — becoming experts in drills they hope to never use, but know they someday may have to.
They are one of the only links between destruction and deliverance for southern New England during extreme conditions, responsible for a jurisdiction that covers part of the Woods Hole, Castle Hill, Point Judith, Cape Cod Canal and New London stations. None of those are heavy weather certified, and all of those shut down when conditions get bad, leaving much of the AOR (Area of Responsibility) to Menemsha.
"We're here to serve the public, and New Bedford is a major fishing port," heavy-weather coxswain Josh Boytek said. "And they go out in all kinds of weather. So we're here to be there if they need us, and we practice in everything. . . I love it, and other things get postponed so we can do that."
The Menemsha station has four heavy-weather certified coxswains, including Mr. Boytek and Mr. Longval, who received his certification last Thursday. The process is arduous, beginning with a two-week heavy weather crash course at the storied National Motor Lifeboat School near Ilwaco, Wash. While there, surfmen, the highest heavy-weather certified coasties, provide coxswain with a foundation for heavy weather training. Then the coasties come back to Menemsha, where they have to capitalize on every bad-weather day to master over 30 different towing, two-boat gear-tossing and man-overboard drills. After that, they have an academic examination that could be described as a vocabulary test on steroids. Then they go in front of an interview board before a final check-ride.
"It's a rigorous process, and it takes a lot of training," Mr. Longval said. While coxswains aren't afraid of the conditions, Mr. Longval said it gives them an appreciation for the tenacity of nature. "Not that anybody is frightened, but it certainly puts things into perspective, that you are a very small fish in a big pond."
The station plans its heavy weather exercises over a week in advance, scouring 10-day forecasts knowing that they have to ensure boats are prepared to go out on any sort of notice. That also means there's little down time. Good weather just means the bad weather is on its way.
"We like to go out and do it," Mr. Longval said. "But we have to go out and do it. We have to take advantage of that weather. In January and February it sucks because it's cold, but it's something we all recognize has tremendous value and we have to do because we have limited opportunities."
Thursday of last week was one of those opportunities. With gusts upwards of 40 knots and seas consistently between 10 and 12 feet, the Menemsha Coast Guard's special 47-foot motor lifeboat was smacked with waves even before it made it past the Lobsterville jetty. Mr. Longval said they were some of the biggest conditions he'd ever experienced.
"I couldn't see the other day," he said. "Some of those waves when we were out there by Quick's Hole were like as big as this building. Like ridiculous."
The conditions created fatigue for the crew, who are often on the water for nearly six hours straight. Because of the rough waters and high current (on Thursday, upwards of three knots) the boat has to move very slowly, only able to travel at a maximum of eight to 10 knots. But the Menemsha AOR expands 25 miles to the west, meaning it could take over three hours to respond to an incident. And that doesn't include the time it would take to tow the vessel, make saves or handle gear.
"It's like you're doing squats for six hours," said Mr. Boytek. "It's exhausting. It takes you a day to catch up. And it's not just the physical part. It's not just your muscles holding you up. It's exposure, exposure to the elements and focusing. Because you're on high alert the whole time."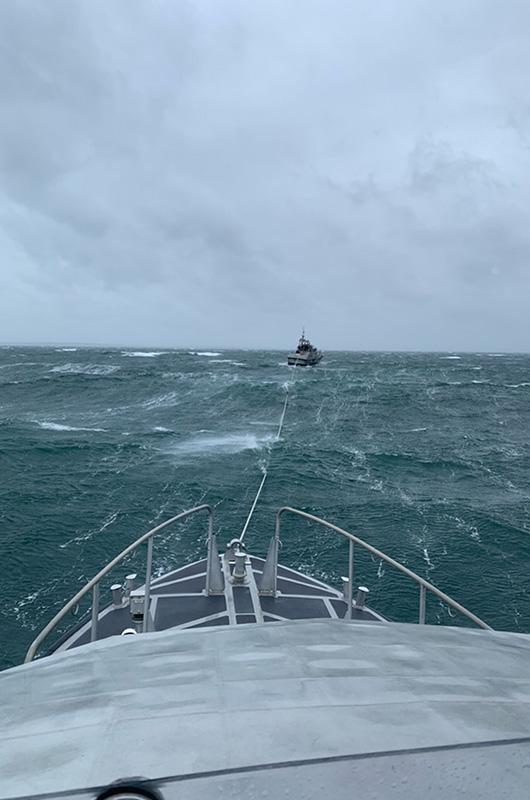 Out past Gay Head, the water becomes less predictable, with strong currents blowing from Buzzards Bay through the Vineyard Sound.
"There are so many things to pay attention to," Mr. Longval added. "Are you going too fast? Are you going too slow? You have to pay attention to gear. If you're not focusing, bad things can happen."
Luckily, nothing bad has ever happened to the Menemsha coasties, but they have had to make saves in adverse weather. Last winter they responded to the fishing vessel Mistress that sank off Block Island, recovering a life raft. Two winters ago, they towed the lobster boat Sea Star off Point Judith all the way into New Bedford. The boat had lost power in 16 feet of water, with freezing conditions and 40 knots of wind.
"That was eye-opening on how difficult that was," Mr. Boytek said. "I remember it took my fingers and toes about a week and a half to feel normal again."
The Menemsha staff are proud of their work, and particularly proud of the fact that at the exact moment the boats come off the water at other Coast Guard stations, their boats go in. It's a big responsibility, but it's the responsibility they signed up for. Their motto is Semper Paratus. It means "always ready."
Before Hurricane Maria two years ago, Mr. Boytek remembered a conference call with the regional command center that included many of the other Coast Guard stations in the area. The commander went around asking all the stations how they were preparing for the storm. Castle Hill said they had their sandbags ready. Point Judith said their boats were secure. But Menemsha had a different idea.
"Station Menemsha? We're planning some two-boat training today," Mr. Boytek recalled.
"And I was like, yes. I'm glad I'm here."