After almost half a century of selling homemade dresses, aprons, paintings and beach plum jelly, the Harbor Craft Shop in Menemsha closed its doors earlier this fall. And when it reopens in the spring, the shop will do so under a new name, the Ruel Gallery.
On Wednesday Roberta Morgan sat on the side porch of the shop, taking cover from a light drizzle as her two grandsons, Patrick and Colin Ruel, put in a handful of the many hours of renovation ahead before next spring. Roberta recently turned 90 but said she is too busy to have time to feel old.
The Harbor Craft Shop first opened its doors in the early 1970s when Roberta, as she phrased it, decided to put her husband's garage to good use. But the shop wasn't only a place to shop. She said that what she cherished most was that it was a place for people to gather.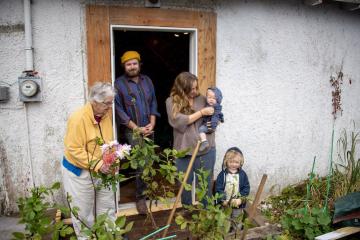 "I always had a bunch of people of people here, we used to just sit around talking," she said. "Jim and all the guys would come down piled into a car, sit and talk about fish. We enjoyed that, sitting and talking."
Roberta's husband, Capt. Jimmy Morgan, who died in September of 2018, was one of the last of a legendary breed of commercial fishermen in Menemsha — the kind who spent weeks at sea and used only a compass and a map for navigation.
Land was important to Jim, Roberta said, gesturing to the house that Jim's father built by hand with the salvaged remains of old shipwrecks, still standing sturdy atop a hill behind the shop.
"Jim's father used to always say 'I hope to goodness, Jim, the houses will stay in the family and not go out of the family,'" she said.
The shop will stay in the family, passed down to Roberta and Jim's grandson, Colin Ruel, a successful local artist. Colin sat next to his grandmother under the porch on Wednesday with his wife, Nettie Kent, and their two sons, Razmus and Wylde.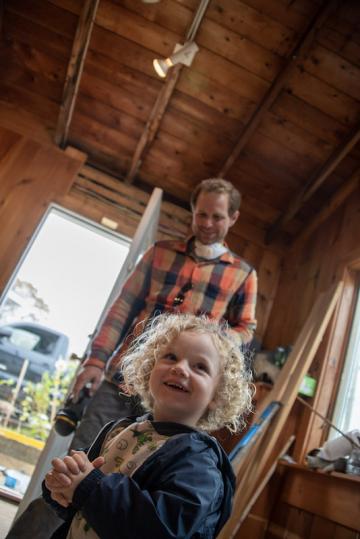 Four years ago Colin moved back to the Island to raise his family after a brief stint in New York where he worked as both a musician and an artist. Holding his grandmother's hand, he explained the importance of the Menemsha community and upholding the culture that he said seems to be slipping away in recent years.
His paintings, which will be sold in the shop, try to capture the complexity of that emotion.
"Oftentimes I focus on trying to preserve some of the culture that was just dwindling when I was younger," he said. "And also trying to capture this new culture now and how it's interacting with the displacement of the older culture."
Colin explained that for a long time the culture of Menemsha has been an interesting dance between the fishing and art communities. Though Jimmy Morgan was a fisherman, he was also well known for the hand-carved weather vanes he made in tribute to the boats of Menemsha Harbor. Colin said his grandfather would also memorize poetry during his weeks on the water, scribbling notes into the columns of his fishing journal.
In the early 1950s Roberta spearheaded a movement to grant women the right to scallop during the commercial season.
"All the women got together . . . at the town hall . . . and said, we want to go fishing too," Roberta said. "I loved it, I loved being out on the water."
For Colin, a fly fisherman, the connection between fishing and art is no coincidence.
"I think when you spend all day throwing a line or net into the void of the ocean, wondering what's going to come out of there you instinctively start to align with the ocean," he said. "It makes someone who might just be a tradesmen . . . something else. You're working but you're waiting, and your always thinking."
He continued: "Not all fishermen turn into artists, but if you spend a lot of time fishing . . . ."
Colin's paintings have been on display at The Field Gallery and The Granary Gallery for the last six years. Next spring, they will hang on the walls the Ruel Gallery. There will only be three things for sale in the shop, he said. His paintings, Nettie's handmade jewelery and Roberta's beach plum jelly.