Daylight Saving Time has gone by and it gets dark way too early in the afternoon. So it is a good time to look back to the longer days of summer and to review how the piping plovers fared as they attempted to nest on many of the Island's beaches.
It is not a pretty picture on Martha's Vineyard. While there were 62 nesting pairs, they produced slightly less than one chick per pair. That is not good enough. Population studies have shown that an average of 1.25 chicks fledged per pair is necessary for the plovers to maintain a stable population. I do not recall any year when the plovers were that successful on the Vineyard.
Fortunately for the plovers, they fare better in other parts of Massachusetts. Preliminary totals show that there were 755 breeding pairs in the state this year, an increase of almost 10 per cent from last year. And they fledged about 1.3 chicks per breeding pair. There were 127 breeding pairs in the state in 1986, which is why the plovers were added to the state and federal endangered species laws.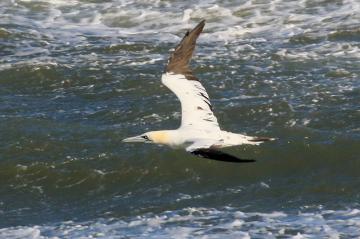 Kudos are in order for all those who helped conduct the monitoring and management efforts necessary to protect these birds: Biodiversity Works, Massachusetts Audubon at Felix Neck, Trustees of Reservations, Martha's Vineyard Land Bank Commission and Sheriff's Meadow Foundation. And thanks to the many property owners who allow this vital work to proceed on their property.
Bird Sightings
The most interesting sighting this week is of a belted kingfisher that was zipping around near the Gay Head Cliffs on Nov. 3. The sighting itself is not unusual, but its behavior was. This fish-eating bird was zipping around chasing other birds. I would not believe it, but fortunately Warren Gossen got a video of this unusual behavior.
Another highlight is the northern gannet show. Cris Mayhew reports a gannet was sitting on the beach at South Beach on Nov. 2. This is an unusual place for these seabirds to be as they usually come to shore to nest, but it is not the right time or place for that. More spectacularly, Lanny McDowell notes that there were hundreds of gannets all flying from Menemsha to the Gay Head Cliffs. After rounding the cliffs they headed in an easterly direction along the south shore. Buddy Vanderhoop reports the gannets are eating mackerel. Black scoters were also present in the area.
Luanne Johnson reports hearing a great horned owl calling on the evening of Nov. 1 near the BiodiversityWorks office. It is time for these large owls to use their hooting to establish and defend territories as they will start nesting in late January or early February.
Double-crested cormorants are still around, although their numbers are much lower than they were in the summer. Lanny McDowell reports a large flock of them congregating on the south shore of Edgartown Great Pond on Oct. 30. There were white-winged scoters swimming on the Great Pond, and there were some laughing gulls and a greater yellowlegs on the beach. Matt Pelikan observed a similarly sized flock of cormorants on Middle Cove a week before.
Also flocking up are the fish crows. Wendy Culbert and I spotted 200 or so fish crows congregating around Vineyard Haven Harbor on Nov. 3. In the morning they were near the drawbridge and probably the same flock was near Owen Park that afternoon. John Nelson and I have both seen a flock of about 100 fish crows at Harthaven as well. Mr. Nelson also reports that there were four greater yellowlegs there, and 43 buffleheads were in Katama Bay on Nov. 4. Eight oystercatchers were on Cape Pogue near the Gut, as well as 24 surf scoters in Cape Pogue Bay. A sure sign of the coming winter is that all three species of scoters are mentioned in this column — the first time since last spring.
Birds have been fairly sparse this week, but Rick Biros spotted a young Cooper's hawk at Wasque on Oct. 30. And Sharon Simonin found an American coot at the Oak Bluffs Pumping Station on Oct. 29.
And that is all there is to report this week. Our winter residents are starting to arrive as southbound migrants become scarcer. Please report your sightings to birds@mvgazette.com.
Robert Culbert is an ecological consultant with Nature Watch LLC living in Vineyard Haven.