Congregants of the Federated Church of Martha's Vineyard have chosen a new pastor, whose influence on the historic Edgartown church began long before he first stepped inside its sanctuary this year.
Richard DenUyl, Jr., who preached his first sermon on All Saints Day, Nov. 2, played both indirect and direct roles in matching the Federated Church with a previous pastor, Amy Edwards, who died of cancer in 2016.
"She was in my church in Rhode Island," said Mr. DenUyl, who spent 20 years as minister of the United Congregational Church of Little Compton. "I made her a deacon, and then I told her to go to divinity school, and then I was her reference for this church."
Mr. DenUyl first encountered the Federated Church—and Edgartown—from the water about 10 years ago, as he and his family entered the harbor aboard their 35-foot sailboat Grace.
"You take that starboard tack off the red can and you come in and it's just sweepingly beautiful, but then all of a sudden it turns into complete angst, compliments of the On Time ferry," he said. "It's like two torpedoes coming at you from port and starboard. On that particular day we wiggled our way through . . . and we looked up and there was the Federated Church. So we like to say we were Grace-fully washed ashore."
In the years since that harrowing first arrival, Edgartown has become one of his family's favorite harbors, said Mr. DenUyl, whose wife Barbara is a pediatrician. Their daughter Sophie is in her first year of law school at Georgetown University in Washington, D.C.
Over the course of their summer cruises, the 1828 Federated Church on South Summer street became a familiar sight to Mr. DenUyl, who runs daily with the family's dog Luna. But it wasn't until this year, when he became a ministerial candidate, that Mr. DenUyl finally saw the inside of the oldest church on the Island that is still a house of worship.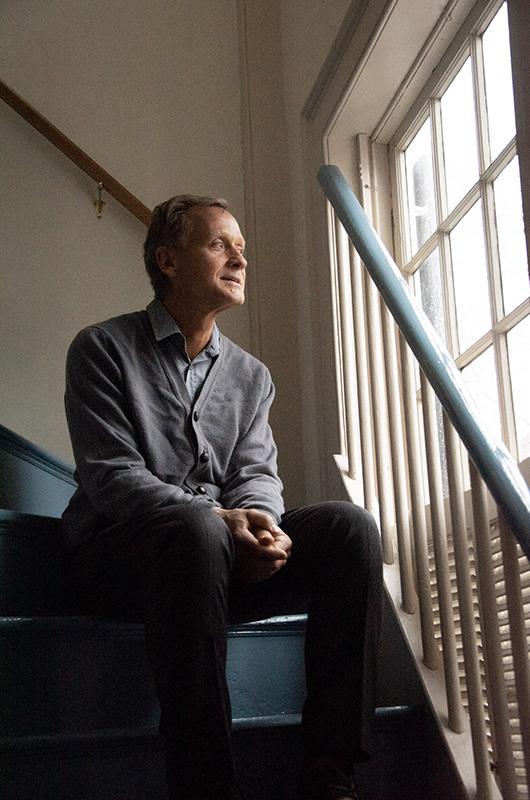 "When I decide on a church, I insist on going into the building alone. . . and just sensing it, sensing the spirits and the history of it," he said. "I have to get an affirmative on that, or I won't take it, I don't care where it is. You sense the energy and the spirits and the history. This is a really good one. It's a sweet place."
Mr. DenUyl comes to the Vineyard from the First Congregational Church of Greenwich, Conn., where he became senior minister in 2014. He began his career as an interim associate minister in Weston, Conn., before taking the post in Little Compton.
His journey to the pulpit began behind the beer taps of a bar.
"I've had kind of a strange life," Mr. DenUyl said. Originally from Arizona, he grew up in Michigan, part of an "unchurched" family in the hospitality business.
"My father used to run Camelback Inn in Arizona and Wentworth by the Sea (in Newcastle, N.H.) in the summer, and then he built a whole bunch of hotels and restaurants in Michigan."
Mr. DenUyl followed his father and namesake into the family business as a restaurant manager.
"I found God in the bar, to tell you the truth," he said. "The last one I ran was up in a blue-collar town called Muskegon, Mich., with 18 per cent unemployment," where the restaurant turned into a nightclub on weekends and he found himself tending bar, observing the scene and listening to patrons.
"That's, I think, what changed me and made me go to divinity school out of the blue. They tell you their joys and concerns and what's going on in their life, so that was a huge part of it. . . They taught me about life and struggle and they were completely raw, because of the unemployment, but they were also very beautiful. I think that watching all of that made me realize that we're all born with this kind of unquenchable thirst."
In order to attend divinity school, Mr. DenUyl first had to attain a bachelor's degree, which he earned from Hope College in Holland, Mich. At Hope, he also met his wife, a pre-med student who went on to medical school at Northwestern University and three years of training at Yale before launching her career.
"I followed her a lot," said Mr. DenUyl, who earned his master's of divinity from Chicago's McCormick Seminary while she was at Northwestern. During his wife's years at Yale, Mr. DenUyl took a job as a mental health worker for a newly-launched crisis program.
"They liked me enough to make me in charge of this mobile crisis unit," he said. "They put me in this van and I would go out and pick up people who were suicidal or homicidal or floridly psychotic or drunk, or whatever. I was trained to pick them up and bring them back in and evaluate them."
It was a risky job, and cell phones weren't widely available. "I had the police follow me lots of times, but I was always the first in the building," Mr. DenUyl said.
"There were times when it got pretty hairy. We were trained to take people down, defensive stuff. But it was probably one of the best jobs I've ever had," because he was helping people in desperate, sometimes tragic need.
"Probably the most heartbreaking were these first psychotic breaks of these young people," including Yale students, as they began to suffer from schizophrenia in their early 20s.
"Mental illness, to me, is the hardest," Mr. DenUyl said. "It's so unfair."
The DenUyl family name is pronounced Den Isle, close enough to "denial" to make people laugh out loud when he worked in the emergency room. "It means 'The Owl' in Dutch," he said.
As a pastor, Mr. DenUyl retains the easygoing openness he learned as a bartender in Michigan. When preparing the weekly 10:30 a.m. service, he's as likely to pull a reading from this week's headlines as from the Bible, and he doesn't mind if you don't believe in God at all.
"It's really all about the people for me," he said. "I tend to go to churches where there's a diversity of belief, because I really don't want all people to think and believe the same thing . . . even I don't have the truth," he continued.
"Basically, you discern the truth as a community and the tension between different beliefs, that's where truth happens. This church is a perfect place for that. The people are so incredibly nice . . . so friendly, so bright, so flexible. It's kind of like an old perennial, with deep roots, that's ever blooming. It's just a beautiful place."
Sunday services at the Federated Church of Martha's Vineyard begin at 10:30 a.m. The church is located at 45 South Summer street, Edgartown.