Fortunately, Veterans Day was a warm and beautiful day making it all the better to celebrate all the sacrifices our veterans have made in both war and peace. Would that the latter be more prevalent.
It was also a great day to count the congregations of commuter crows arriving on our shores from Falmouth. I watched as they came ashore a bit west of the entrance to Lake Tashmoo. They came from 3:45 to 4:45 p.m., when it was getting too dark to see if any more of them were coming. In that hour I counted 1,446 crows (and one lone tree swallow). Four hundred of them came between 4:15 and 4:20 p.m. Nine hundred and thirty one crows were American crows and 515 were their smaller cousins, the fish crows.
These are the commuter crows that come every winter and stay through March. David Stanwood reports seeing the first wave of commuter fish crows for the season on Nov. 8, as they were flying over the Hoft Farm on their way to their roost site. At 6 a.m. the next morning he spotted "a big wave of American crows heading to work."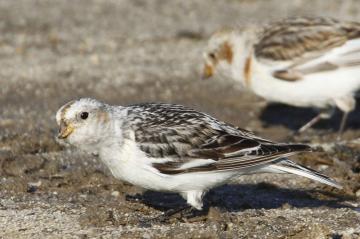 We also have winter resident flocks of fish crows. One flock can be found most of the time around Vineyard Haven Harbor, Veteran's Memorial Park or Beach Road all the way to the hospital. Wendy Culbert and I counted some 200 of them at Owen Park on the afternoon of Nov. 3. Happy Spongberg and Sharon Simonin have seen them more recently. Another flock of nearly 100 fish crows hangs out around Farm Pond and the end of the seawall, as witnessed by John Nelson and myself.
Bird Sightings
Our winter residents continue their timely arrivals. John Nelson reports four horned grebes off Bend in the Road Beach on Nov. 10, as well as two red-throated loons offshore of the East Chop Beach Club. The next day he added an American pipit and a dozen savannah sparrows at the Farm Institute.
A lot happened on Nov. 8. Perhaps the most exciting was the flock of dozens of eastern meadowlarks spotted by Michael Whittemore in a Katama grassland restoration area. It has been a long time since we have recorded a flock that size. They used to be a common breeding species. He also spotted a horned grebe on Squibnocket Pond on Nov. 7.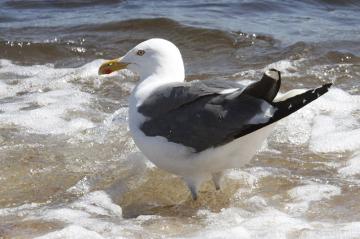 Tim Rush is the first to report a red-breasted nuthatch this season. He saw it and dark-eyed juncos at Coffin's Field on Oct. 8.
There have been some interesting ducks mixed in with the flock of mallards frequenting Sheriff's Meadow Sanctuary. Jeff Bernier found a female northern pintail on Nov. 8, adding to previously reported sightings of wood duck and green-winged teal. It pays to look through the mallard carefully.
Also on Nov. 8, Bob Shriber found seven snow buntings and a lesser black-backed gull at Norton Point Beach. On Nov. 6 he added an Ipswich sparrow and a western willet in addition to the more common sanderlings, dunlin and black bellied plovers. Ron Domurat also spotted five snow buntings at Long Point Beach that day.
Lanny McDowell spotted a white-throated sparrow on Nov. 3.
Luanne Johnson, Nancy Weaver, Margaret Curtin and Danielle Belleny were out birding on Nov. 10. In Edgartown their highlights included seven bufflehead, five turkey vultures, northern harrier, 26 tree swallow and three dark-eyed juncos. At Slough Cove Road, they added nine bufflehead, a common loon, three field sparrows and a palm warbler. At the Head of the Lagoon, they added 29 American wigeon, two pied-billed grebe, a great blue heron, 19 black-crowned night-herons, ruby-crowned kinglet, swamp sparrow and a late common yellowthroat.
In the late-lingering birds department, Sharon Pearson had a black-throated blue warbler visit her bird bath on Nov. 9. And on Nov. 8 in Aquinnah, Roger Cook observed a possible great crested flycatcher. While at Squibnocket he has observed woodcock on two straight evenings.
On Nov. 9, Katherine Oscar observed a northern harrier at Lucy Vincent as well as common eiders and surf scoters. Norma Holmes also saw a male harrier on the Oak Bluffs side of the Big Bridge on Nov. 4.
Jim Suozo saw 25 harlequin ducks, two white-winged scoters, two surf scoters and five red-breasted mergansers at Squibnocket on Nov. 8. Also that day, Ron Domurat saw two ring-necked pheasants on Herring Creek Road on Nov. 8, while Ben Cabot saw a female pheasant in West Tisbury.
A flock of cedar waxwings was observed at Polly Hill Arboretum on Nov. 7 by Kathleen Kinsman.
Martha Moore reports three lesser yellowlegs at the edge of Middlepoint Cove on Tisbury Great Pond on Nov. 4. In that area she also has seen a flock of bluebirds and a pair of hooded mergansers.
Our winter residents are starting to arrive as southbound migrants become scarcer.
Please report your sightings to birds@mvgazette.com. Robert Culbert teaches science at the Oak Bluffs School and is an ecological consultant with Nature Watch LLC living in Vineyard Haven.