Two small sections of the Tisbury Great Pond have been closed to shellfishing following state testing that found increased levels of bacteria from fecal coliform.
The closures took effect Nov. 14. Areas marked as prohibited to shellfishing are extensions of previously closed areas.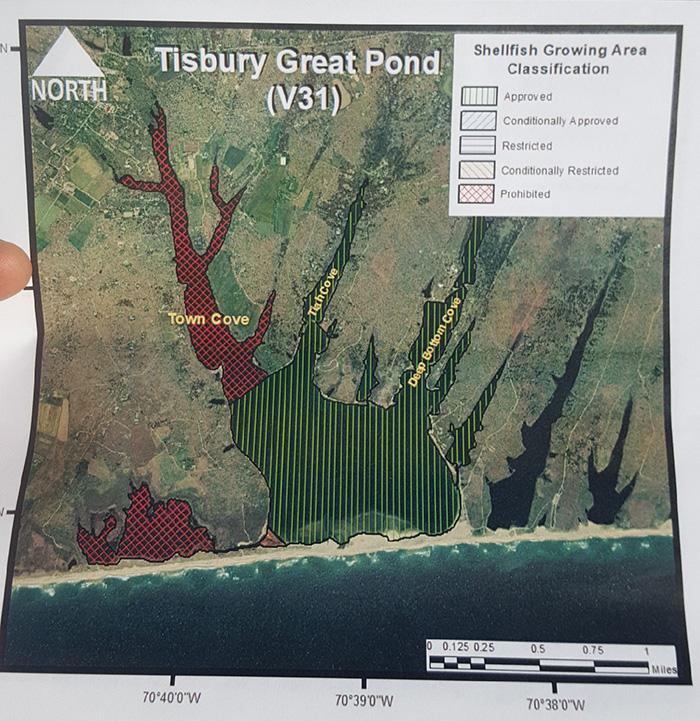 The northwestern inlet, Town Cove, has been closed to shellfishing for more than 20 years due to traces of fecal coliform, Chilmark shellfish constable Isaiah Scheffer said. The five acres of additional closure pushes the southern bound of the previously prohibited area to a line between Plum Bush Point and an adjacent point approximately a quarter mile south of Big Sandy.
Two acres extending into the pond from Crab Creek, on the pond's southwest corner, will also be closed. Crab Creek leads into Black Point Pond, which Mr. Scheffer said has also been closed for more than 20 years.
The rest of Tisbury Great Pond, including Tiah's Cove and Deep Bottom Cove, remain open to shellfishing.
Increased levels of fecal coliform were detected in the areas last month following routine water tests conducted by the Division of Marine Fisheries, the state agency responsible for ensuring safe water quality in regions open to shellfishing.
Monday marked the first day of the commercial oystering season. Mr. Scheffer said commercial oystermen will take a hit, albeit a small one, due to more restricted access.
"It's definitely a productive area and it's a shame to lose it," he said, referring to the southern border of Town Cove which has long yielded oysters.
The new closures reflect the fact that the problem is not fading away — and is in fact getting worse, Mr. Scheffer said.
"If it gets worse and worse, eventually the whole pond could be closed," the constable said.
The source of the contamination has not been pinpointed, but Mr. Scheffer said it is likely a combination of factors, including runoff from waterfront farms, an increased presence of cormorants, or septic problems from neighboring houses. He said the Chilmark board of health did not locate any septic problems near the pond, but since there are many watersheds that feed into the pond, the source could be farther upstream.
Bacteria from fecal coliform can cause health problems among people who eat uncooked shellfish.
"The assumption is that the shellfish are probably filtering some of that bacteria, taking some of it in and could possibly cause human illness if they were to eat the shellfish raw," Mr. Scheffer said. "An oyster doesn't care [about coliform]. It's people who care. It doesn't affect much of anything else."
He said the board of health and the DMF are running tests and trying to find a way to mitigate the problem.