As temperatures drop and frost begins to work its way into the soil, the Winter Farmers' Market in West Tisbury yields a different harvest than its summer predecessor. Shifting from the grounds outside the Grange Hall to inside the Agricultural Hall, frozen limeades give way to warm soups, bathing suits are replaced by wool beanies and juicy cucumbers fade into plump squash.
On Saturday the seasonal changes were in evidence at many of the tables spread throughout the hall.
"This is the last week we'll have potatoes, they're done now," said Dalila Bennett of Morning Glory Farm. "But the kale, parsnips and carrots are even sweeter . . . . the cold converts their starches to sugar."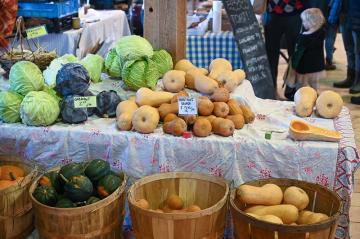 Stationed on the other side of the vegetable stand was a spread of woolen cowls, scarves, berets and toddler vests, complete with church mice stuffed in the pockets, each hand-knit with unique stitching patterns by Debby Ware.
Ms. Ware said that she gets her wool from the flock of eight Cormo sheep raised by Dr. Michael Jacobs at Pasture Prime Farm, right down the road from the Ag Hall.
Cormo, a cross of Merino and Corriedale sheep, is a relatively new breed that are raised for their high quality knitting wool, not for meat — for beanies rather than the butcher. "They're the talk of the yarn world," Ms. Ware said.
"I met Michael three years ago, he raises sheep and I knit. It was a match made in heaven," she said. "I used to only knit cotton for 40-something years, but I haven't picked up cotton since."
Though many think of kombucha — the cool, carbonated health-drink — as a refreshing summer beverage, the story of Katama Brewing Co., run by Marie Ambrose and James Walters, is one that warms the winter soul too.
"We met at the Farm Institute," Mr. Walters said. "Marie was the program manager and was running a kombucha brewing workshop. I had never brewed kombucha before, but I thought it was a good excuse to talk to her."
"We started making kombucha after work, and after a few months we started dating," Ms. Ambrose said.
That was last summer, and after a winter of pairing different flavors and perfecting their brewing process in the shared commercial kitchen at The Larder, the company is fully fledged — with a variety of tastes available at Scottish Bakehouse, The Larder, Morning Glory and, of course, the seasonal farmers' markets.
And though they explained that the brewing process is complex, especially while expanding from a hobby to a small business, their philosophy is simple:
"A lot of people think of kombucha as a health-elixir that can cure all your problems. And it is," Mr. Walters said. "But our whole thing is that it just tastes good, and is better for you than soda or beer."