By the time you read this, Thanksgiving has come and gone. Here is hoping that your holiday was cheery and that the bird gracing your dinner table was tasty. While you are watching one of our "wild" turkey flocks cross the road, think about Ben Franklin's desire to make the turkey our national bird.
It is getting late in the season for any shorebirds other than our winter resident black-bellied plovers, sanderlings and dunlins. But they still show up.
On Nov. 25, I was visiting the boat launch ramp off the Boulevard in Ocean Heights, and three mostly grayish plump shorebirds were perched at the tip of the salt marsh. Of course I did not have binoculars or a camera. The white triangle on their rump was clearly visible when they flew, so they were dowitchers, but which species?
When they flew they gave a rather high-pitched call of only one syllable - sort of like "keek," which is the call of the long-billed dowitcher. This is the first time in a long while that I have been able to hear this distinctive call, as their short-billed dowitcher cousins give a multi-syllabled call that resembles one of the yellowlegs.
And there was a western willet — currently a subspecies but may be declared a separate species within a few years — at Little Beach on Nov. 23. They are either becoming more common here in the east, or we are just learning how to distinguish them from the eastern willets that breed here. Another lingering shorebird is the American oystercatcher, which Jeff Bernier reports are still hanging out at Little Beach as of Nov. 21. He also spotted a peregrine falcon perched on the beach that day.
Bird Sightings
Speaking of western races of birds, Susan Whiting was surprised to see a western palm warbler in the flowering quince next to her Chilmark home on Nov. 22.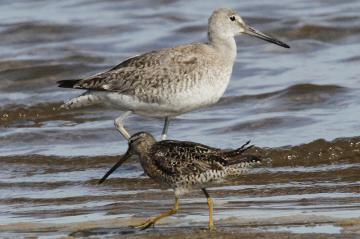 Matt Pelikan and Bob Shriber each made trips out to Norton Point Beach and the Chappaquiddick beaches on Nov. 21. Both of them report multiple flocks of horned larks, at least 80 snow buntings, many common and red-throated loons off East Beach, and a peregrine falcon. Mr. Pelikan's peregrine was at the eastern end of Norton Point while Mr. Shriber found his at Dyke Bridge. Mr. Pelikan also reports five ruddy ducks and 19 hooded mergansers on Long Cove Pond at Long Point that same day.
Gregory Pattison had a hermit thrush visiting his yard on Nov. 21.
Tim Leland reports from Wasque that three turkey vultures were circling overhead on Nov. 21.
On Nov. 19 Catherine Deese found eastern bluebirds at her Chilmark house, while Lanny McDowell visited the head of the lagoon that day, where his highlights included marsh wren, ruby-crowned kinglet, and pied-billed grebe.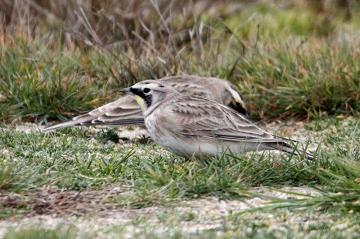 A brief note about one of our most favorite birds to grace our shores in the winter: snowy owls. We have not had any sightings yet this season but they appear to be on their way. In the last half of November they have been reported from Monomoy Natioonal Wildlife Refuge, Duxbury Beach, and Parker River National Wildlife Refuge (Plum Island in northeastern Massachusetts). Many more sightings have been made around the Great Lakes and the St. Lawrence Seaway.
And, last but far from least, the annual Martha's Vineyard Christmas Bird Count will be held on Saturday, Jan. 4. It is a fun day to be out in the field, whether you join a field team or keep track of the birds in and around your yard. More information will be presented in future columns.
Our winter residents are starting to arrive as southbound migrants become scarcer. Please report your sightings to birds@mvgazette.com.
Robert Culbert teaches science at the Oak Bluffs School and is an ecological consultant with Nature Watch LLC living in Vineyard Haven.