The holiday concert season on Martha's Vineyard begins Dec. 1, with the first of three weekly Offerings of Music and Light at the Chilmark Community Church, beginning at 5 p.m. Each Sunday, Island mezzo-soprano Lia Kahler leads performances by Island singers, musicians, readers and dancers, along with candle lighting and carol singing.
More than 100 voices strong, the Island Community Chorus presents its annual holiday concerts at the Old Whaling Church in Edgartown Dec. 7 at 7 p.m., and Dec. 8 at 3 p.m. This year's theme, chosen by music director Peter Boak, is Cold Hands, Warm Hearts, with a program mixing merry and meditative holiday songs.
Among the selections, audience members will hear lush harmonies from Norwegian composer Ola Gjeilo, whose work the chorus has performed more than once in the past, and a setting by chorus tenor Dorian Lopes — a composer in his own right — of O Magnum Mysterium, a Latin text for Christmas.
Two of the program's sprightlier pieces are a fantasia on the 17th-century Burgundian carol Patapan and Mele Kelikimaka, the Hawaiian Christmas song made famous first by Bing Crosby with the Andrews Sisters and later by Bette Midler.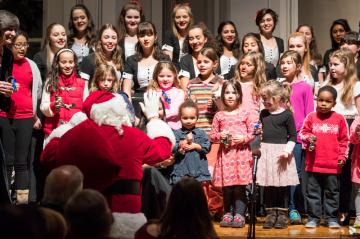 Pianist Garrett Brown will accompany the chorus for his 20th year. Several songs will feature a string quartet hired for the occasion, including Island violinist Rebecca Laird as well as guest artists from New Jersey and Connecticut.
A reception, with food and drink prepared by chorus members, follows each show.
Martha's Vineyard Regional High School's elite Minnesingers hold their Christmas in Edgartown concerts at the Whaling Church Dec. 13 at 8 p.m. and Dec. 14 at 4 p.m. Music director Abigail Chandler, who also heads the high school's performing arts department, said the program includes holiday standards such as Do You Hear What I Hear and a medley of O Holy Night, Silent Night and All Through the Night, as well as an Ave Maria by Camille Saint-Saens and traditional sing-along carols.
The Ritz in Oak Bluffs is getting into the holiday spirit with a Christmas fundraiser for the Island Food Pantry Dec. 14. Rosie Guerin and Sean McMahon play seasonal music starting at 7 p.m., followed by DJs from 10 p.m. till closing.
Sunday, Dec. 15, the Federated Church in Edgartown hosts an old-fashioned carol sing from 2 p.m. to 3 p.m., led by Mr. Boak, who is the church's minister of music. Sheet music is provided and refreshments follow the singing.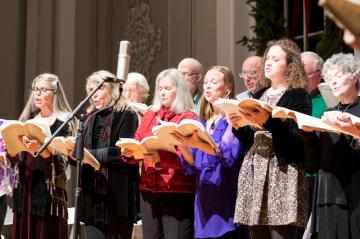 The 23rd annual Reflections of Peace concert, at the Old Whaling Church Dec. 16 at 7:30 p.m., features the vocal octet Novem with Jenny Friedman, Joyce Maxner, Shelley Brown, Julie Williamson, Ken Romero, Kevin Ryan, Brad Austin and Dorian Lopes, accompanied by David Rhoderick; the choir and handbell ringers from the First Congregational Church of West Tisbury; instrumental music by Eric Johnson, Ed Merck, Brian Weiland and Jan Hyer and solo and duet performances by members of Novem.
All proceeds from Reflections of Peace benefit Hospice of Martha's Vineyard, which provides hospice care for Islanders at no cost.
The Martha's Vineyard Family Chorus performs songs from around the world, including in English, in their concert Dec. 17 at 6 p.m. at the Martha's Vineyard Hebrew Center in Vineyard Haven. Chorus director Roberta Kirn said the program will include music from Macedonia, Brazil, South Africa and Haiti this year.
Everyone is invited to sing along with the professional soloists and guest conductors when Grace Church of Vineyard Haven presents Handel's The Messiah at the Whaling Church, Dec. 19 at 6 p.m. A potluck reception follows the music.
While it's not planned as a Christmas show, organizers expect some holiday music to be part of a Dec. 20 concert at the Whaling Church from 6 to 10 p.m. Island singer-songwriter Phil daRosa opens for Burlington, Vermont-based national touring acts Ryan Montbleau and Dwight & Nicole.
All proceeds from a silent auction in the church basement during the evening will benefit Island singer Sabrina Luening, who is recovering from a stroke, and her family.