Felix Neck's annual Fall Festival is a special event as it (almost) always seems to enjoy fair weather. Sure, there have been cold and windy days, but they are the exception rather than the rule.
I led a bird walk there with several special sightings among the 21 species we observed. At the start there was a western palm warbler in the shrubbery at the back-side of the nature center. Four bufflehead were seen up close at the waterfowl pond, where a male belted kingfisher put on a display of its hunting skills at the waterfowl pond, perching in a nearby branch and diving into the water in front of us and coming up with a minnow. And six eastern bluebirds flew into the trees right in front of us; one of the first times I have seen a flock of them without hearing them calling. The views of a mostly flooded salt marsh were also spectacular even though there were no birds there.
Then there was the immature bald eagle that flew overhead, spotted by Kenny Ivory and Lanny McDowell. One can only wonder if it had heard about the live birds of prey brought to us by naturalist Marla Isaac from New England Reptile and Raptor. For those who missed the eagle, at least they got up close views (from about five feet away) of the captive raptors she brought.
Bird Sightings
The variety of our winter resident waterfowl is increasing. Hooded mergansers, bufflehead and the seaducks (common eiders and three species of scoters) have been here in small numbers and now they are more common. More species are arriving. On Nov. 26, Susan Whiting, Bob Shriber and Warren Woessner birded the Quansoo area and saw the first Eurasian wigeon and greater scaup of the season. The next day, Jeff Bernier spotted a large raft of greater scaup on Edgartown Great Pond. At least one lesser scaup was also in the flock. John Nelson added a flock of 26 common goldeneye on Sengekontacket Pond on Dec. 1.
Geoff Muldaur and Susan Whiting spotted the first tree sparrow of the season as well as two gadwall, eight dunlins and two sanderlings at Black Point Pond on Nov. 29. Ms. Whiting adds that she spotted a female purple finch and a red-winged blackbird at her feeders that day. Also that day, Chris Foe found a dead hermit thrush that had hit his window.
On Nov. 28, Susan Straight saw her first white-throated sparrow of the season.
Catherine Alexander saw 24 American wigeon at the head of Lake Tashmoo on Nov. 29. She also reports three harlequin ducks, a few buffleheads and eight turkey vultures from Lucy Vincent Beach on Nov. 27.
This column is always interested in sightings of ravens from new locations, and Debra Luce reports one from East Chop on Nov. 27.
Danguole Budris spotted some purple sandpipers on the Menemsha jetties on Nov. 26.
John Nelson observed nine hooded mergansers in Harthaven Harbor and two northern harriers at the Farm Institute on Nov. 19.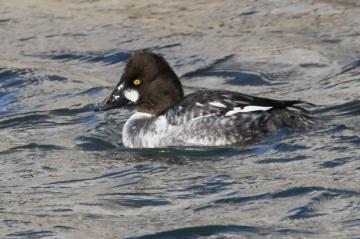 Our winter residents are starting to arrive as southbound migrants become scarcer. Please report your sightings to birds@mvgazette.com.
Robert Culbert teaches science at the Oak Bluffs School and is an ecological consultant with Nature Watch LLC living in Vineyard Haven.