This year's Gifts of Art show and sale at the Carnegie in Edgartown opened Thursday with a reception for 10 local painters whose smaller-scale works, many on Island themes, are sized and priced for gift-giving.
Funi Burdick, executive director of the Vineyard Trust, beamed as she welcomed guests to the gallery on the lower level of the historic former library now maintained by the trust.
Providing an audience for Island artists is what the gallery is meant for, Ms. Burdick said, as buyers' red stickers began to appear on the labels of oils by Marston Clough and Elizabeth Whelan.
"I'm happy to see people love what they buy," Ms. Burdick said.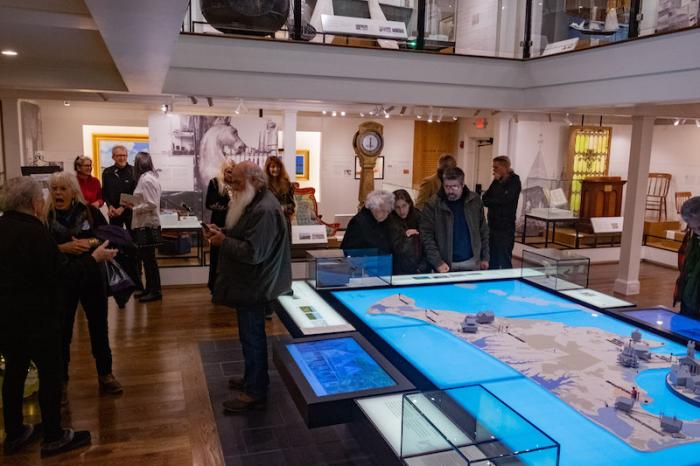 The crowd at the reception overflowed the small gallery into the main exhibition space, where artists and art lovers chatted amid exhibitions that included a chariot and rings from the Flying Horses, a typewriter used by 20th-century Gazette editor Henry Beetle Hough and a vintage outdoor sign proclaiming Beautiful Old Church of Whaling Days.
Inside the gallery, serene landscapes by Anna Lowell Finnerty, Jeanne Staples and Julianna Sophia hang near Colin Ruel's sea birds and colorful, energetic abstracts by Deborah T. Colter and Wendy Weldon.
Amid the representational works, Island scenes and still-life subjects predominate. The only face on display is Margot Datz's Flora, whose wide green eyes gaze mysteriously from within a heavy, vintage carved-wood frame.
Ms. Whelan, well known for her portraits, chose different subjects for this show: a hauled-out fishing boat, a leafless tree with long limbs reaching over an old stone wall, tools in a boat builder's shop.
Mr. Clough has 10 small landscapes and sea scenes in the show, four framed in gold and six in plainer settings. A longtime high school chemistry teacher, Mr. Clough discovered a new vocation when he turned to painting in retirement.
"It's so cool, so different from science," he said. "It's interesting, because you never get there. It's always a challenge."
Kate Taylor's exuberantly colorful rural scenes and Ms. Datz's wildlife-fantasy prints add a touch of whimsical magic to the show, which also includes larger works by Ms. Colter and Mr. Ruel hanging in the main exhibition area.
"I think they hold their own outside [the gallery]," Ms. Burdick said.
Gifts of Art continues at the Carnegie from 10 a.m. to 5 p.m. through Dec. 15 and again from Dec. 19 through Dec. 23, and from 10 a.m. to noon Dec. 24.