Sixteen Vineyard student-athletes received honors from the Boston Globe Friday for their accomplishments this fall sports season, and Joe Schroeder, head coach of the state champion boys cross country team, was named cross country coach of the year.
The boys cross country team's historic season was highlighted by a collective championship effort from the entire squad resulting in the first state championship in the history of Vineyard cross country. In addition to being named an all-star, Peter Burke made the boys cross country all-scholastic team and was named the MVP of the Cape and Islands League. Junior Isaac Richards and sophomore Borja Torlay joined Burke as all-stars.
Representing the girls cross country team, Eloise and Adrienne Christy were named all-stars by the Globe as they led the squad to a 10th place finish at the state championship in Gardner this past November.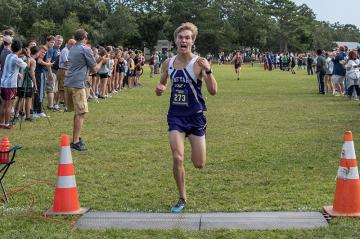 Six Vineyarders football players were named all-stars, including sophomores Jayden Coyle and Antone Moreis, juniors David Butkowsky and Braden Sayles, and seniors Hoffman Hearn and Josh Pinto.
Sayles had the most interceptions in Massachusetts this season with six, while Moreis finished the season with the third-most points scored in the commonwealth with 153.
Junior goalkeeper Ruby Reimann received an all-star nod for her courageous season in net for the girls soccer team.
Senior Skyla Harthcock of the field hockey team was named an all-star after the Vineyarders earned the final seed in the post-season tournament and upset Carver in the first round. Harthcock and Reimann are now teammates on the girls hockey team.
The golf team also had two athletes named all-stars: junior Pete Gillis, now playing forward for the boys hockey team, and junior Andrew Marchand, now a forward on the basketball team.